LeBron James: 'I'm afraid of failure'
Miami Heat star and MVP admits that his drive for success inspires a fear of failure and that the only solution is "to keep winning."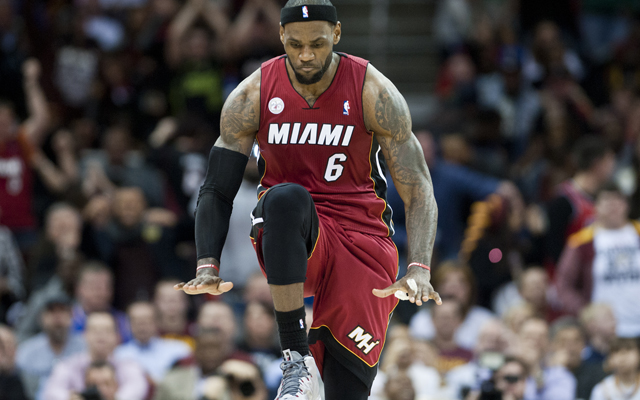 In a wide-ranging interview, Miami Heat star LeBron James was asked by ESPN about his mental approach to the game, including a question about one of his perceived weaknesses. James' answer was revealing in several ways. 
You're in a different era today. With social media and 24-hour sports-talk radio, every single game, even quarter, of yours is critiqued. That wasn't the case back in the day when MJ played.

I look at it like this: MJ wasn't perfect. MJ had bad games. He had turnovers. He had games where he felt like he should've been better. But I think the greatest thing about MJ was that he never was afraid to fail. And I think that's why he succeeded so much -- because he was never afraid of what anybody ever said about him. Never afraid to miss the game-winning shot, never afraid to turn the ball over. Never afraid. And that's what I love most about him besides, obviously, the flying through the air and the tongue-wagging and the game-winning jumpers and the shoes and the baggy shorts. I think his drive and never being afraid to fail is what made him, and he would be unbelievable still today because of that.

Do you ever battle a fear of failure?

That's one of my biggest obstacles. I'm afraid of failure. I want to succeed so bad that I become afraid of failing.

How do you deal with it -- how do you overcome it?

Just win [laughs]. Keep winning and I don't have to worry about it. Keep winning.
via LeBron James on Michael Jordan, fear of failure, 35-point games and more - ESPN The Magazine - ESPN.
James also talks about his killer instinct in the interview, explaining the difference beween his approach and someone like Kobe Bryant or Michael Jordan as "different ways to hunt." The truth is that James is a much more cerebral, sensitive person, at least when it comes to his career and public perception, than those players. 
He's vulnerable to criticism, he's vulnerable to expecatation, he's vulnerable to disappointment in himself. It's a stark contrast to his athletic prowess, which makes him seem super-human, near invincible. Mentally, he has a habit of overthinking things, something he explores in the interview as well. Considering how much of his game is based on pure athletic supremacy, it's startling that his approach can sometimes border on "too cerebral."
The comment is going to garner criticism an mockery, here below in the comments, and elsewhere. That headline above is used because that's what he said, and that's the part people care about. But it's a misguided attempt at hyper-machoism that breeds that contempt. Everyone is afraid of failure, that's part of the human condition. How you respond to that fear is what separates people. Some ignore it and kick it into a trash can, like Jordan and Bryant, to the point where you start to wonder what they'll have when they've run out of ways to be competitive. Some struggle with it and find ways to wrestle their own kind of success from its jaws, like James. And some succumb to it, never truly pushing themselves because of that fear. 
James isn't any better or worse as a person, or basketball player because of that comment. It hasn't kept him from becoming the league's best player, a top-five player of all-time in many people's minds, and a candidate to at least challenge Jodan for all time supremacy. But it does reveal the context and texture of his internal makeup, a different approach to the ruthless alpha dog archetype we've idolized for so long. 
Not many games, but still plenty of action and intrigue Sunday in the Association

Kobe Bryant had a solid piece of advice for back in 2016 when he left OKC for Golden State

An old rivalry is reignited between LeBron James and the Cavaliers and John Wall and the W...
SportsLine's Mike McClure, a DFS pro with more than $1M in winnings, gives optimal lineup...

LeBron had 29 points, 11 rebounds, and 10 assists in the Cavs' 109-100 win over the Jazz

The montage showed Carmelo's best Knicks moments before playing the Thunder game