Manu Ginobili's contract was stolen after a bird attack
Spurs guard had new contract stolen in Argentina after intern was attacked by birds. Coincidence? Clearly not!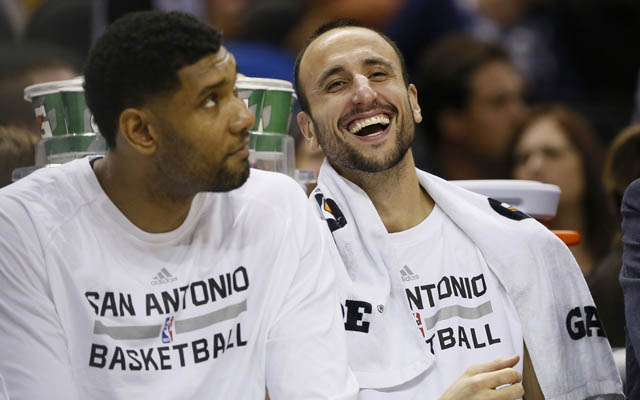 The New York Times reports that when the Spurs sent an intern to Argentina to deliver Manu Ginobili's new contract, it got nabbed. 
When the San Antonio Spurs sent an intern to Argentina in July to ferry a new contract to guard Manu Ginobili, it seemed a routine trip. The Spurs preferred hand delivery to the mail. A previous contract had been brought for Ginobili to sign on his honeymoon.

Hours before the Spurs' intern was to fly home from Buenos Aires, team officials said that he was strafed by a bird in a park. As he tidied up at a fountain, his backpack disappeared. Inside were Ginobili's signed contract, along with the intern's passport, cellphone and laptop.

Luckily, an international sports crisis was averted. An assistant traveling to Buenos Aires soon after brought a fresh contract and returned it to Texas without incident.

"No birds got to him," Sean Marks, the Spurs' director of basketball operations, said with a laugh. "We were all waiting for Manu's contract to show up on eBay. It hasn't yet."
via Spurs Stay Consistent by Thinking Globally - NYTimes.com.
Don't you have this image of a mustached dude conspicuosly trying to be inconspicuous on a bench, triggering a bird attack so that his cohorts can steal the Manu contract? I smell retro 70's-style espionage thriller film. Someone get me Joseph Gordon-Levitt on the phone. 
I also can see the intern showing up at Manu's door in tattered threads from the bird attack, Manu opening the door, the intern handing him the contract and then walking away without saying anything. 
Alternatively, maybe this was an inside job. Maybe this was just the Spurs' way of teaching the intern about their approach to the media. 
This of course is not the first time there's been an animal-related incident involving the Spurs guard. There's this. 
Man, this story is really... for the birds. 
HT: Deadspin
Here's a look at the seven key questions heading into the first week of training camp

Signing Phoenix's qualifying offer will clear the big man to become an unrestricted free agent...

Markieff Morris was already in line to miss the start of camp due to a pending assault cas...
The 76ers should hopefully get a lot of play out of their young guys this season

Okafor's been on and off the trade block for over a year and doesn't seem to be in Philly's...

Fisher is the fourth NBA player to compete for the Mirror Ball trophy on the show