Mike D'Antoni doesn't appreciate Pau Gasol's recent comments
Mike D'Antoni on Pau Gasol's recent comments: "You just keep it in-house."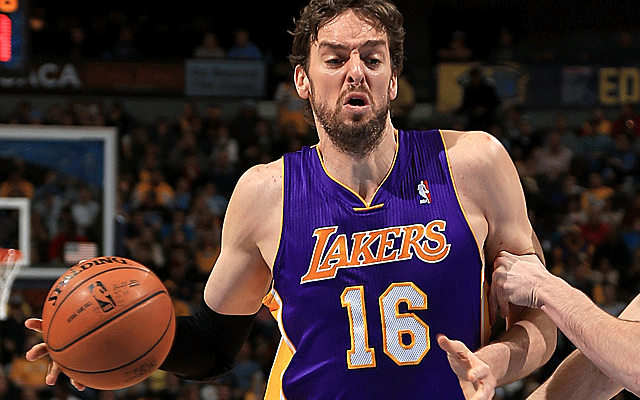 Breaking: The Lakers remain a big steaming dumpster fire this season. 
Pau Gasol recently said some public things about the team, Mike D'Antoni and their smallball lineups, which included criticism about Wesley Johnson recently defending David West. And D'Antoni didn't like it.
"The thing I just don't appreciate ... You just keep it in-house," D'Antoni said, via ESPN LA. "It's very easy just to come over and talk about your frustrations. We'll try to work something out. We'll figure something out.
"But to go to (the media) and to do it in the papers, that's disturbing. I just don't think that's the way to go and people should understand that we're all trying to solve the same problem, so let's just put our heads together and do the best we can."
The Lakers are just 19-39, which is the worst record in the West, and have lost 26 of their last 32. 
But following Wednesday's game against Memphis, Gasol downplayed his previous comments.
"Yes, there was some frustration, but I don't think it was nothing out of line or nothing that went too far," Gasol said. "I stated something obvious, to me. I don't think I said anything too crazy.

"To me, it wasn't that big of a deal. It was just the emotions and the frustrations of a tough loss and a bad game on our part, I think, for the most part."
Gasol has spoken about the, ahem, aggressiveness of a couple of the Lakers new additions, Kent Bazemore and MarShon Brooks. But he tried to clarify that he wasn't calling them out.
"It wasn't an attack to anyone in particular," Gasol said. "I wasn't blaming MarShon and Kent of anything. I like these guys a lot. They're great guys, they came in, I'm happy that they're getting this opportunity. But that's why from a team standpoint, you have to help them make better decisions.

"I'm not pointing fingers at anyone. I was just making my comments and my feelings after the game and a frustrating loss. I think it's pretty human."
Gobert, who missed 11 games earlier this season with a knee injury, will have an MRI

Get all the latest scores, news and highlights from Friday's NBA games

Porzingis is questionable for Carmelo Anthony's return to MSG on Saturday
The Spurs and Rockets will renew their in-state rivalry on Friday night

Anthony will play at Madison Square Garden on Saturday for the first time since being trad...

SportsLine's Mike McClure, a DFS pro with more than $1M in winnings, gives optimal lineup...