Mike Woodson still expects Knicks to win Atlantic Division
Knicks coach says he can see "light at the end of the tunnel."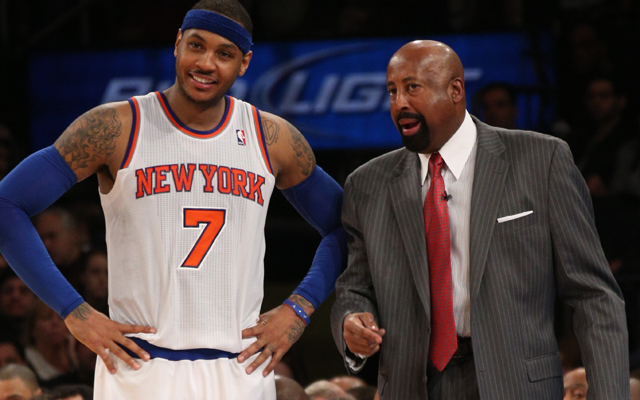 Knicks coach Mike Woodson said Friday that despite the team being mired in failure at 9-19, and coming off an embarrasing loss to the Thunder at home despite Tyson Chandler being back, he feels there's 'some light at the end of the tunnel,' and that he expects the team to win the division. 
"Do I see some light at the end of the tunnel? I do," Woodson said. "I think eventually we'll get where we need to get, based on our last 12 games. Eventually we'll get healthy and we'll see how it all plays out."

Starting with the back-to-back routs of the Nets and Magic, the Knicks are 6-6 in their last dozen games.

"The beauty of all this is nobody's running away with it in [the Atlantic] division," Woodson said. "I'm pushing our team to win our division still. We won it last year. I expect us to win it this year.''
via Knicks' Woodson: 'I expect us to win' the division | New York Post.
OK, well, let's separate this out a bit, shall we? 
Because they can definitely win the division. The Nets are done. We can go ahead and say that. They lost Brook Lopez for the year, Jason Kidd looks completely lost yet removing him would send too bad of a message in his first year for a frachise icon, and the rest of the team is either too slow or inconistent to carry them. The Raptors are on a nice post-Rudy-Gay-trade bump but the talent isn't there to sustain and the Celtics... well, the Celtics certainly could be the real threat to take the division, if they want to. 
But even if the Knicks do manage to get back to .500 and win the division in this year of putridness. what does that do for them? Gets them a four-seed, and a matchup with what is likely a better team in the five spot? They might even make it past a team like Atlanta or Washington in a 4-5 matchup. Then they face either the Heat or Pacers in a 1-4 matchup in the second round. And who knows? Well, actually, we all know. They lose there. 
Is making the second round after starting 9-19 "progress?" Is that "contention?" Is that what the Knicks' goals are, what they sold their fans and season-ticket-holders? 
But maybe it's enough for Woodson to keep his job, which is probably what he cares about at this point. 
Markieff Morris was already in line to miss the start of camp due to a pending assault cas...

The 76ers should hopefully get a lot of play out of their young guys this season

Okafor's been on and off the trade block for over a year and doesn't seem to be in Philly's...
Fisher is the fourth NBA player to compete for the Mirror Ball trophy on the show

Barkley commends the NBA, sarcastically, for extending the season and reducing back-to-back...

Enes Kanter isn't seeing much comedy in the Kevin Durant social media situation