Noah Vonleh, Julius Randle, Aaron Gordon: Whom do you draft?
You're grabbing the first power forward off the board in the 2014 NBA Draft. Your options are Noah Vonleh, Julius Randle, and Aaron Gordon. Whom do you pick?
More Offseason Analysis: Coaching changes, news | Free Agency | Draft
While the Cleveland Cavaliers have the tough task of deciding which future star to select with the number one pick in the draft Thursday night, the teams selecting from three through possibly nine will possibly be looking for the forward of their future. This draft was touted as having multiple perennial All-Stars throughout the lottery and it's likely to deliver on these expectations. Some prospects are more likely to succeed than others, but that could be based on which team selects them.
Any of the teams from the Philadelphia 76ers at No. 3 to the Charlotte Hornets at No. 9 could use a power forward with the potential to be the best of this draft class. The 2014 draft class can offer up Noah Vonleh from Indiana, Julius Randle from Kentucky, and Aaron Gordon from Arizona as the best three of the lot. Some people don't believe Aaron Gordon is a definite power forward in the NBA but we'll get into why he will be when we get to his section.
In trying to determine who will be the best power forward of this trio, you're looking for guys who can maximize their offensive abilities, play good defense, and be a productive rebounder. Making it even tougher to decide, Vonleh, Randle, and Gordon are three very different types of prototypes for the power forward position.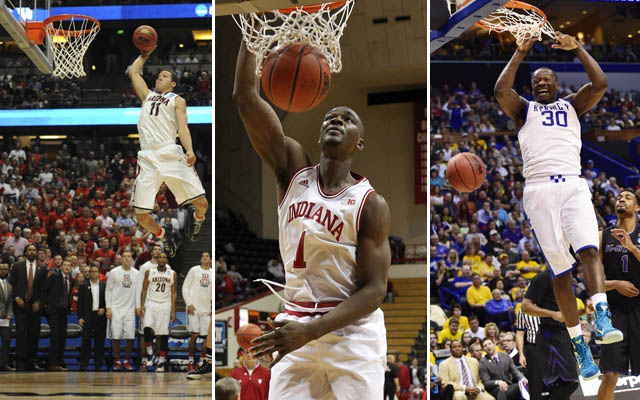 The argument for Noah Vonleh
What are your thoughts on Chris Bosh? For those of you devoid of vitriol toward one of the most versatile big men in the league, the comparison for Vonleh is an outstanding compliment. Both are less traditional big men, capable of playing with their backs to the basket but much more valuable providing space on the offensive end of the floor. They can also be contributors to a good team rebounding philosophy while focusing on covering ground defensively to take away opponents' options.
His offensive game is versatile. His post game accounted for nearly 30 percent of his offense in his one year at Indiana. He scored nearly a point per possession, which is very efficient for last year's college season. He did a great job of scoring on the offensive boards too. The one thing he couldn't do all that effectively was score in isolation. It's unlikely he'd be asked to do that exclusively or all that often in today's NBA, so he can do what he's much more comfortable doing -- spacing the floor with jump shooting.
It wasn't a huge part of his offensive game (9.0 percent, which was his fourth most used type of play) but being a spot-up shooter was one of the most efficient ways in which Vonleh scored. He made 44 percent of his spot-up shots and when he was guarded on catch-and-shoot opportunities, he made 62.5 percent of his shots. He shot excellently from 3-point range (48.5 percent) but it only came on 33 attempts.
Defensively, Vonleh struggled in isolation defensive situations, but he guarded the post well, closed out fantastically on spot-up shooters, and did a great job defending the roller in a pick-and-roll. He can cover ground and his long wingspan helps him take away space. He is today's evolved big man that is more about manipulating the floor spacing on both ends instead of dominating the paint.
The argument for Julius Randle
Randle is hard to find a player comparison for because his game is in between a lot of strengths. Guys like Josh Smith and Zach Randolph have been thrown around in the comparison game for Randle, and while both of them have similarities to what he does, he's kind of his own unique player. What you notice first and foremost with Randle is his physicality. He's a bull in the narrow streets of Pamplona, Spain.
Move out of the way when he has the ball or risk being moved in a painful manner. He's nimble on his feet while showing an incredible mixture of strength and touch with the basketball. If you can get Randle moving toward the basket, he's hard to stop. He understands space in the half court and Kentucky prepared him for how to play with NBA caliber offensive players. He's tough to stop when he's cutting to the hoop, flashing into the paint on a pick-and-roll, or finding his way into transition. He's a decent post-up option who will learn moves and counters to round out his offensive attack.
Where he's most dangerous might be on the offensive boards. This coupled with his strength and left hand dominant attack with the ball are why he gets the Z-Bo comparisons. He rebounded 13.3 percent of available offensive rebounds in his year at Kentucky. He was one of 14 players in college basketball this past season playing at least 30 minutes per game and grabbing 13 percent of offensive boards or better.
Defensively, he has good size at 6'9" and 250lbs, and his 7-foot wingspan helps him close out on shooters and affect shots. He isn't as good at taking away space (defensively) or providing it (offensively), but he can own the paint in a much more traditional way. He can wear you down.
The argument for Aaron Gordon
Gordon is the wild card in this entire discussion. And the question with him is how close to Blake Griffin can he be? That's the comparison with him on a superficial level because both are über athletic forwards. Gordon is a shade under 6-9 but weighs in at only 220 pounds. While he has a lot of muscle and strength, he's pretty light for a power forward in the NBA. When Griffin entered the league, he measured out at 6-10- and 248 pounds but that height came with a 1.5-inch difference between his height with and without shoes.
Perhaps Shawn Marion is a much better comparison for Gordon. They measure out the exact same in terms of height and weight. A wingspan around 7 feet seems about right for both players as well. Marion is known more as a small forward because of his size, but his role when he was with the Phoenix Suns was as a power small forward. He wasn't quite a stretch-4 but he was a fast-4 who could change the game with his athleticism. That's the goal for Gordon.
I don't think it's inconceivable to think Gordon could put 20 pounds on his frame and be a legitimate power forward. With his reach and athleticism, he'd have enough physical prowess to defend most power forwards in the league. Defensively, he'll be a game-changer. He was on one of the top defensive teams in college basketball and he was a big reason for that. He could defend the post, he could take away guys coming toward the basket, he affected shots with his leaping ability, and he could close out on shooters. He didn't really struggle in many defensive settings other than rebounding.
He wasn't a special rebounder by any means, but if he can be a more physical rebounder by boxing out more, he could dominate with his quick leaping ability.
Offensively, it'll be tough for Gordon. Get him going toward the basket on pick-and-rolls and on cuts, he could be devastating. In transition, he actually wasn't special at all on offense, but he also turned the ball over 16 percent of the time. If he cleans up the ball handling and just keeps it to leaping on the break, we can see highlight reel after highlight reel dominating YouTube accounts everywhere.
He was a surprisingly good jump shooter on spot-ups and in catch-and-shoot scenarios when he was open. He made 44.8 percent of his unguarded catch-and-shoot attempts, per Synergy Sports. It shows a possibility of being an improved shooter in the future, which is ideal considering he's a 42.2 percent free throw shooter last year. 
So which power forward do you want to take in this year's draft? Do you gamble on Gordon adding weight and cleaning up his offensive game to match his defensive ability? Do you go with Vonleh who could be the next great floor-spacing power forward who also covers the necessary ground on defense? Or do you play it a bit safer with the in between option of Randle, who was almost as highly touted as Andrew Wiggins and Jabari Parker heading into their freshman seasons? The choice is probably tougher than it seems.
Among the questionable decisions by Jackson was signing Noah to a long-term, lucrative dea...

This Akron store doesn't want their hometown hero to leave again

Milwaukee's star did not get cleared to play for his national team due to a painful knee i...
Ball, the second overall pick in the NBA Draft, is receiving even more hype

Rap mogul supports the vision the outspoken father has for his brand and sons

Deciding who to watch on League Pass can be difficult, but these rankings promise to help