Omer Asik declines comment on trade request
Rockets center is not discussing a trade demand, says he'll do whatever his coaches ask as questions continue to be raised about his role with Dwight Howard.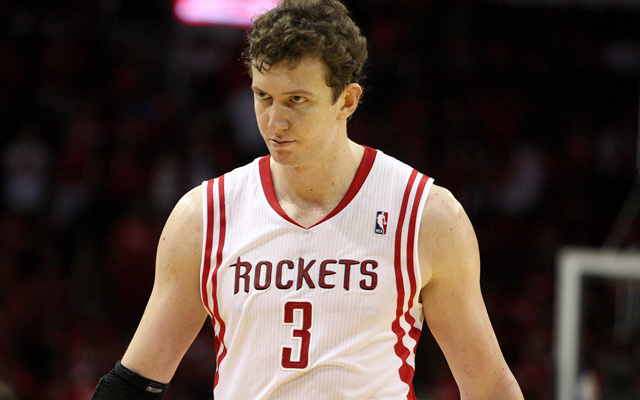 When the Rockets signed Dwight Howard, after the applause and cheers from Houston died down, there were serious questions about what Omer Asik's role would be. Would the defensive stalwart big man go back to the bench, a role he played in Chicago early in his NBA career, after signing a three-year, $25 million deal with the Rockets two years ago? Would coach Kevin McHale play both bigs together; how would that work? 
Immediately, word came out that Asik wanted out of Houston, preferring to keep his starting spot. Houston wouldn't oblige, though. Whether that was out of a genuine desire to keep Asik's services or a commitment to raising his trade value to get maximum return first is unclear. So the summer was filled with talk of Howard playing at power forward next to Asik for stretches, something Howard said he was fine with. 
On media day Friday, though, you could tell the situation was still very chilly with the Turkish bruiser. 
Asik: "I'm a basketball player. I'll do what the coaches ask me." No comment on trade request.

— Jonathan Feigen (@Jonathan_Feigen) September 27, 2013
Awk-ward.
For his part, Howard is playing Captain Positive about the situation. (And yes, it is weird how agreeable and positive he's being in Houston vs. the problems in LA last year.) 
"For me and Omer to work is real simple," Howard said. "If I get the rebound, he has to run the floor, be that first big to seal, try to get easy buckets. If he gets the rebound, it's the same thing. On the defensive end, I have the ability to guard fours. I've done it in the past. I like the challenge. I think me and him can play together. Even if he comes off the bench, I think that's great because the defense won't go down. He's a great defender. I think he's going to be great. I know he wants to win just like we all do.

"With me and Omer, we have an opportunity to mess up a lot of teams on the defensive end because of our presence. He's a very big guy. If we play together, it gives me a chance to roam around, block a lot of shots, be who I am on the defensive end. I'm very excited about that."

Asik was typically more circumspect, but for now, he did seem to have made his peace with sticking around, particularly if he and Howard play together and last season's center turns out to be this season's center.

"We'll see," Asik said. "That's the coaches' area. We'll see what they say. We'll start figuring it out tomorrow in the training camp.  I think defensively we'll be very good, like two elite defenders. We have to figure out how to play."
via Ultimate Rockets » Omer Asik ready to play with Dwight Howard.
So basically Howard is all "This is going to be great, what an exciting opportunity. I have literally never been this excited about playing next to a big man before!" and Omer Asik is pretty much this dude. 
We'll see how this goes, but it may only get more complicated. If Asik and Howard play well together, are the Rockets going to want to break that duo up? Can they really risk depending on this combination as a heavy-minutes pair if they enter the playoffs, filled with opponents who feature stretch 4's? Howard can play power forward offensively. That makes lots of sense if you've seen clips of him in high school. But it still means a much lesser role for Asik,and that's not what he signed up for. Asik will play, he won't be a problem, but this situation bears watching as the season progresses. 
Trump rescinded Curry's invitation to the White House after Curry said he wasn't interested...

Silver said he was hoping Warriors would get chance to share their views directly with the...

Along with the Thunder, those were the three teams most involved in the Anthony trade talk...
LeBron said he was frustrated by the President's recent actions

A look at the various actors and elements in the latest sensational blockbuster trade in the...

Blockbuster deal doesn't change the Thunder's projected finish in the West