Pau Gasol to join Bulls
Free agent big man Pau Gasol is heading to Chicago.
• 1 min read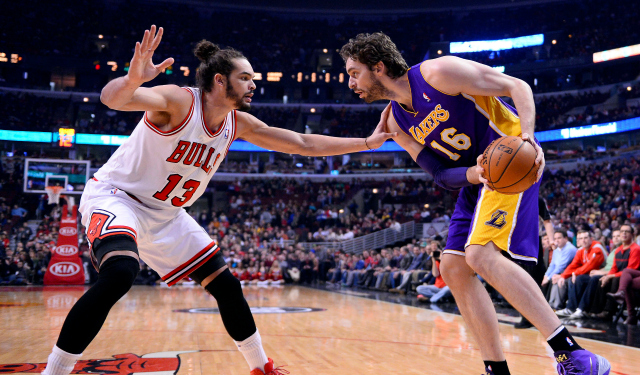 More Offseason Analysis: Coaching changes, news | Free Agency | Draft
Free agent big man Pau Gasol has agreed to join the Chicago Bulls, and he will do so as a free agent rather than in a sign-and-trade, according to ESPN's Brian Windhorst. The deal will be for three years and $22 million, with a player option on the final season, per Yahoo Sports' Adrian Wojnarowski.
Chicago badly needs some more playmaking, and the 34-year-old Gasol can still help out immensely there. He's not a great defender at this stage of his career, but having Joakim Noah and Taj Gibson on the roster means that's not a huge problem. 
Also: imagine the big-to-big passing from Gasol and Noah -- no other team has a frontline like that. 
The Bulls reportedly started focusing on Gasol after they realized they wouldn't get Carmelo Anthony, who has decided to stay with the Knicks.
Gasol announced the news himself on Twitter:
It hasn't been easy. After meditating it a lot I've chosen to play with the Chicago Bulls. Looking forward to this new chapter of my career

— Pau Gasol (@paugasol) July 12, 2014
OJ Mayo, banned from the NBA for positive drug test, is considering playing overseas

The King? 'LeBron, it turns out, is Aquaman,' or so the account via Dwyane Wade's wife goe...

From Penny to Thunder Dan to Pistol Pete to Agent Zero, guys who would be better in 2017
Griffin said recently he thinks it's more likely that LeBron James goes to New York than L...

Mayo was suspended for two years last summer for violating the league's anti-drug program

The NBA broke its silence with a statement related to the Lakers-Paul George tampering cha...