Paul Pierce says he has no problem coming off the bench
Paul Pierce is back on the floor with the Nets, but not back in the starting lineup, and he says he's fine with that.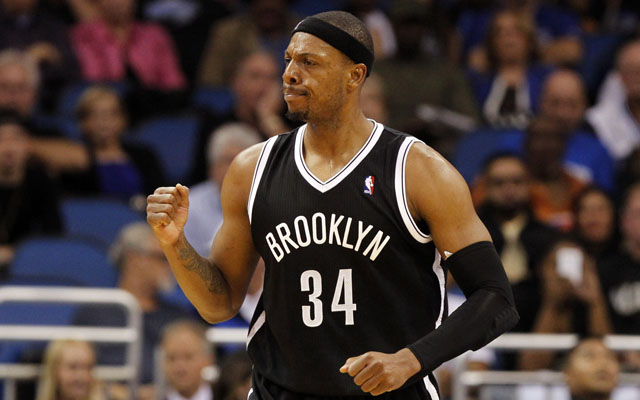 Paul Pierce is back on the floor with the Nets, but not back in the starting lineup, and he says he's fine with that.
In Tuesday's win over the Celtics, Pierce played 22 minutes coming off the bench after returning from a hand injury. He went 0-3 from the floor, scored four points, had seven rebounds and three assists. 
In his place, Alan Anderson started playing 35 minutes, scoring 15 points on 6-7 shooting. It obvious was effective as the Nets played one of their better games in weeks (it also helped that Deron Williams was back as well). So why change it? 
"I liked him being a leader with that second group," Jason Kidd said via the New York Daily News. "Will it stay that way? I don't know. We will look at the video tomorrow as a team and coaches. I will talk to Paul and see what his comfort level is, but I would like to get him back, give him more minutes and get him used to that glove."
For Pierce, that was only the fourth time in his entire career -- 16 seasons -- that he's come off the bench. But the former Celtic says he doesn't care as long as the final result is positive. 
"It's all about winning," Pierce said. "If that's what's best for the team, then so be it."
It could also be about managing minutes through the season as Pierce has a lot of years and a lot of mileage on him. Already the Nets have been hit hard by injuries, so Jason Kidd is attempting to sort through that.
Pierce played most of the fourth quarter, including the final eight minutes which is probably all he really cares about. Pacing himself for the moments that matter and as long as he's on the floor for crunchtime, he can live without starting. Oh, and as long as it's working, too. 
Rodman's agent says he is urging the ex-NBA star to check into rehab

The players and referees are working to fix a relationship that has recently been deterior...

The locker room heist is going to lead to plenty of fines and maybe some suspensions from the...
Larry Hartstein has his finger on the pulse of Boston basketball and locked in a pick for...

The always consistent Spurs take on the rebuilding Lakers in a national TV contest.

The lack of urgency from the front office has some players doubting their chances of reaching...