Report: Celtics' Kevin Love offer 'isn't getting it done' for Wolves
Minnesota reportedly believes there are better options out there than what Boston has put on the table for Kevin Love.
• 2 min read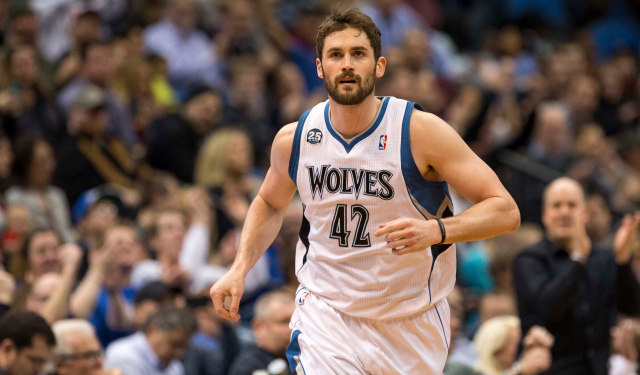 More Offseason Analysis: Coaching changes, news | Free Agency | Draft
Contrary to a recent report, the Minnesota Timberwolves aren't impressed with the Boston Celtics' offer for Kevin Love, according to Steve Bulpett of the Boston Herald.
Sources close to the situation have told the Herald that Boston's offer of draft picks and players isn't nearly the best the Timberwolves have received — or expect to receive — for their All-Star forward.

The Celtics are willing to discuss a number of options, but none of them includes the quality of player with NBA experience that Minnesota is seeking or believes it can get elsewhere.

One source indicated Denver and Golden State have both made more intriguing offers, and there are other teams very much in the picture, as well. There have been conflicting reports on whether the Warriors would make Klay Thompson available, but the Wolves are said to be confident they can find a more than acceptable deal there.
It appears that Minnesota wants at least one player who has proven himself to be a real difference-maker at the NBA level. If Boston is offering Kelly Olynyk, Jared Sullinger and draft picks, that would not fit the criteria. The most appealing part of the Celtics' offer would be the sixth pick in this year's draft, but that apparently doesn't do it for the Wolves.
At present, however, what the Celtics have to offer isn't getting it done. According to a source, the first-round picks they own from the Nets are not seen as being of overwhelming value, and, where the Celts had an Al Jefferson to offer Minnesota for Kevin Garnett six years ago, neither Jared Sullinger nor Kelly Olynyk rises to that level in the Wolves' eyes this time around.

As for the Celtics' No. 6 overall pick, one NBA source has been told directly that Minnesota believes it can get a player of equal quality later in the first round. The Timberwolves hold the 13th pick, but multiple offers would allow them to select higher.
Minnesota's obviously in a tricky position, and it's going to have to balance setting itself up for the future with acquiring players who can help now. The Wolves apparently don't want to blow the whole thing up and bottom out, so it seems they'll be after young players who are already productive.
Boston's best bet might be getting a third team involved, according to the Herald. This doesn't mean Love joining the Celtics is impossible, just that the city perhaps shouldn't be holding its collective breath.
If there's any justice, the basketball gods will give us the Golden State-OKC playoff series...

Pachulia fell onto Westbrook in a questionable manner during Saturday night's game

Pachulia fell onto Westbrook after they both got tangled up with Nick Young
Butler suffered the injury on Friday night against the Rockets

The extent of Butler's meniscal injury isn't yet known, but there's reason for Wolves fans...

No timetable was provided for Butler's recovery