Report: Heat's Chris Andersen will opt out, become free agent
Miami big man Chris Andersen will reportedly be on the open market this summer.
• 1 min read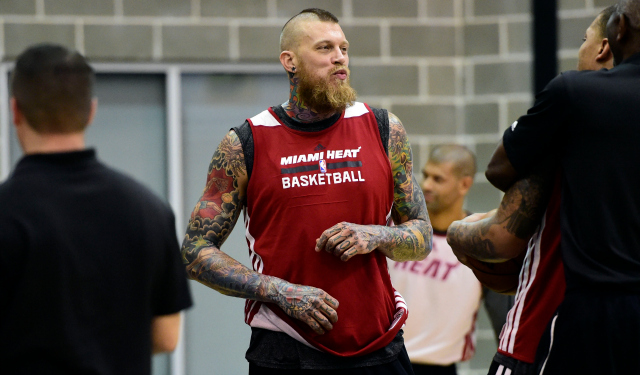 More Offseason Analysis: Coaching changes, news | Free Agency | Draft
Miami Heat big man Chris Andersen will decline his $1.45 million player option for next season and become a free agent, according to Yahoo Sports' Marc Spears. Miami's supporting cast could look quite different in a few months.
Guard Ray Allen said he still loves playing, but is considering retirement after 18 seasons. Forward Shane Battier is retiring after 13 seasons. Free-agent point guard Mario Chalmers told Yahoo Sports he would like to re-sign with the Heat, but he struggled in the postseason and lost his starting job in Game 5. Forward-center Chris Andersen will opt-out of his contract to become a free agent, a source said. Longtime Heat forward Udonis Haslem has a contract option for next season. Sharp-shooting forward Rashard Lewis is a free agent also, and the Heat will have competition for his services, a source said.
Andersen's decision is essentially a no-brainer financially. He has been an absolute steal since he joined the Heat, finishing around the basket and providing solid pick-and-roll defense and rim protection in addition to his vaunted energy and activity. A key part of Miami's playoff run, he appeared to be much less than fully healthy in the NBA Finals, where he averaged just 2.6 points per game and made 25 percent of his shots. 
While Heat head coach Erik Spoelstra has always been a big Anderson fan, his future with the team is uncertain simply because the organization has a lot of other questions to answer. All three of its stars could opt out, and it looks like the roster needs an injection of athleticism and shooting. Andersen could surely still fit in, but there are a lot of moving parts.
Oklahoma City has reportedly offered the MVP a five-year extension worth over $200 million

The big man was a big part of the Warriors' championship run last season

The Cavs jokes were out in full force after Golden State reportedly agreed to sign Antonius...
New York seems to be at the top of Irving's list of preferred destinations

Is it just a normal workout, or is LeBron continuing his recruiting efforts?

Chris Bosh answered on the spot about the LeBron James and Kyrie Irving situation