Report: Iman Shumpert could return in December
Iman Shumpert could return in December from ACL surgery.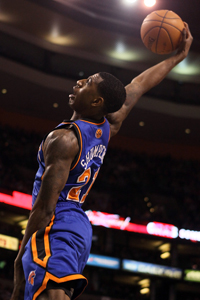 Shumpert may be back jamming by Christmas.
(Getty Images)
The New York Times reports that Knicks guard Iman Shumpert could return as early as December from the ACL tear suffered last spring in the playoffs.
All signs Saturday suggested that Shumpert's rehabilitation this off-season has gone well. He will still miss the start of the regular season, but it appears Shumpert could possibly return in December if his recovery is ahead of schedule.

Last week, Shumpert said he hoped to play in December, but that he doesn't want to come back too early from his injury.
via Shumpert, Walking Without Limp, Says He Is Feeling Fine - NYTimes.com.
The Knicks have some depth at the position, with J.R. Smith, Ronnie Brewer and the possiblity of running multiple point guards out in different lineups. But Shumpert gives them an athletic player who's already terrific defensively and can bring a lot of versatility. At the same time, you need to make sure he comes back totally healthy. Luckily, there's a lot better chance of him recovering from the injury now than, say, even 15 years ago.
Getting him back for December will help with the guard's endurance and management of minutes. But if it takes him a few more months, the Knicks can survive. They need him in the playoffs, and more important, for years to come. But it's good to hear he's ahead of schedule. 
Davis left the Pelicans' game against the Nuggets in the third quarter

Popovich was upset about an out of bounds call

Wall went 3-for-12 from the field, and had just eight points in the Wizards' loss
Noah was reinstated from his 20-game suspension on Monday, but is yet to play for the Knic...

In his first season with the Cavs, Rose has not played since Nov. 7

Keep it right here for all your Friday NBA scores, updates and highlights