Report: Kings' Isaiah Thomas not being shopped, is available
The Sacramento Kings aren't shopping point guard Isaiah Thomas but he is reportedly available in a trade for the right price.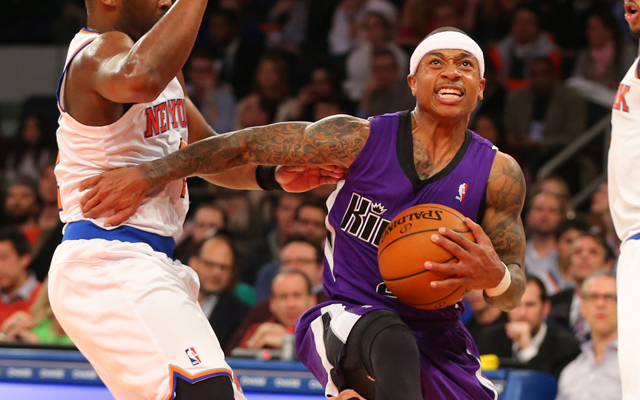 Impending free agency, restricted or unrestricted, can lead teams to trying to move that player before they have to make a high-priced decision. That's what we may be seeing with the Sacramento Kings as they approach Thursday's trade deadline. With the emergence of Isaiah Thomas in the starting role for most of this season, they definitely aren't shopping him before he enters restricted free agency this summer and gets an enormous pay increase.
That doesn't mean he can't be had at this deadline. Marc Stein of ESPN.com is reporting the Kings aren't necessarily shopping Thomas at the deadline but he can be acquired for the right (high) asking price. Thomas certainly isn't untouchable on the trade market.
It would be wrong to say that the Sacramento Kings are shopping backcourt dynamo Isaiah Thomas. 

However … 

Sources with knowledge of the situation say that Thomas can indeed be plucked from the Kings this week … provided someone meets their presumably high asking price for him. 
Thomas is arguably the best bargain in the NBA right now. He makes just under $900,000 this season and is averaging 20.2 points and 6.3 assists. He's started the majority of games at the point for the Kings this season and done a pretty good job. He's hit a great stride as he heads toward restricted free agency this summer. The Kings would have all of the power in controlling his destiny, so why not just wait to match or decline to match his offer sheet?
The Kings might not want to be cornered into matching a big contract this summer instead of risking losing him for nothing. If they're given a solid bounty in a trade before tomorrow afternoon, then it takes the pressure off of that kind of financial commitment. 
Nerlens Noel is now being represented by Rich Paul of Klutch Sports

Steve Kerr opens up about his back issues and more

OJ Mayo, banned from the NBA for positive drug test, is considering playing overseas
The King? 'LeBron, it turns out, is Aquaman,' or so the account via Dwyane Wade's wife goe...

From Penny to Thunder Dan to Pistol Pete to Agent Zero, guys who would be better in 2017

Griffin said recently he thinks it's more likely that LeBron James goes to New York than L...