Report: Kobe Bryant will be there for Lakers' Carmelo Anthony talks
Kobe Bryant will reportedly be there for the Los Angeles Lakers when they pitch Carmelo Anthony on signing with the team.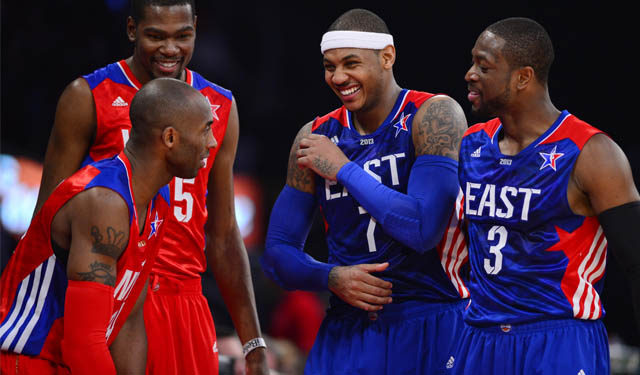 More Offseason Analysis: Coaching changes, news | Free Agency | Draft
Free agent forward Carmelo Anthony has met with the Chicago Bulls, Dallas Mavericks, and Houston Rockets as they've made their pitches for him to join their team. The Bulls met with Anthony for eight hours, the Rockets put Melo pictures of him in a Rockets' uniform on the Toyota Center, and the Mavericks were strictly business in their pitch. Now it's the Los Angeles Lakers' turn and they're bringing out the big gun.
Ramona Shelburne of ESPN Los Angeles reports that Kobe Bryant flew in Wednesday night from a vacation in Europe to participate in the Lakers' pitch to Carmelo. Bryant and Anthony are friends and the Lakers are hoping to have that help convince Melo he should help the Lakers rebuild into a playoff team.
Los Angeles Lakers superstar Kobe Bryant flew in late Wednesday night from a European vacation so he could play a key part in the team's pitch to free-agent forward Carmelo Anthonyon Thursday, according to sources with knowledge of the situation.

Bryant has a long history and friendship with Anthony and has been courting him for some time, but he felt it was important to be there when the Lakers made their pitch to him at an undisclosed location in Los Angeles.
The decision for Anthony is a strange but tough one. There is the possibility of immediate success and likely title contention if he signs with any of the three teams he's already met with over the last two days. Adding him to the Bulls alongside a hopefully healthy Derrick Rose and a defensive system that can make up for his shortcomings would be one of the best teams in the East. It might even be the best team in the East depending on what happens with the Miami Heat's summer.
Adding Melo to the Mavericks would give them a fantastic frontcourt of Tyson Chandler, Dirk Nowitzki, and Anthony that could contend with just about any team out West. They'd have to figure out their point guard situaiton, but that could push them into the crowded top of the West after what they showed last season. Adding him to the Rockets would provide one of the most lethal scoring trios in the league alongside Dwight Howard and James Harden.
Going to the Lakers would be a risk, as much of a risk as staying with the Knicks would be. Those are two teams not set up for actual title contention, but he'd be in one of the two biggest markets available and he'd likely make the most money he can make anywhere. The Lakers don't have to ask him to take a pay cut and the Knicks can offer him more than any other team. It's just up to Melo to decide what will be the most important thing for him in his next contract.
OJ Mayo, banned from the NBA for positive drug test, is considering playing overseas

The King? 'LeBron, it turns out, is Aquaman,' or so the account via Dwyane Wade's wife goe...

From Penny to Thunder Dan to Pistol Pete to Agent Zero, guys who would be better in 2017
Griffin said recently he thinks it's more likely that LeBron James goes to New York than L...

Mayo was suspended for two years last summer for violating the league's anti-drug program

The NBA broke its silence with a statement related to the Lakers-Paul George tampering cha...