Report: Lamar Odom pulling plug on reality show to focus on basketball
According to a report, Lamar Odom is abandoning his reality show to try and get his focus back on basketball.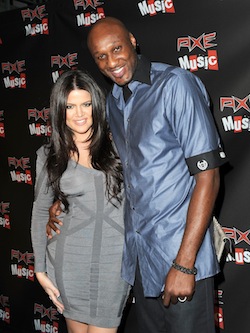 Brace yourselves, fans of
Lamar Odom
's reality show "Khloe & Lamar." Because it's over.
According to TMZ.com
, Odom is pulling the plug on the reality show to try and put his focus back on basketball.
Sources tell TMZ, the show's second season will be its last ... because Lamar wants to focus on reviving his fizzling NBA career. We're told E! is still trying to convince the couple to reconsider, but K&L are standing firm ... they just don't want to do it anymore.

As we previously reported, Lamar was relegated to the Dallas Mavericks' inactive list after putting up career low numbers this season. If he's lucky, he'll be traded. If not, who knows ...

But we're told Lamar is determined to make a comeback -- and he feels he should focus on only one project. Lamar will be living in L.A. full-time and he's hired trainers to help him get his game back.

According to sources, Khloe and Lamar WILL make occasional appearances on the reality mother ship,"Keeping Up with the Kardashians" -- but that's it. No mas.
Odom is likely to be an unrestricted free agent this summer as he'll likely have his contract bought out. He's not over the hill entirely at 32 years old, but this season has certainly placed some blemishes on him as a free agent target.
But cutting out some of that outside distraction and responsibility could help get his focus back on the court. It also eliminates the invasion of privacy Odom has to deal with as he goes through the struggles of an
NBA
season.
Smart move for Odom and a necessary step in trying to get back into form.
Trump rescinded Curry's invitation to the White House after Curry said he wasn't interested...

Silver said he was hoping Warriors would get chance to share their views directly with the...

Along with the Thunder, those were the three teams most involved in the Anthony trade talk...
LeBron said he was frustrated by the President's recent actions

A look at the various actors and elements in the latest sensational blockbuster trade in the...

Blockbuster deal doesn't change the Thunder's projected finish in the West