The early returns on Brandon Roy's return with the Timberwolves
Brandon Roy has been more of a playmaker in his return from early retirement, but can we expect him to get better?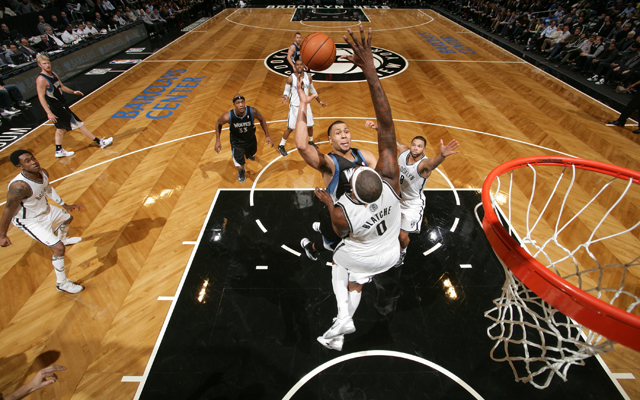 Brandon Roy's comeback has looked painful, but is he just rusty?
(Getty Images)
Everyone seems to be waiting for the ticking time bomb that is supposed to be Brandon Roy's knees.
The reactionary disposition of those fans watching him throughout his first three games of his NBA comeback seems to be a paranoid one, waiting for him to throw in the towel and simply say no more. He's not crossing people over, he's not throwing down dunks in traffic, and he hasn't been able to find his shot.
As Brandon Roy adjusts his game to his physical capabilities, we're seeing him struggle from a statistical standpoint right away. The rust is everywhere on his game right now. He's shooting just 29.2 percent from the field and hasn't made a 3-pointer in eight attempts.
We saw him miss a number of makeable open shots in the opener against the Kings. Five of his 14 attempts were wide-open jumpers and he missed all five of them. Four of them rimmed in and out and three of those were 3-pointers. He had a bad game shooting the ball but he didn't have a bad game overall.
Against Toronto, he was truly atrocious. There is no way of sugarcoating his play. He dribbled the ball like it was a football. He couldn't make any plays and he looked like a guy with bad knees. He had one play from memory in which he drove solidly down the left side of the lane on a pick-and-roll. Other than that, he moved terribly.
Monday night against the Brooklyn Nets, he made plays but didn't have an overwhelming feeling of good play. He ended the game with seven assists, including several kickouts to teammates knocking down jumpers. Defensively, he got torched, but the Wolves didn't sign him for his defense.
After three games, he's played a total of 81 minutes, an average of 27 per night. This seems like a lot of minutes, but Rick Adelman doesn't seem shy about the idea of putting him out there to be a big part of the Wolves' rotation.
"He's going to play around 28 or 30," Adelman said after Roy played 30 minutes in the Wolves opening win against the Kings. "We're going to have to just judge it; I don't really know."
If the minutes are going to be there for Roy to play, he'll have to figure out if he's not getting any explosiveness because his knees are bad or because he doesn't have his legs back yet. After he played 30 minutes against the Kings, Roy seemed to feel like his legs weren't under him.
"Yeah, I think so," Roy responded after he was asked if it could take a couple of games to get his legs back under him. "You know, as far as playing, I feel good. But it's just getting the legs back. I hadn't played a fourth quarter in the preseason, so just trying to get a feel for it."
He attributed some late-game bullying to try to get to the free-throw line to cramps in his hamstrings. He keeps telling everybody that he feels good, but it leaves you wondering if he's saying that because it's true or saying it because he's avoiding the questions about knee issues.
Before the back-to-back against the Raptors and Nets, Roy mentioned the first back-to-back of the season is always tough because you're still trying to find your legs. His performance definitely showed that to be true, but it makes you wonder if he's speaking about NBA players in general, or maybe hinting that it will be a while before he looks good again.
Since we're only three games into the season for the Wolves, it's probable that his knees aren't the issues for his basketball struggles. Getting back on the court and finding a way into game shape is always a struggle for guys coming back from injuries. Considering he hadn't played a real NBA game in well over a year, there's some validity to being patient and wondering if he can get into some type of game shape.
That doesn't mean his knees won't be an issue long-term during this season. It's naïve to believe he'll just bounce back to being an athletic player. But is it naïve to wonder if he can find his legs, find his jumper, and be serviceable?
Roy made big plays down the stretch of the win over the Kings. He made a key basket late in the fourth, got to the free-throw line late in the game, and even slid over to take a charge for a big Sacramento turnover. Since then, he's been a struggling playmaker, only able to create for his teammates and the other team in the last two games.
The question is when do we finally think he'll have his legs back under him? The Wolves are home for five of their next seven games. That should give him plenty of opportunity to get rest, get treatment, and continue to work on his conditioning. They won't play another back-to-back or three games in four nights stretch until Nov. 21 through the Nov. 24.
If he can't get his legs under him and his jumper falling by then, maybe it will be time to really look at his knees as a failed medical experiment. Until then, he'll continue to keep adjusting his game on the court, and Adelman will continue to throw him out there for long stretches.
The NBA All-Star Game is here. Follow our live updates to keep up with the action

Bryant says he was looking at schools in Chicago and was ready to meet Jerry Reinsdorf and...

The 76ers guard is in hot water after a controversial video surfaced showing him using a racial...
James Harden is the only player representing the best team in the NBA

Adam Silver sees a 1-16 playoff as a real possibility in the future if they can figure out...

Galin Dragiev is SportsLine's No 1. NBA expert and locked in a pick for Team LeBron vs. Team...