With zero bench left, the Lakers still close out the Cavaliers
The Cleveland Cavaliers found out what rock bottom feels like Wednesday night when they couldn't come back against a broken Lakers team.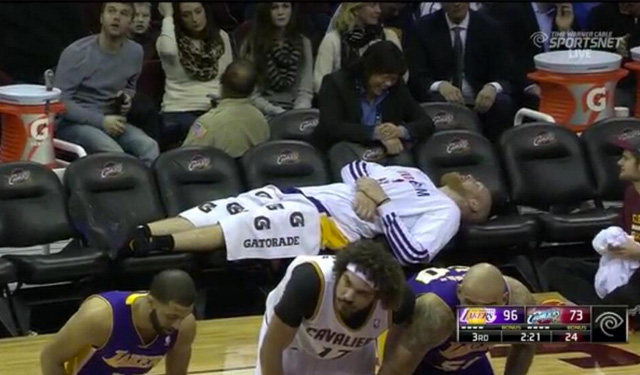 About 14 minutes into the Wednesday night game between the Los Angeles Lakers and the Cleveland Cavaliers, we already had a laugher. The Lakers were winning 45-19 and their 3-point shooting alone would have given them a 27-19 advantage. They were shredding a reeling Cavs team that seemingly had both internal and external issues. This isn't the Lakers you're used to either.
They started a lineup of Steve Blake, Jordan Farmar, Wes Johnson, Ryan Kelly, and Robert Sacre. It was the second night of a road back-to-back. They were facing a Cavs team in desperate need of a steadying victory. At home against a bad Lakers team with only eight available players is exactly what a win looks like on a schedule. And yet here they were down 26 points after 14 minutes of play. 
Jordan Farmar suffered a cramp during the game and had to leave. Nick Young sprained his knee during the game and was ruled out for the rest of the night. Chris Kaman got into foul trouble and eventually fouled out. Robert Sacre also fouled out, leaving the Lakers with just four eligible players on the court. This is where things got funny for the Lakers and depressing for Cavs fans.
It still didn't make a difference. The Cavs reversed their embarrassing fortunes of a blowout, but it didn't stop the night from being a complete embarrassment. The Lakers were allowed to still play Sacre after he fouled out. With too many injured players, the Lakers were allowed to keep Sacre in the game. Any foul against Sacre in the final 3:31 of the game would result in a technical foul against the Lakers. That means you could turn just about every possession into a three-point opportunity. It was so bad that even Steve Nash came out to the bench in the final minutes in his uniform, just in case something crazy happened.
That's not what the Cavs did though.
They turned a 10-point deficit to a broken, third-string Lakers team into an 11-point loss over that final 3:31. The Cavs never attacked Sacre consistently the rest of the game, instead opting for contested jumpers. Their next six possessions ended in a turnover and five 3-point attempts, not once attacking the basket where Sacre was awkwardly dancing out of the way of contact. One of those attempts from downtown connected to cut the lead to eight.
From there, the Lakers hit a couple of 3-pointers of their own, got a couple of Ryan Kelly free throws, and closed out a Cleveland team that has officially hit rock bottom in-season. With roughly six minutes left in the game, Kyrie Irving was walking over to the scorer's table to check in and try to possibly will his team to victory. A minute or two later, Mike Brown called him back to the bench and tried to finish it out with a lineup of Matthew Dellavedova, Dion Waiters, C.J. Miles, Anthony Bennett, and Anderson Varejao. 
It's unclear if Irving's retrieval from checking in to sitting back on the bench was due to a problem between the Cavs' star and the coach or just the coach deciding to roll with what's out there. It's unclear of anything that is going on with the Cavs other than turmoil and strife. The only thing we know is this is quickly becoming an uncomfortable laughing stock.
This organization has gone from a bevy of young assets and draft picks poised to make the postseason and lure LeBron James back home to a struggling startup company, then to a rejuvenation with the trade for a winning veteran like Luol Deng and back to a team that can't even beat a D-League Lakers squad when they have just five players available and one of them is a technical upon contact. There's no chance of landing LeBron and there's little chance of making the playoffs as they fall to 5.5 games out of the eighth seed in the East.
It doesn't mean that the Cavaliers are losing Kyrie Irving when he hits the restricted free agency market or that they can't make moves at the trade deadline or that a splash in the draft can't turn them into the 5-seed in the 2014-15 season. It's just that four years after James took his talents to South Beach, they're still left with as many questions now as they had back then. 
I guess the good news for the Cavs is how can it get any worse?
CBS Sports HQ Daily Newsletter
Get the best highlights and stories - yeah, just the good stuff handpicked by our team to start your day.
Please check the opt-in box to acknowledge that you would like to subscribe.
Thanks for signing up!
Keep an eye on your inbox for the latest sports news.
Sorry!
There was an error processing your subscription.
Keep it right here for the latest news, scores and highlights from Friday's NBA games

Butler has publicly made it very clear that he does not want to be in Minnesota

We'll have to wait for the Oklahoma City Thunder star's return to the court
L.A. will reportedly have cap space to sign two max players next summer, and may very likely...

A lot of centers tried to expand their range this preseason ... with mixed results

The Warriors star is listed as an executive producer for the movie, which stars Topher Gra...