2012 NFL Draft: First-round observations while waiting for Rounds 2 and 3
Upon reflection, eight things stood out to me after the first round of the 2012 NFL Draft as we get prepared for Rounds 2 and 3 on Friday night in New York.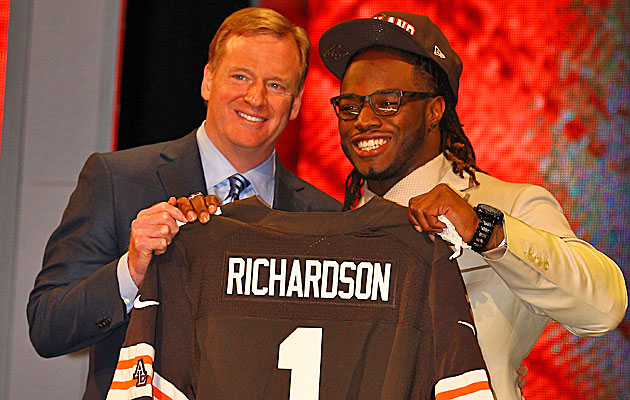 Trent Richardson

is compared to

Adrian Peterson

, but look for more receptions Cleveland's new back. (Getty Images)
Upon reflection, seven things stood out to me after the first round of the 2012
NFL Draft
as we get prepared for Rounds 2 and 3 on Friday night in New York.


1:
So what happened to the supposed "trend" that teams don't value running backs in the first round. There were three taken,   which -- by the way -- is the
NFL
average in the first round since 1985. Teams still run the ball about 46 percent of the time and would love to run it 55 percent of the time. Let's not throw the "trend" word around so fast next time.
2:
The Patriots' first rounders (
Chandler Jones
,
Dont'a Hightower
) make me wonder what scheme Coach Bill Belichick intends to run next season. Last season they switched from their traditional 3-4 to a 4-3. Belichick told me the reason for that was the lack of prep time because of the lockout. Well, he has the time this year, didn't re-sign
Mark Anderson
or Andre Carter (two 4-3 ends) and then drafts these two in the first round. Hightower told me he has had conversations with the Pats about the "strong inside linebacker" spot which would team him up with
Jerod Mayo
in a 3-4 look. Sounds to me that New England is heading back to their roots.
3:
People like to say Trent Richardson is the best back to come out of college since Adrian Peterson. Look for Richardson to be much more involved in the passing game than Adrian Peterson ever was in Minnesota. I talked with Richardson on Thursday night and he had a big smile on his face when we discussed his role in the Browns' passing game. According to the Browns they love his hands, route running and knowledge of pass protection. He should see 20-22 touches a game.
4:
Right after they were selected Thursday night I asked
Andrew Luck
and
Robert Griffin III
about taking control of their offense and getting down to work with veterans. Each quarterback understands he has to gain the veterans' trust as soon as possible by demonstrating his work ethic. Luck said he had no problem flying to south Florida to start throwing with Reggie Wayne if that's what it took. Griffin said he will be the first one in and the last one out until my teammates see how hard I will work.
5:
The Seahawks didn't surprise everyone when they selected
Bruce Irvin
, even though it seemed to come out of left field. Another team just behind the Seahawks put a lot of work in on Irvin and was seriously talking about taking him.
6:
Six guys were left in the Green Room last night and hope to hear their names called early in Friday's second round. WR Reuben Randle(LSU), TE Cody Fleener (Stanford), OT
Cordy Glenn
(Georgia), DE
Courtney Upshaw
(Alabama), DT
Devon Still
(Penn State), and WR
Stephen Hill
(Georgia Tech). I walked out of Radio City with one of the six last night and he was slightly upset more because his whole family was there than that he wasn't called. I asked one GM this morning about this group and he felt all six would be gone by midway through the second round. I hope so for the players' sake.
7:
I sat down with 20 of the first rounders last night and the most moving conversation was with
Morris Claiborne
after he was drafted by the Cowboys. He broke down and cried about being drafted. Heck, I had a tear in my eye listening to him. 
Can teams led by Drew Brees and Eli Manning contend for the top pick in the 2018 draft? Yes...

The top pick in the 2018 draft will come from Oklahoma State but it's not QB Mason Rudolph

LSU's star defender returned from injury this weekend and highlights our 2018 Draft Top 20
The Oklahoma State quarterback has put on amazing aerial shows in the first three weeks of...

The Browns own the Texans' first-rounder in 2018. Will Cleveland make the draft's first two...

Courtland Sutton's NFL-ready frame helps him consistently dominate smaller cornerbacks