2014 NFL Draft: Falcons, Texans have work to do in Day 3
With four rounds left, there's plenty of talent available and teams that need it. The Falcons, for one, still have to mine Day 3 in order to shore up their defense. And the Texans still need a QB.
• 3 min read
Draft coverage: Draft picks and grades | Prospect Rankings | Mock drafts | News
NEW YORK -- This draft is far from complete, without a doubt, but much of the cream has been sifted through, and there are still some teams that have some lingering issues heading into Day 3, and quite likely, even beyond.
  The Atlanta Falcons didn't meet the extreme asking price for Jadeveon Clowney that Houston set on the top overall pick, but I can't help but look at that roster now and still wonder about the ability to get to the quarterback. The added some interior heft in free agency with Tyson Jackson and Paul Soliai, but I have concerns about the edge and the evaluators I rely on were down on their first pick of Friday, Ra'Shede Hageman. His tape told two very different stories on him. I didn't hear teams very high on him and while he makes sense in the second round, does this solve a huge problem for that defense?
Yes, the Falcons can check off the three boxes of extreme need -- tackle, defensive line and safety, but I would think they'd still be mining the rounds for someone who can attack the quarterback with speed coming off the edge in the late rounds. That defense needs to make major strides from last season if Atlanta is going to bounce back to a contending team, and elite coordinator Mike Nolan can only do so much. The resources invested in the secondary the last two years must pay big dividends in 2014.
   And the Houston Texans, who were heavily considering quarterbacks with the first overall pick in the draft, still have yet to take one. Of course, with the Patriots drafting Jimmy Garoppolo tonight, everyone is going to point to the Texans acquiring Ryan Mallett from the Pats, what with his ties to Bill O'Brien and knowledge of the system and all of that. But man, is that really going to be enough to get it done – Mallett vs. Ryan Fitzpatrick and Case Keenum?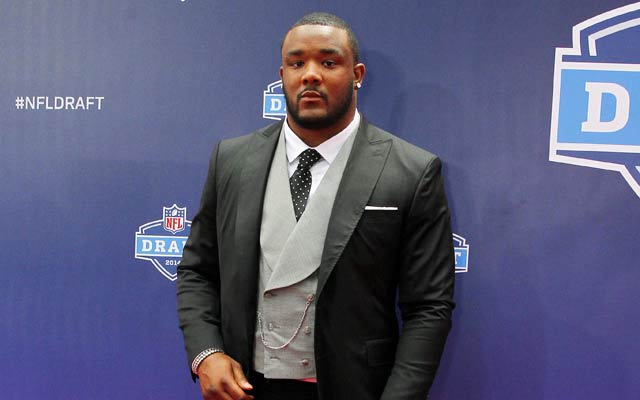 They could take someone like Tom Savage in the final day of the draft, but this seems risky for a club that has addressed its defense quite well and fancies itself, like Atlanta, ready to quickly bounce back from a disastrous 2013. Do they have enough under center? O'Brien is a wizard, but this could test his skills. He obvious has a bead on Mallett -- the word on the street has been a fourth-round pick will get that trade done; we'll see if it happens on Saturday -- but the young man has not played much football since being drafted by New England.
  Certainly a gamble, but O'Brien just might be the Chip Kelly of 2014.
Notes 
*Lot of teams still scratching their heads about the 49ers. Taking Carlos Hyde that high will be seen as an indication that Marcus Lattimore still might not be ready for 2014, but regardless they should be fortified if the wheels fall off Frank Gore this season. The pick of Jimmie Ward on Thursday was polarizing in the scouting community and they have loaded up on safeties, if nothing else. They need to get Colin Kaepernick's contract sorted out, and we'll see if Stevie Johnson can give them a boost at wide receiver as a veteran in a position they were seeking in this draft.
*I love safety Deone Bucannon, whom Arizona grabbed on Thursday, and there was a lot of intrigue among evaluators I trust about DE Kareem Martin from UNC, whom they grabbed with the 84th pick. Martin's measurables and metrics compare very favorably with Clowney and best him in some spots. If he can be even a situational option in the pass rush to complement what coordinator Todd Bowles has going there, then look out. It's very early to grade a draft, but GM Steve Keim just might have had himself another great draft week and he still might find a value quarterback on Saturday.
*Speaking of quarterbacks, with AJ McCarron, Zach Mettenberger, Savage and Aaron Murray among those still waiting to hear their name called, I feel like there still might be a diamond or two in the rough out there. As usual, they will deliver some of the remaining pop to this draft, and we'll see where Michael Sam lands as well. I have a very hard time believing he isn't drafted somewhere.
Like everything with Luck, there's some good news and some bad news with his latest health...

The top would-be free agent wide receiver is officially off the market

A billionaire owner of the Pittsburgh Steelers is hoping to buy the Carolina Panthers
The crop of free agent offensive linemen just got better

Laurent Duvernay-Tardif might have just made one of the most unique jersey requests in NFL...

The new Raiders coach offered some details on what he wants from Marshawn Lynch