Buccaneers sign QB Mike Kafka
With the Buccaneers seemingly undecided about quarterback Mike Glennon, they've just signed Mike Kafka to fill the roster.
• 1 min read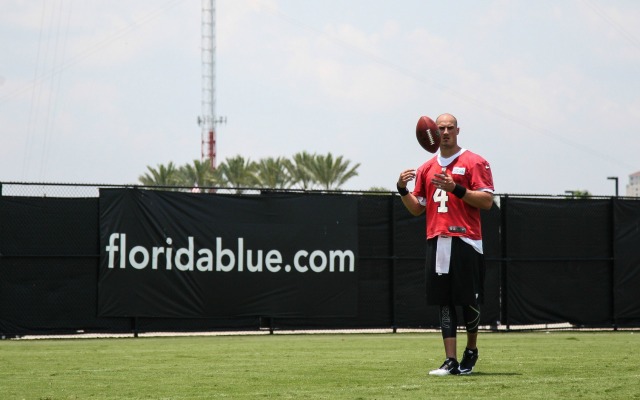 Mike Kafka has played four games in his four-year career, and he's thrown a total of 16 passes (with two interceptions!). He started off with the Eagles, and since then, he's seen time (though no actual playing time) with the Patriots and Jaguars, and though he worked out with the Cowboys earlier this month, he's actually got a new gig in Florida.
That's because the Buccaneers announced Monday they had signed Kafka to a contract.
It's hard to imagine Kafka having a real chance to win a job with the Buccaneers, even if the team and new coach Lovie Smith seem undecided about what to do with Mike Glennon. Besides, this rotoworld.com evaluation of the Kafka signing shouldn't make anybody feel confident: "Simply lacking NFL-caliber passing tools, Kafka will likely serve as a 'camp arm' before being waived prior to the season."
But hey life has to be pretty good today for Kakfa. After all, he couldn't beat out Chad Henne or Blaine Gabbert for playing time in Jacksonville, even though general manager Dave Caldwell said Kafka actually had a shot in the preseason to win the starting job. Plus, Kafka was released in New England to make room for the one who shall not be named.
On Monday, the Buccaneers also said they had waived offensive lineman Gabe Carimi, running back Michael Hill and quarterback Jordan Rodgers and released defensive tackle Derek Landri.
The release of Rodgers means the only two quarterbacks on the roster are Glennon and Kafka. Clearly, Tampa Bay is not done fiddling with this position.
Follow Josh Katzowitz on Google+
Super Bowl tattoos are never a good idea until your team has actually won the Super Bowl

A couple of dogs emerge victorious in the Conference Championship round

Our computer model simulated the AFC and NFC title games 10,000 times with surprising resu...
If the past 18 weeks are any indication, Tom Brady could be in trouble Sunday

The Patriots quarterback has been listed as questionable for Sunday's AFC Championship

It appears the Raiders didn't break any rules during their hiring of Jon Gruden