LOOK: Buccaneers unveil new uniforms for 2014
The Buccaneers unveiled new uniforms for the 2014 NFL season on Monday.
The Buccaneers already have a different front office and coaching look for 2014. They're going to have a different uniform look as well. 
The Buccaneers, who previously revealed a new logo and helmet, announced new uniforms for next season, revealing the modern look Monday morning:
Bucs co-chair Edward Glazer called the uniforms "the culmination of more than two years of research" and close work with Nike.
"Today marks the culmination of more than two years of research and planning to bring the Tampa Bay Buccaneers into a new and exciting era of our history," Glazer said. "We worked closely with our partners at Nike to design a uniform that would set the standard for both design and functionality. The result is a sleek, modern design that honors our championship past while also establishing a new, bolder identity moving forward."
The Bucs release says the "base uniform color" has been "energized with richer pewter, juxtaposed with a brighter, more vibrant shade of 'Buccaneer Red.'" You can see that 'Buccaneer Red' below. 
It also refers to a "Bay Orange" -- the primary trim you see above -- that is an "homage" to previous Bucs unis (aka, the "Creamsicle").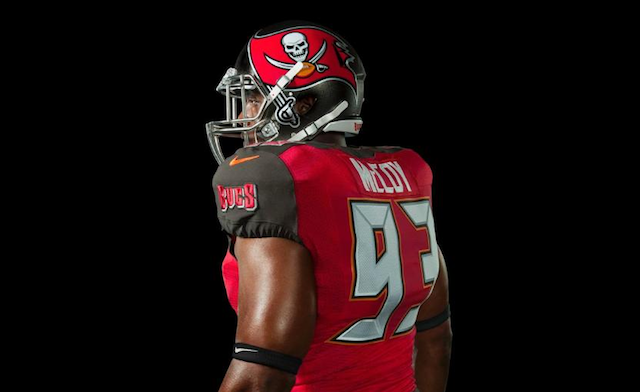 If Thomas is right, that means it's bad news for DeShone Kizer's chances of starting early

The NFLPA denied the accusation and fired right back at the league

The Raiders bangwagon continues to take on passengers ahead of the 2017 season
Madden season is almost here again. Here's everything you need to know.

The Rams' No. 1 pick is anything but fazed after taking his lumps during a brutal rookie s...

Breaux, who emerged as the Saints' No. 1 cornerback during the 2015 season, could miss 4-6...