LOOK: Buccaneers unveil new uniforms for 2014
The Buccaneers unveiled new uniforms for the 2014 NFL season on Monday.
The Buccaneers already have a different front office and coaching look for 2014. They're going to have a different uniform look as well. 
The Buccaneers, who previously revealed a new logo and helmet, announced new uniforms for next season, revealing the modern look Monday morning:
Bucs co-chair Edward Glazer called the uniforms "the culmination of more than two years of research" and close work with Nike.
"Today marks the culmination of more than two years of research and planning to bring the Tampa Bay Buccaneers into a new and exciting era of our history," Glazer said. "We worked closely with our partners at Nike to design a uniform that would set the standard for both design and functionality. The result is a sleek, modern design that honors our championship past while also establishing a new, bolder identity moving forward."
The Bucs release says the "base uniform color" has been "energized with richer pewter, juxtaposed with a brighter, more vibrant shade of 'Buccaneer Red.'" You can see that 'Buccaneer Red' below. 
It also refers to a "Bay Orange" -- the primary trim you see above -- that is an "homage" to previous Bucs unis (aka, the "Creamsicle").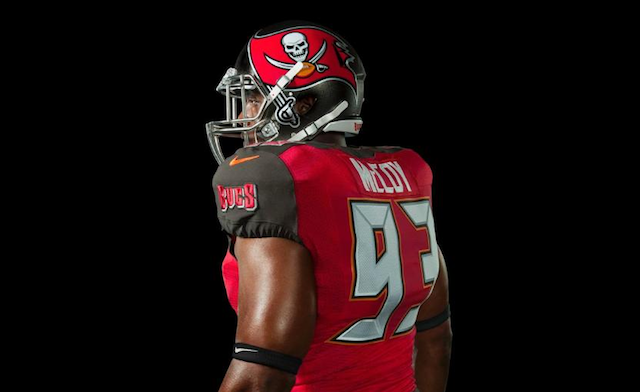 Penn Medicine's Dr. John Kelly thinks Wentz's late-season ACL tear is an "RG3 equivalent"

Landry set career highs in receptions and TDs but only averaged 8.8 yards per catch

One of the Steelers most dynamic players suffered a serious spinal injury in early Decembe...
The draft stocks of these prospects will change the most based on their performances at the...

Buffalo moves up to the No. 5 pick to land their franchise quarterback

Like everything with Luck, there's some good news and some bad news with his latest health...