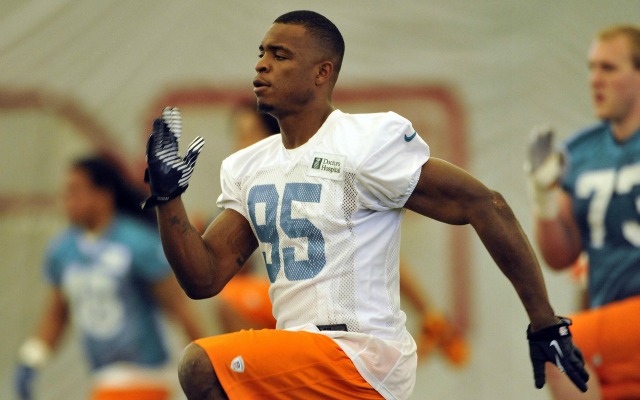 More NFL offseason: NFL Mock Drafts | Prospect Rankings | Top free agents
A year after trading up to get Dion Jordan with the third overall pick in the draft, the Dolphins have begun shopping him to other clubs, league sources said. Miami has talked to other teams already to gauge Jordan's trade value.
Numerous league sources, including executives from other teams, say the Dolphins might also be open to dealing receiver Mike Wallace and pass-rushing ace Cam Wake. That perception has only grown through the course of this week, through conversations with numerous decision-makers from other clubs, as Miami looks to retool its roster under a new regime.
The Dolphins need to revamp their offensive line, possibly by moving up the draft board to land an offensive tackle.
Sources close to Wallace, Jordan and Wake expressed a belief that a trade would not be a shock this offseason, though Wallace's hefty contract would limit his options.
The Dolphins, with head coach Joe Philbin assuming even greater influence after the dismissal of general manager Jeff Ireland, and with rookie GM Dennis Hickey now in his place, are in transition mode as it awaits league discipline from the Wells Report.
Miami wants to secure top cornerback Brent Grimes and could be losing several defensive linemen in free agency as well, creating holes that must be filled. With draft picks so cheap in this CBA, and Miami parting with some already last year to move up and get Jordan, including players in trades might be preferable to current or future picks.
Jordan did not click with the coaches last season, he had to play through a very difficult shoulder injury, and was not seen as a strong fit in their scheme (he's an edge rusher that best fits a 3-4 defense).
The man who drafted Jordan (former GM Jeff Ireland) is gone, so it might be time for Jordan to move on as well. With Koa Misi and Olivier Vernon occupying defensive end spots with Miami in its 4-3 scheme, finding playing time for Jordan might be tough barring injury.
Jordan's return time from a shoulder injury limited his progress, and with rookie compensation so low, it is easy to trade even first-round picks (the 49ers and Chiefs swapped recent first-round picks last year, for instance, and the Browns traded Trent Richardson to the Colts).
It may prove tough to get decent value for such an unproven commodity, and word continues to make the rounds among GMs that the Dolphins may end up moving a more established player, like Wallace or Wake, to be positioned to move up; and select an elite tackle in this draft, or to address other issues on the roster.