Michael Sam (Rams, pick No. 249) is first openly gay player drafted
Former Missouri defensive end Michael Sam made history Saturday, becoming the first openly gay player to be selected in the NFL Draft.
• 3 min read
Draft coverage: Draft picks and grades | Prospect Rankings | Mock drafts | News
NEW YORK -- In the leadup to the NFL Draft, former Missouri defensive end Michael Sam was one of the most well-known defensive players out there after he became the first openly gay NFL prospect. He overshadowed his teammate Kony Ealy, and aside from USC's Jadeveon Clowney, Sam's inspiration story seemed to make him larger than the draft itself.
And after a long wait, the Rams selected Sam in the seventh round with the No. 249 overall pick on Saturday. It led to a loud, sustained round of applause from the sparse crowd of fans at Radio City Music Hall. And a memorable celebration that lit up Twitter.  
May 10, 2014
Thank you to the St. Louis Rams and the whole city of St. Louis. I'm using every once of this to achieve greatness!! pic.twitter.com/QESdOJVzsw

— Michael Sam (@MikeSamFootball) May 10, 2014
Though Sam might have a tough time making that roster, particularly because the defensive line is so good and deep, that doesn't matter at the moment. The fact he'll get the chance to try is what matters.
His new coach, Jeff Fisher, said this to NFL Network, "We were fortunate to have the supplemental choices. You use those for players that you want to give an opportunity to, that you want to draft. He's a good football player. I'm excited about our draft and I'm excited about the possibility of adding him to our defensive front."
As for the media attention, Fisher had this to say:
"I don't have any concern whatsoever. We drafted a good football player. I'm excited to get him on the practice field. Yea, there's going to be a little extra attention for a couple of days. We have a very mature team and certainly not going to let any kind of distraction affect this football team."
Though he made huge headlines when he announced that he was gay in the leadup to the draft, Sam was never really thought of as more than a late-round pick and/or a potential undrafted free agent. That could be why he seemed to disappear from most draft storylines in the past few weeks.
It was thought by many that Sam could be the classic in-betweener. Too small to play defensive end, not athletic enough to play linebacker, not strong or quick enough to rush the pasher, not good enough to drop back into coverage.
But the Sam storyline reemerged during Saturday's final draft day, and yeah, it was a long wait.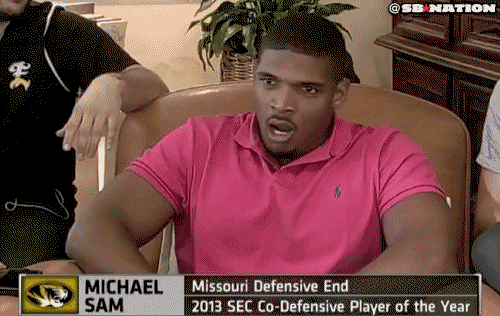 But make no mistake, there was plenty of interest in Sam's fate.
Hearing the #NFLDraft is being shown at gay bars everywhere. On Day 3. Ratings will be sky-high. @ckgone

— Cyd Zeigler (@CydZeigler) May 10, 2014
"@ShelleyESPN: Fans watching NFL draft! @michaelsam pic.twitter.com/ZwTCCibpkY" Michael Sam draft party.. West Hollywood. That is all.

— Plunder the lox (@theGOAPT) May 10, 2014
Michael Sam still not drafted? Clearly teams are worried about the fact a gay player terrifies them... I mean his intangibles.

— Chris Kluwe (@ChrisWarcraft) May 10, 2014
The NFL is a passing league. Protecting and getting to the QB is vital. A player who excelled at exactly that may go undrafted. #MichaelSam

— Sage Rosenfels (@SageRosenfels18) May 10, 2014
Yet, the Rams decided to take their chances, and in doing so, they helped Sam make history. NFLDraftScout.com's Derek Stephens graded the pick as follows:
"Sam exhibits strong burst off the snap but lacks flexibility and athleticism to consistently turn the corner as an edge rusher, and will get overpowered on contact. A hard worker who could earn a roster spot on effort and intelligence."
Already it appears as if Sam is an ambassador and, hopefully, a man who can usher in a new era of social progress in the NFL. It remains to be seen whether he's actually good enough to find a spot on the football field.
But on this day, that wasn't the main point, as the celebration many awaited took place. 


Brady, who is friends with the president, disagreed with his comments at a rally on Friday...

The Sooners quarterback has been awesome in 2017, but how should he be viewed as an NFL pr...

Look for Ezekiel Elliott and Dak Prescott to rebound after a rough outing in Denver
After two weeks of snoozefests, the NFL was back to being must-see TV on Sunday

Here are the Week 3 grades for every team that played on Sunday

Plus Lynch sputters, the Raiders defense falls flat and the response to Trump continues Sunday...