No-huddle clash: Manning, Broncos can show Eagles how it is done
The Eagles have been hyped as a no-huddle threat under Chip Kelly, but they run into its true masters this week: Peyton Manning and the Broncos.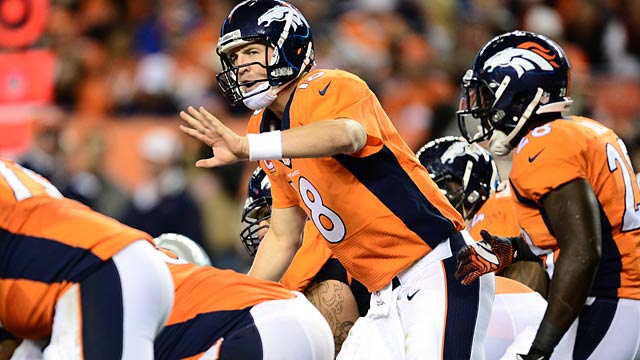 On Sunday, we have a battle of no-huddle teams when the Philadelphia Eagles and their  "Oregon" college attack meets the Denver Broncos and the Peyton Manning-led NFL no-huddle attack. But this could be a mismatch in more ways than one, because the Eagles have slowed down the use of their no-huddle package while the Broncos are accelerating theirs, and for good reason.
There is a stark difference in the three-week production for these clubs when in no-huddle sets.
Note Philadelphia's decline in the number of no-huddle plays, and when you look at the Eagles' last game -- vs. Kansas City at home, where the no-huddle should work better -- results indicate they may already have or should rethink its value.
Eagles in no-huddle
Game
Plays
Yards
TDs
WAS
50
263
3
SD
43
376
3
KC
35
205
1
Aside from a 22-yard touchdown reception last Thursday by Jason Avant, there were three false-start penalties, three sacks, two fumbles and an interception for a touchdown.
In Week 1, Redskins turnovers created the illusion the Eagles were running plays like a machine.That is in stark contrast to what the Broncos are doing thNow take a look at the Denver no-huddle offense.
The Broncos continue to add more no-huddle plays every week, and 11 touchdowns equates to a touchdown every 13 no-huddle plays.
Last week at home they were like a machine with 21 running plays for 102 yards, and they gained more on the ground with each quarter.
And in the air, Denver was unstoppable. In the first half, Manning was 17 of 19 in no-huddle plays for 179 yards and three touchdowns -- connecting with six different receivers.
Broncos in no-huddle
Game
Plays
Yards
TDs
BAL
41
298
5
NYG
47
280
3
OAK
52
373
3
He didn't stop there as he connected on 8 of 11 in the second half for another 92 yards. Manning was sacked once, did not throw an interception but did incur three penalties (Montee Ball also lost a fumble). Manning will be obsessed with fixing those problems this week as he prepares to run somewhere in the neighborhood of 60 no-huddle plays.
John Fox says the Broncos' no-huddle is as good on the road as at home. Players around Manning know what they have to do to stay sharp, so it's not going to fade away or disappear.
The Eagles may claim to be a "new wave" offense with an up-tempo philosophy but they have run only 198 offensive plays, which is tied with Jacksonville, Seattle and Tennessee for 15th most in the NFL.
Their no-huddle offense is 64.4 percent of their offense. As for the Broncos, they have called 213 plays, which is fifth in the league. The run 66 percent of their plays from the no-huddle, but the way they have taken care of business so far, they rarely need it in the fourth quarter -- only taking eight snaps of no-huddle in the final 15 minutes.
On Sunday, Manning figures to teach the Eagles a few of the finer points of an NFL up-tempo, no-huddle offense.
It's really not a good idea to quicken the pace of an offense if your defense needs to stay off the field, and the Eagles' defense is giving up a 115 yards on the ground as opposed to the Broncos giving up a league-low 43 yards.
To that end, no-huddle doesn't always mean up-tempo, and if the Eagles want to continue to use it they may want to slow the game down this week and keep Manning off the field.
Then again, the Broncos are trailing in time of possession this season 2 minutes, 22 seconds. Their highest scoring game (49 points) was in their lowest time of possession game, so that might not work either.
There is suddenly a wide open NFC playoff race and the MVP battle could get interesting to...

Pittsburgh is headed to its fourth consecutive postseason appearance

The NFC is going to be a blast to watch down the stretch
Here are the Week 14 grades for every team that played Sunday

Someone apparently threw a drink at Jefferson as he left the field and he was not happy about...

All of the best highlights from Week 14 are right here