Pete's Pics: Nothing wrong with Gronkowski, other than being held
Pete Prisco goes to the telestrator to break down film from Week 3's NFL action and comes out of it with several observations. Among them: Rob Gronkowski is getting mugged on a regular basis.
So what's wrong with New England Patriots tight end Rob Gronkowski? The Summer of Gronk taking its toll?
Nope, he's being held.  A lot.

Gronkowski has 14 catches and two touchdowns, but just two last week against the Ravens. That's because they mugged him. I would expect his numbers to go up now that the regular officials are back.

Here are two screen shots of consecutive plays from the Patriots-Ravens game last Sunday night.

As you can see from the first picture linebacker Dannell Ellerbe is mugging him. In the second, Ray Lewis reaches up to hook him past the 5-yard area for permissible contact.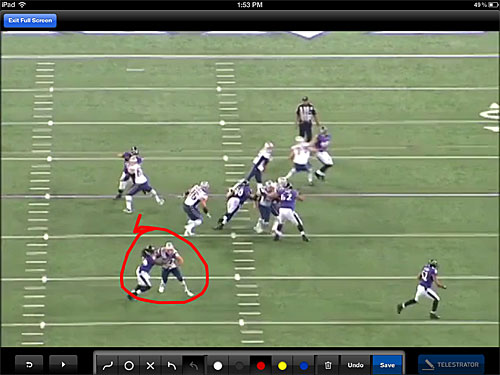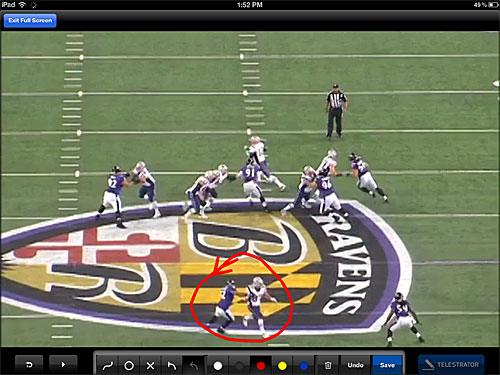 Eli Manning takes advantage

Eli Manning carved up the Carolina Panthers last week, even without Hakeem Nicks. Ramses Barden had a huge day in his place.

But it helps to face a safety who doesn't do much in coverage. That player is Carolina's Haruki Nakamura.

He plays some of the deepest safety in the league. And it kills the Panthers' ability to defend the pass.

Here are two screen shots showing Nakamura and just how deep he plays and how it hurts the coverage.

In the first shot, you can see Barden lined up wide left in the blue circle with Josh Norman on him in coverage. Nakamura is in the deep middle 20 yards off the ball in the yellow circle.  He has no chance to get to Barden. As you can see in the second screen shot, Barden gathers in an easy completion from Manning.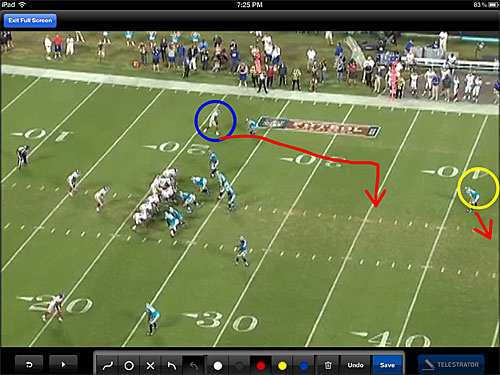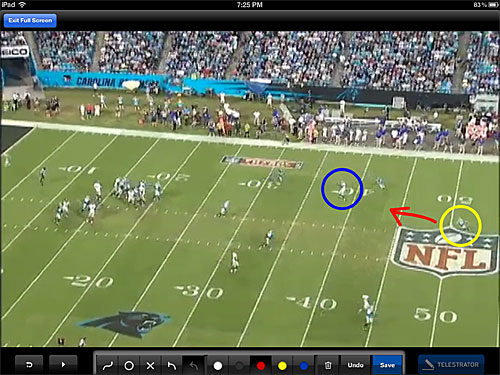 Alex Smith takes it easy
I broke down the 49ers inability to challenge down the field in their passing game last week in my After Further Review column. Here's a play where they had a chance to do so, but Alex Smith opted for the easy throw to running back Kendall Hunter in the blue circle. As you can see, he has Vernon Davis (yellow circle) clearing for a big play, with a clear lane to throw, and he doesn't throw it. That's what Smith has to do better going forward -- take chances.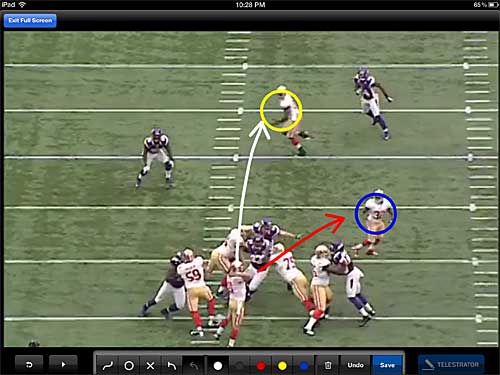 Something to Ponder
Sometimes even a touchdown pass should go down as a negative for a quarterback.

Here's an example.  We have Vikings quarterback Christian Ponder throwing a touchdown pass to Kyle Rudolph in the yellow circle.

Rudolph is blanketed in coverage, but Ponder goes there anyway and gets away with it when Rudolph pulls in his throw for a score. But look to the left of the screen shot. There you will see Adrian Peterson wide open with his hand up in the blue circle. Ponder never came back that way.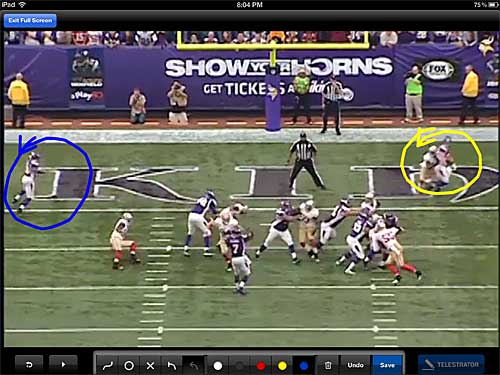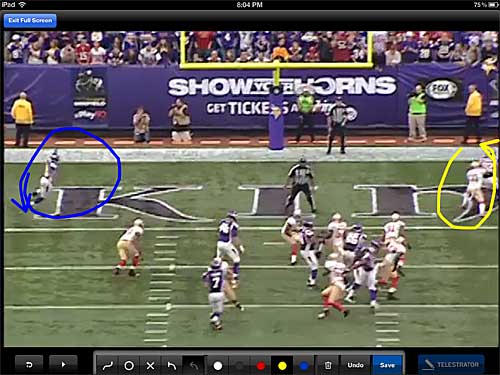 The benefits of A.J. Green
With Cincinnati receiver A.J. Green being such a great player outside, teams like to double him. But when you double him, you leave others in single coverage. That's what happened when Bengals slot receiver Andrew Hawkins took in a 59-yard touchdown throw from Andy Dalton against the Redskins last week.

As you can see from the first screen shot, the Redskins had Green doubled on the bottom and Armon Binns doubled on the top. That left Andrew Hawkins (yellow circle) inside matched up with safety DeJon Gomes, who was playing off-man. Tight end Jermaine Gresham (blue circle) was in man coverage with linebacker London Fletcher.

Dalton recognized this look right away and went right to Hawkins. He fired a perfect strike over the head of Gomes and Hawkins gathered it in and ran in for a touchdown.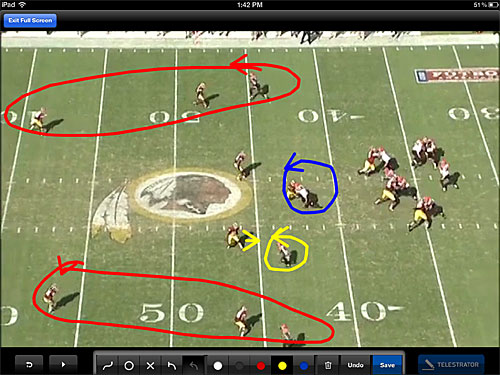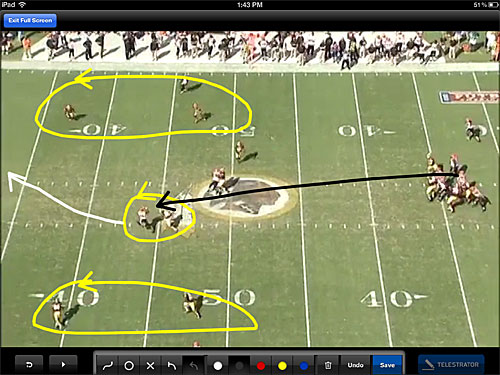 It's a nice gesture for the players to recognize the coaches that put them in position to...

Peters has played well since the Chiefs selected him in the first round of the 2015 draft

Ivory averaged just 3.6 yards per carry in two years with Jacksonville
Bryant reportedly requested a trade last season but the Steelers elected to hang onto him

The Cowboys have sounded increasingly willing to cut ties with Bryant throughout the offse...

These prospects should star in the events at the combine this upcoming week