Peyton Manning gets to keep single-season record for passing yards
The single-season record for passing yards officially belongs to Peyton Manning. The NFL ruled that a Manning pass in the first quarter against Oakland wasn't a backwards lateral.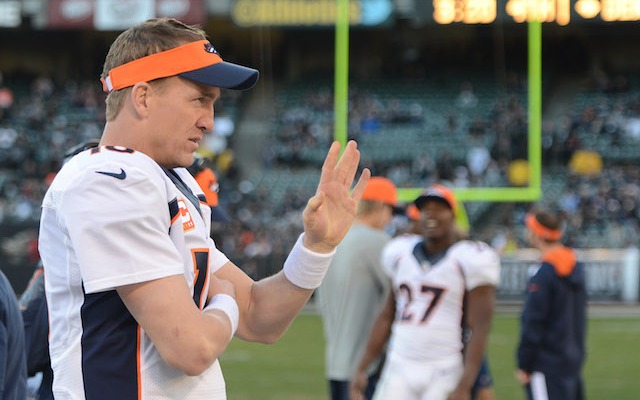 You can go ahead and scratch Drew Brees' name out of the record book because Peyton Manning's passing record will stand.
Manning set the single-season record for passing yards on Sunday when he reached 5,477 yards for the season after throwing for 266 yards in one half of action against the Raiders. Manning broke Brees' old record by one yard. 
Unfortunately, breaking records isn't as easy as it used to me, at least not in the internet age. A user on Reddit noticed that one of Manning's first quarter passes to Eric Decker may have not been a pass at all. The seven-yard pass looked like it might have gone slightly backward, which would make it a lateral and Decker would have to be credited with a run. If the NFL decided to credit Decker with a run, then the league would have had to take seven passing yards away from Manning and give the record back to Brees. 
The Elias Sports Bureau reviewed the play and along with the NFL decided "that the fairest resolution is for the ruling of the one-site stats crew to stand," NFL spokesman Michael Signora said. 
Here's a picture of the play to give you an idea of how ridiculously close this was to being a lateral. For a complete look at the play, be sure to check out Will Brinson's breakdown here:
According to the NFL rulebook, a forward pass requires "the ball initially moves forward (to a point nearer the opponent's goal line) after leaving the passer's hand(s)." 
The Patriots' top pick likely won't play a down for them in 2017

Chris Long put his arm around Malcolm Jenkins during his teammate's protest on Thursday

Nick Folk had some trouble putting the ball through the uprights against Jacksonville
If this fan was general manager of the Jaguars, Blake Bortles probably wouldn't be quarter...

It looks like we're going to have a quarterback competition in Jacksonville

Smith is facing up to seven years in prison if convicted