Prediction: Broncos will lead the league in rushing touchdowns
Did you know the Patriots led the league in rushing touchdowns last season? Think they'll repeat? Our friends at PredictionMachine.com don't think so. They have the Broncos taking that honor.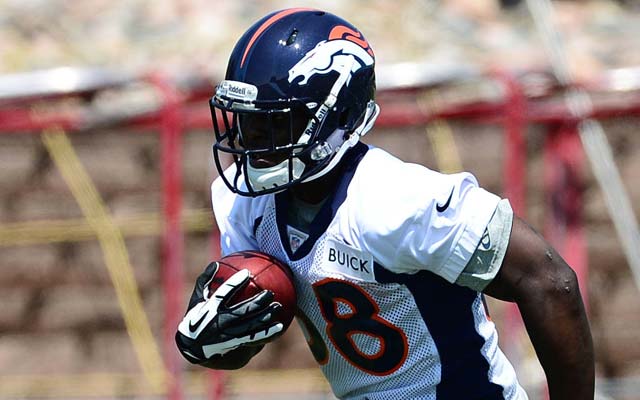 We asked our friends at PredictionMachine.com to share some insights from their findings about the upcoming 2013 NFL season. Throughout the preseason we'll be posting interesting items in Eye on Football. If there are specific things you want to know, drop it in the comments section below. 
Why it is likely: In 2012 the Broncos finished second in the league in scoring behind the New England Patriots. While Denver has improved its offense and appears to be retaining its up-tempo style, the Patriots have lost major offensive weapons and may need to slow the game down.
Leading the league in scoring is only one piece of the puzzle, though, as the Broncos will still need to shift focus near the goalline for this to happen. Enter second-round pick Montee Ball from Wisconsin.
In the vast majority of cases, college touchdown statistics (or previous year's NFL TD stats for that matter) have little to do with upcoming professional performance. When a high-powered offense that struggled in short-yardage and goal line rushing circumstances drafts the FBS all-time leader in rushing touchdowns and clears the way for him to play a significant role, however, the situation is different. Note that New England threw 34 passing TDs last season, yet still led the NFL in rushing touchdowns with 25. Denver could do something similar this year.
Possible obstacles: Peyton Manning, Wes Welker, Eric Decker, Demaryius Thomas. Even if Denver does lead the league in scoring, a playmaking aerial attack may not leave many opportunities for Montee Ball or others to pick up red zone touchdowns.
Final thought: In 50,000 simulations of the 2013 NFL season by the Predictalator at PredictionMachine.com, Denver averages 22.3 rushing touchdowns, which just eclipses San Francisco's 21.8 rushing scores to lead the league. Of those, Ball is projected to score just over half of Denver's TDs on the ground. With 11.6 ground touchdowns, Ball ranks behind Arian Foster, Marshawn Lynch, Alfred Morris, Ray Rice and Adrian Peterson for the sixth-best total in the NFL. It's certainly no lock and this does not mean Ball should be a top-five fantasy selection, but Denver's pace, offensive line and skill-position weapons make every facet of this offense scary (good), including the ground game. 
Surgery is going to end Jason Verrett's season for the second year in a row

There's still a couple of celebrations you're not allowed to do in the NFL

NFL players aren't very happy with Donald Trump
NFL commissioner wasn't thrilled with the president's comments from Friday

Mike McClure, a DFS pro with more than $1M in winnings, gives optimal DraftKings and FanDuel...

Mike McClure has made over $1 million playing DFS and gives his best daily fantasy football...