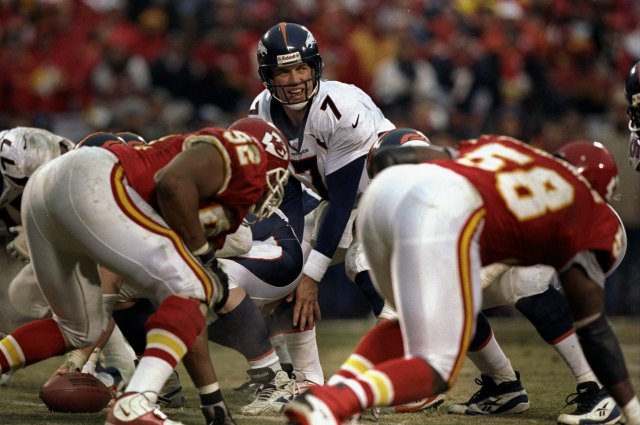 When the Broncos travel to Kansas City this Sunday to face the Chiefs, Denver can expect plenty of crowd noise.
With a victory, the Chiefs would tie the Broncos for first place in the AFC West and would avenge Kansas City's seven-point loss to Denver from Week 2. That division would get awfully interesting awfully quickly.
So, those Chiefs fans will be ready to make the lives of Peyton Manning and the rest of the Broncos offense as miserable as possible.
But can they be loud enough where Denver's quarterback can't take a snap and the game's referee has to try to shush the crowd by threatening to take away Kansas City timeouts? Probably not, but that actually happened in 1990 when the Broncos featured a man named John Elway at quarterback.
Let's remember a day 24 years ago (H/T to Reddit):
In case you missed what the referee said, ... "Any further crowd-noise problem will result in a charged timeout against Kansas City. Thank you for your cooperation."
The Chiefs went on to win the game 31-20, though Elway (24 of 36 for 328 yards, two touchdowns and an interception) was solid.
Unfortunately for Elway, this wasn't the first time a boisterous crowd made life unpleasant. This, from 1983: