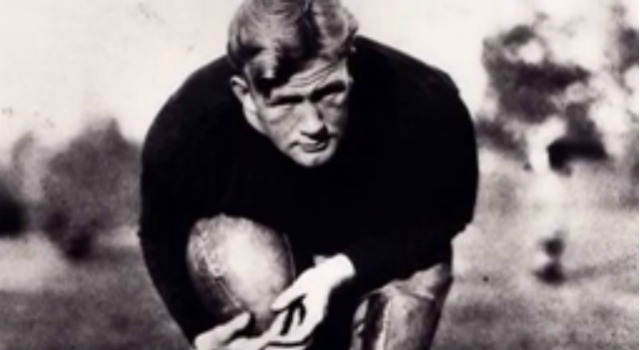 A few times in the past 11 months, we've seen modern-day NFL players attempt to break major long-time league records.
For instance, Tony Romo broke the 500-yard barrier last month and gave us a short thrill that he might come close to Norm Van Brocklin's 554-yard day from 62 years ago (Romo came up 48 yards short).
A few weeks later, Lions receiver CalvinJohnson fell seven tiny yards short of the record for receiving yards in a game when he accumulated 329 of them against the Cowboys (Flipper Anderson's mark of 336 yards from 1989 still rests safe), and you'll recall last season when Vikings running back Adrian Peterson came ever so close to breaking Eric Dickerson's season rushing record of 2,105 yards (Peterson finished with 2,097).
But here's one record that has stood for 84 years, and in fact, nobody has come all that close to the mark since Gale Sayers in 1965.
The record: the most points scored in a game by an individual. The number: 40. The person to do it: Ernie Nevers, a fullback for the Chicago Cardinals who scored six touchdowns and four extra points for 40 total points vs. the Chicago Bears on Nov. 28, 1929.
If you've never heard of Nevers, you might not be not alone. He only played five seasons in the league (from 1926-27, he played (and coached) for the Duluth Eskimos and for the three years after that, he took the field for the Cardinals). But in those five seasons, he had quite an impact, making the All-Pro team all five years and landing in the first-ever Pro Football Hall of Fame class in 1963.
And by the way, he was also a good enough baseball player to find a spot as a relief pitcher with the St. Louis Browns, giving up two of Babe Ruth's home runs during his record run of 60 in 1927 and once hitting a double off Walter Johnson.
As for giving up those blasts to Ruth, Nevers said, "I didn't feel too badly about that, though. He hit a lot of pitchers -- some of them good, too.
Here's how he did on the baseball field.
Year
Age
Tm
Lg
W
L
W-L%
ERA
G
GS
CG
SHO
SV
IP
H
R
ER
HR
BB
SO
HBP
1926
24
SLB
AL
2
4
.333
4.46
11
7
4
0
0
74.2
82
41
37
4
24
16
1
1927
25
SLB
AL
3
8
.273
4.94
27
5
2
0
2
94.2
105
61
52
8
35
22
2
1928
26
SLB
AL
1
0
1.000
3.00
6
0
0
0
0
9.0
9
4
3
1
2
1
0
3 Yrs
6
12
.333
4.64
44
12
6
0
2
178.1
196
106
92
13
61
39
3
162 Game Avg.
7
15
.333
4.64
53
15
7
0
2
217
238
129
112
16
74
47
4
His record wasn't great, but Ruth apparently once told him, "You've got good speed, kid. For my sake, I hope you stick to football."
But that wasn't it. At Stanford, he excelled in football, baseball and basketball (another sport in which he eventually played professionally). But there was little question football was his best sport.
As Knute Rockne and Pop Warner would attest.
After Nevers had a standout Rose Bowl performance against the Four Horsemen of Notre Dame in 1925, the Fighting Irish coach referred to him as "this fury in football boots," and Warner once called Nevers one of the best players he'd ever coached.
"Nevers could do everything [Jim] Thorpe could do," Warner said. "And Ernie always tried harder. Ernie gave 60 minutes of himself in every game."
But ...
Back to that fateful Thanksgiving day in 1929 when Nevers had one of the best performances in NFL history.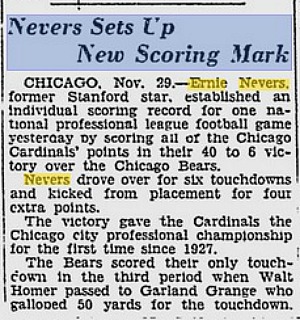 Nevers went on to serve in the Marines during World War II and then got into the wholesale liquor business in San Francisco. He died in 1976, but his legacy lives on through the NFL record that might never be broken.  And might never actually be in danger.
Follow Josh Katzowitz on Google+