You probably know this already, but Peyton Manning holds a lot of NFL records.
When Manning announced his retirement on March 7, he officially left the game as the NFL's all-time leader in career passing yards, career touchdown passes and most overall wins (200). Manning also holds the single-season record for touchdown passes and passing yards. 
The former Colts and Broncos quarterback also holds the all-time record for most game-winning drives (56), most comeback wins (45) and the most seasons with at least 4,000 passing yards (14). 
I could go on, but I think you get the point: Manning holds a lot of records. 
However, he won't be holding all those records forever and he doesn't expect to. As a matter of fact, the newly retired quarterback admitted on Friday that he only considers one of his records unbreakable.
So which record is it? His record with Marvin Harrison. 
Manning doesn't think anyone will ever top 112 touchdown passes that he threw to Harrison while the two played in Indy. 
During his press conference with Colts owner Jim Irsay, Manning recounted the memory of his first touchdown pass to Harrison. 
"The very first preseason game, my very first pass, I threw a 5-yard touchdown pass, and Marvin Harrison ran 48 yards for a touchdown. I remember thinking, 'The NFL is easy,'" Manning said. "'You just throw a short pass and Marvin Harrison he runs for touchdowns.' Which is pretty much what he did for the entire time he and I played together. I think many records will be broken -- most of my records will be broken -- I don't believe that record that me and Marvin have of throwing the most touchdowns together will ever be broken."
Obviously, the begs the question: Is Manning right? Or will someone top his record?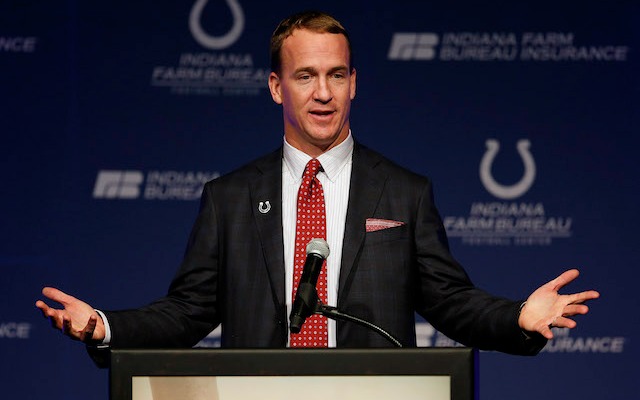 During their 11 years together in Indy, Manning threw Harrison a total of 112 regular season touchdown passes, which is a lot when you consider that no other quarterback/wide receiver combo in NFL history has even hit the 90-touchdown mark.
Right now, there are two duos that are inching closer to Harrison and Manning, but it's going to take a miracle for either one to catch them. 
Philip Rivers and Antonio Gates have connected on 77 touchdowns and would need to add at least 35 more to tie Manning and Harrison. The 35-year-old Gates would have to play at a high level for at least five more seasons for that to happen, which seems unlikely. 
Drew Brees and Marques Colston have combined for 72 touchdowns, but they're likely not going to be adding to that total this year since Colston's been cut by the Saints. 
That leaves one possible tandem that could pull it off: Tom Brady and Rob Gronkowski. 
Brady and Gronk have connected for 64 touchdowns in just six years. If Gronk can stay healthy and Brady plays until his contract expires in 2019, they'll have an outside shot. Gronk would just need to catch an average of 12 touchdown passes a year, which is definitely possible because Gronk's hit double-digits with touchdown catches in five of his six seasons. 
If we include postseason games, Brady and Gronk have connected on 73 touchdowns, which puts them just 41 behind the 114 overall that Harrison and Manning connected on. 
Basically, if Brady and Gronk can't do it, then Manning's right, the record is probably unbreakable. 
Here are all the active streaks of at least 50 touchdowns that include at least one active player (Regular season touchdowns only, via Pro Football Reference)
1. Rivers to Gates: 77 touchdowns. 
2. Brees to Colston: 72 touchdowns. 
3. Brady to Gronk: 64 touchdowns. 
4. Matthew Stafford to Calvin Johnson: 56 touchdowns. 
5. Matt Ryan to Roddy White: 52 touchdowns. 
6. Brees to Jimmy Graham: 51 touchdowns. 
7. Tony Romo to Dez Bryant: 50 touchdowns.