Tom Coughlin on his HOF chances: 'I think it merits consideration'
Does Giants coach Tom Coughlin have a shot at the Hall of Fame? He think he might.
• 2 min read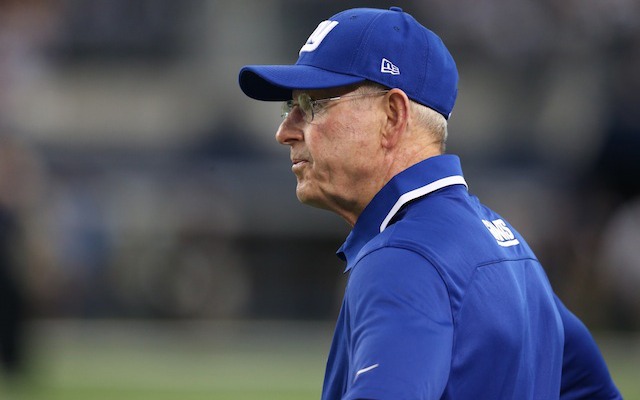 Just because you're a two-time winning Super Bowl head coach, that doesn't automatically grant you the right to a Pro Football Hall of Fame induction. Just ask former Raiders coach Tom Flores or former 49ers coach George Seifert or former Cowboys coach Jimmy Johnson, all of whom won two Super Bowls but never were asked to Canton.
But if he has to think about it, Giants coach Tom Coughlin -- who led his team to victories in Super Bowl XLII and Super Bowl XLVI -- believes he has a case for HOF enshrinement.
"I think it merits consideration, yeah, but that's as far as I'm going," he said, via the NY Daily News. "I don't think about it every day. I'd rather think about getting a group of players together that we can coach to win a game. That's where I am. Just one year, one game. Let's take care of today."
It would have been easy to predict that Coughlin would blow off the question's premise and either skirt around the issue or outright refuse to entertain the idea. But instead, he gave the query some thought.
"You want to be the very, very best you can be," Coughlin said. "If the highest point in recognition in our game is the Hall of Fame, then why not think about that? Do I think about it every day? No."
While it appears unlikely that Flores or Seifert ever will be inducted and it should be noted that Johnson hasn't ever been an HOF finalist -- and two-time Super Bowl winner Mike Shanahan also might be a stretch, considering his disastrous tenure in Washington -- Coughlin very well could have a good shot.
He took over the expansion Jaguars in 1995, and within two years, he led them to a 9-7 mark and an appearance in the AFC title game. From 1996-99, Jacksonville went 45-19 with four-straight postseason appearances. But after suffering three-straight losing seasons, Coughlin was fired after the 2002 season.
He was hired by the Giants a year later, and since then, he's managed a winning percentage of .563 with those two Super Bowl wins for New York.
So, what are his chances? Here are the thoughts of Daily News columnist Gary Myers.
I have one of the 46 votes and believe Coughlin meets the standards for joining the elite coaches in NFL history. Coaching the expansion Jaguars in 1997 to the AFC title game in just their second year -- they lost to Parcells and the Patriots -- and their fourth year -- they lost to the Titans -- will strengthen his case. Of course, winning a third Super Bowl eliminates any conversation and, to steal a Parcells expression, he would enter the Hall "on roller skates."
Someone apparently threw a drink at Jefferson as he left the field and he was not happy about...

All of the best highlights from Week 14 are right here

Wentz suffered a knee injury while diving for the end zone
Lewis among several coaches on hot seat, Cam's amazing run, and more from Week 14 in the N...

Here are the Week 14 grades for every team that played Sunday

The legendary kicker added to his incredible career with a rare curveball XP