High ceiling for new Cornhuskers commit, QB Kevin Dillman
Nebraska picked up a quarterback commit today from Kevin Dillman, who has the potential to do big things in Lincoln -- really big things.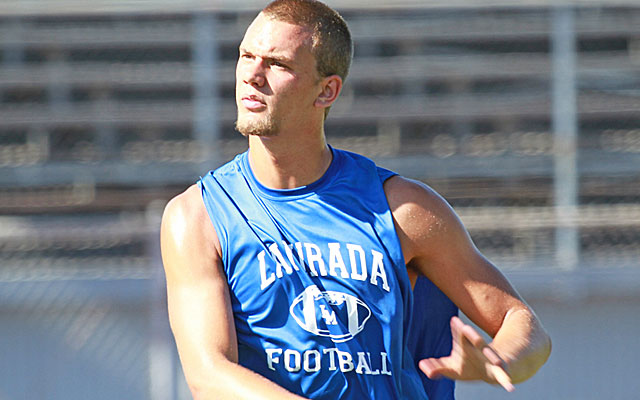 With today's commitment of four-star, U.S. Army All-American quarterback Kevin Dillman, Nebraska puts the icing on what has been one of the best first two months of a recruiting cycle in the country.
It may be more than just icing to a good start, though. It's bold to say, but this could be a program-changing type of commit for Nebraska. 
Dillman is a perfect fit for the Huskers and given his raw talent, Nebraska fans, coaches, players and alums should get excited. Dillman is 6-foot-4, 210 pounds, runs the 40-yard dash in the 4.5-second range, is athletic enough to play all over the field (he did at La Mirada High in California for a while) and has a strong and accurate arm. He's Tim Tebow-esque in terms of athletic skill set.
You could contrast the two by saying Tebow had superior intangibles and game instincts (at quarterback) coming out of Nease High in the 2006 class while Dillman has a better arm. Otherwise, they are similar. Granted Dillman, who will play this season at Denton (Texas) Guyer, has some developing to do (so did Tebow), but he's going into an offensive system that is tailor-made for a big-time athlete at quarterback. He will be put in position to use his athleticism and arm talent to make big plays.
With apologies to Johnny Stanton and Zack Darlington -- both excellent quarterback prospects coming out of high school -- and the others that have headed to Lincoln the past 20 years, Dillman has more baseline talent than any quarterback Nebraska has signed since Tommie Frazier.
He's not close to Frazier yet, though. A native of Sweden, Dillman has developing to do as he is still somewhat new to American football (came over prior to his freshman year of high school), both this season as a high school senior and at Nebraska. It will take Dillman and his coaches working to maximize that talent and he is set up to do so considering the systems he's heading into, but you never really know, especially at this spot. Dillman has to master the nuances of playing the position at a high level and blend his superior athletic talent with a second-nature type execution of knowledge of the game during the live action.
He's capable, though. If it all comes together for him, watch out. This is a prospect with the type of ability, given the critical position that he plays, that could lead the Huskers to Big Ten title games, national playoff berths and perhaps enter into the Heisman Trophy conversation.
It's usually smart to avoid such talk about any recruit, but this one is a no-brainer in terms of having that type of upside.
With his commitment earlier today, Nebraska moved up to No. 11 in the 247Sports team recruiting rankings for the 2015 cycle. The Huskers have seven verbal commitments.
Locksley joined Alabama's staff in 2016

Saban reportedly wants to hire Freeze, but there may be things keeping that from happening

Florida State-Miami will be on Oct. 6, and the Seminoles will play Clemson on Oct. 27
Weis Jr. was an offensive assistant for the Atlanta Falcons in 2017

Lott is joined by three current athletic directors and will serve a three-year term

These are the top guys every school is still chasing