'14 team preview: Chicago White Sox
The White Sox lost 99 games last season and had the worst offense in the league. What does 2014 have in store? Let's preview their season.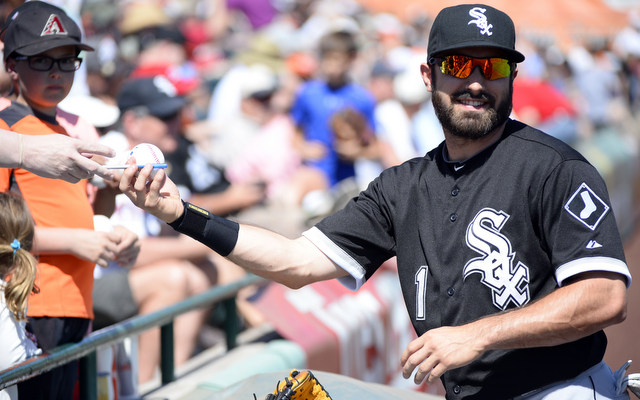 More: Likes, dislikes | Over/unders | All Team Previews | Spring Training
One year after falling just short of the AL Central title, the White Sox crashed into last place with a 63-99 record in 2013. It was their worst record since the 1970 squad went 56-106. GM Rick Hahn, in his second offseason at the helm, made some very shrewd moves to stockpile young players by dealing from positions of depth, namely his pitching staff. Will it help get them back into contention this summer? Let's preview.
Probable lineup
1. CF Adam Eaton
2. LF Alejandro De Aza
3. 1B Jose Abreu
4. DH Adam Dunn
5. RF Avisail Garcia
6. SS Alexei Ramirez
7. 3B Conor Gillaspie
8. 2B Gordon Beckham
9. C Tyler Flowers
Bench - C Adrian Nieto, 1B Paul Konerko, IF Jeff Keppinger, OF Dayan Viciedo
There are still an awful lot of moving parts here. De Aza or Viciedo could be traded before opening day (the Mariners are in on Viciedo), ditto Gillaspie, Keppinger and Beckham. The ChiSox would love to get young second baseman Marcus Semien and third baseman Matt Davidson into the lineup everyday. Nieto is a Rule 5 Draft pick who could lose his spot to the incumbent Josh Phegley, who wasn't particularly good last season. Eaton, Abreu, Dunn, Garcia and Ramirez are the only position players locked into their spots right now.
Konerko, the team captain, re-signed with the club on a one-year deal worth only $2.5 million. He came back with the understanding that he would be a bench player, a part-time first baseman and part-time DH whose primary role is mentoring all the young kids that have been brought in over the last few months. Most veterans would have retired rather than accept that role. Props to Konerko.
Probable rotation

1. LHP Chris Sale
2. LHP Jose Quintana
3. LHP John Danks
4. RHP Erik Johnson
5. RHP Felipe Paulino
Pitching coach Don Cooper is the best in the business, especially when it comes to turning scrap heap pickups into viable big league pitchers. He did it with Quintana a few years ago, Phil Humber before that, Gavin Floyd before that, and Esteban Loaiza before that. Paulino will be his latest reclamation project after missing most of the last two seasons with Tommy John surgery and shoulder problems.
Probable bullpen
Closer - RHP Nate Jones
Setup men - RHP Matt Lindstrom, LHP Scott Downs
Middle men - RHP Ronald Belisario, RHP Mitchell Boggs, LHP Donald Veal
Long man - RHP Maikel Cleto
Hahn wisely flipped closer Addison Reed to the Diamondbacks for Eaton just as he was about to get expensive through arbitration, and if there's one thing a team that lost 99 games doesn't need, it's an expensive closer. Jones figures to get the first crack at the ninth inning. He throws exceptionally hard but can lose the strike zone from time to time. Lindstrom is a pretty decent backup plan. Belisario, Boggs, Veal and Cleto are all out of minor league options, meaning they can't go to the minors without first passing through waivers. That might keep them on the roster (Veal and Cleto moreso) over guys like Jake Petricka and Daniel Webb.
Under-the-radar offseason transaction
I loved the Eaton pickup but I'm going even more under-the-radar here: Eric Surkamp. The ChiSox claimed the 26-year-old left-hander off waivers from the Giants back in December even though he was limited to only 16 late season minor league starts in 2013 as he worked his way back from Tommy John surgery. Baseball America touted his four-pitch mix and command (career 2.5 BB/9 in the minors) before the elbow reconstruction, saying he could be a "solid back-of-the-rotation starter" down the road. That doesn't sound sexy, but Cooper has a knack for turning pitching scraps into gold. Surkamp will start the year in Triple-A and could follow Quintana as the next great White Sox left-hander to come out of nowhere.
Fantasy breakout: Avisail Garcia
"Avisail Garcia and Miguel Cabrera are both listed at 6-foot-4 and 240 pounds. They're both from Venezuela and both played their first professional season at age 17. Over their first four minor league seasons, the two produced these lines:
Cabrera: .286 average, 28 home runs, 103 doubles, 23 steals, 1,428 at-bats
Garcia: .275 average, 23 home runs, 56 doubles, 49 steals, 1,534 at-bats
It's not a perfect comparison -- Cabrera walked and doubled a lot more, while Garcia has more speed -- but what's not in this comparison is the fact that Garcia spent another season and a half in the minors (Cabrera was called up after four), with his OPS rising and BB/K rate normalizing. And for a deeper picture of the similarities between the two players, this 2012 article from the Detroit Free Press should convert a few new believers (and be sure to check out the pictures of the two, mid-swing). Garcia's 2013 stretch with the White Sox was encouraging, and showed what he could do with regular at-bats in a hitter-friendly park. A .280 average and a combined total of 40 home runs and steals is not out of the question for 2014." - Nando Di Fino (Full White Sox fantasy preview)
Biggest strength
I'm not really sure, to be honest. It could be the top of the rotation with Sale and Quintana, or power in the middle of the lineup with Abreu and Dunn, or maybe their stable of young players like Eaton, Davidson and Semien. I'll go with the top of the rotation. Sale is one of the three or four best pitchers in the world and Quintana quietly ranked sixth among AL starters with 5.4 WAR last season, right between Yu Darvish (5.8) and Felix Hernandez (5.2).
Biggest weakness
Well, when you lose 99 games, you have a lot of weakness, but I'm going to do with the lineup in general. The ChiSox don't have much in the way of established big league starting position players, with De Aza, Dunn, Ramirez and Beckham the only notables. Ramirez isn't much of a hitter and Beckham has been a huge disappointment relative to his draft position (eighth overall). Chicago averaged only 3.69 runs per game last season, lowest in the AL and second lowest in baseball to the Marlins (3.17!), so they're going to need unproven guys like Abreu, Eaton, Garcia, Davidson and Semien to produce just to be a league-average offense.
Outlook
The White Sox still aren't very good but I think Hahn has them on the right track. Former GM and current executive vice president Kenny Williams was fond of established veterans and that's fine, but it's not a good approach when trying to rebuild a bad team. Hahn dealt luxuries in Reed and swingman Hector Santiago for Davidson and Eaton, grabbed some cheap pitching, and will move forward with a younger core in the final year of the Konerko/Dunn era.
The Tigers, Indians and Royals figure to contend for a postseason spot at the very least, so the White Sox are in a battle for fourth place with the Twins. Minnesota added a bunch of pitching this winter, so they're improved as well. I don't see the White Sox contending this year but I definitely think they are in good hands with Hahn and are headed in the right direction. Progress was made this winter, which is all you can ask for after 99 losses.
---
Coming Saturday: Previewing the Kansas City Royals.
There's no reason to run over the cases for and against Bonds, so let's have fun instead

The coveted right-hander would certainly be a fit in Milwaukee

We rate the best mustaches from random baseball cards because, why not?
Colon wants to break a Dennis Martinez record

The Twins have been rumored to be interested in Darvish all winter

Rolen is one of the best third basemen of all time, but you wouldn't know it based on this...