2013 Team Preview: Chicago Cubs
It's time to continue our series of 2013 team previews with a look at the Chicago Cubs.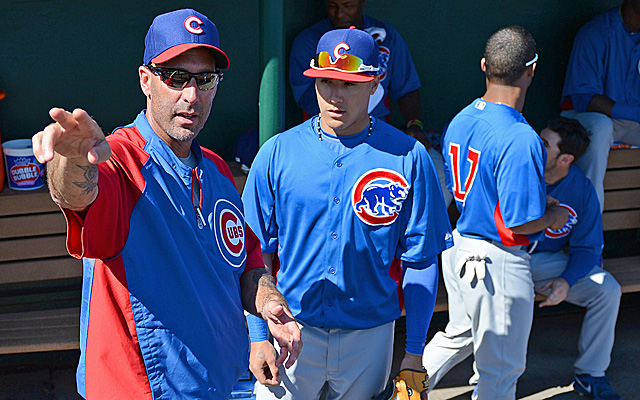 Spring training coverage | Cubs: Camp report | Likes, dislikes | Prospect Watch
The 2012 Cubs finished 61-101 and finished fifth place in the NL Central, but in many ways it was a good season. It was Year One of the Theo Epstein-Jed Hoyer brain trust, and the front office stocked up the farm system (jumping from No. 20 to No. 5 in Keith Law's organizational rankings on ESPN.com, for example). Also, Anthony Rizzo and Jeff Samardzija emerged as parts of the future nucleus, one which should include hyped prospects like Jorge Soler and Javier Baez in the near future.
As for 2013 Spring Training, it's only the second year of a slow rebuild, so the expectations should be modest. Let the simple-minded freak out about Epstein and company when the Cubs again put up a losing record. The direction here is pointing toward the future.
Still, this is the 2013 preview, so forge forward we shall ...
Probable lineup
1. David DeJesus, CF
2. Starlin Castro, SS
3. Anthony Rizzo, 1B
4. Alfonso Soriano, LF
5. Nate Schierholtz/Scott Hairston, RF
6. Ian Stewart, 3B
7. Welington Castillo, C
8. Darwin Barney, 2B
Probable rotation
1. Matt Garza
2. Jeff Samardzija
3. Edwin Jackson
4. Scott Feldman
5. Scott Baker
ALT: Travis Wood, Carlos Villanueva
Bullpen construction
Closer: Carlos Marmol
Setup: Kyuji Fujikawa, Shawn Camp
Lefty: James Russell
Long: Villanueva
Notable bench players
C Dioner Navarro, IF Luis Valbuena, OF Dave Sappelt
Under-the-radar offseason transaction
Other than the four-year deal for Jackson, pretty much everything the Cubs did could be construed as an "under-the-radar" type move this offseason. Let's hone in on Baker, though. The Cubs signed him for just one year at $5.5 million. He's coming off Tommy John surgery, but should be ready to join the rotation around mid-April. Baker has spent his entire career in the AL Central with the Twins, sporting a career 63-48 record with a 4.15 ERA. In 2011, he was 8-6 with a 3.14 ERA, 1.17 WHIP and 123 strikeouts in 134 2/3 innings. His 8.2 strikeouts per nine innings marked a career best. With the league switch, the smart money is on the 31-year-old Baker thriving. The Cubs will then have the ability to either make him part of the core for the future or flip him for a pitching prospect at the trade deadline.
Fantasy Breakout: Jeff Samardzija
"Be honest. You scoffed when you read that assessment of Samardzija just now. 'Front-liner? He went 9-13. He had a 3.81 ERA. The only line he's fronting is the one to get the spelling fixed on the back of his jersey.' Au contraire, mon frere. Sure, he had a few rough patches. What first-time starter doesn't? But the differentiator for him, other than his 9.3 strikeouts per nine innings, is that he got better with the accumulation of innings. While most converted relievers discover too late that they haven't extended themselves properly, Samardzija somehow found a second gear, pitching seven-plus innings in nine of his final 13 starts and compiling a 2.58 ERA, 1.02 WHIP and 9.8 strikeouts per nine innings during that stretch. The Cubs still shut him down early because, you know, that's what a team in their position is supposed to do with a talented young pitcher, but had they allowed Samardzija to finish the year on his own terms, chances are he would have priced himself out of this discussion." - Scott White [Full Cubs fantasy team preview]
Biggest strength
By design, it's the starting pitching depth. There are seven legitimate big-league starters here. Bear in mind, this is only two years removed from a team that needed to use James Russell as a two-inning starter -- an embarrassing project that obviously failed miserably -- along with the uninspiring Casey Coleman (and others even less inspiring) in the rotation because of two early injuries to starters. As things stand now, the Cubs could handle two injuries in the rotation at any point and not miss much of a beat.
Biggest weakness
Obviously there are several, as the team isn't yet equipped to compete, but the most glaring issue to me is third base. It's true injuries have hampered Ian Stewart the past two seasons, but he also hit a miserable .183/.272/.289 with five homers in 103 games in 2011-12. He has power, having hit 25 homers in 2009, but he's also turning 28 in April. It's long past time he post a better line than the .201/.292/.335 one he posted last season. Luis Valbuena and/or Josh Vitters don't seem like much better options either. Barring a surprise, the hot corner looks to be a veritable vacancy in Wrigley this summer.
Best-case scenario
The current major-league roster definitely isn't awesome, but it's not Astros-caliber bad. There's some serious potential in the 2-3-4 spots with Castro, Rizzo and Soriano. The rotation could be sneaky good and enters the season pretty underrated. Marmol is maligned, sure, but he also closed 19 of his last 20 save chances last season and had a 2.06 ERA in his last 41 appearances. Throw in Camp, Russell and Fujikawa and there's enough here to believe the Cubs' bullpen could be good.
We could go on, because there are ways to paint an optimistic picture with the likes of Castillo, Barney, DeJesus and the right field platoon, too. The point is that while it would be shocking to see the Cubs contend into September, it wouldn't be Earth-shattering to see them approach .500 and maybe even end up a few games above the break-even point. Pencil me in for 84-78 as the best-case scenario.
Worst-case scenario
Of course, we have to entertain the opposite points to much of the above. While the rotation is deep, it's not exactly riddled with stars. Questions, however, abound. Garza and Baker are coming off injuries, Feldman was shaky as a starter last season and Villanueva is better used out of the bullpen. Wood and Jackson aren't exactly known for consistency.
Marmol has shown the propensity to meltdown in the past and it's possible only the 2-3-4 hitters are above average in the lineup. And Soriano (the four) could be traded.
Speaking of, if the Cubs fall out of contention prior to July, we could see Garza, Feldman, Baker, Soriano, DeJesus, Marmol and more on the move.
While it would be pretty surprising to see the Cubs lose 100 games again, a last place finish is easily foreseeable.
Most likely scenario
We'll see good production from the likes of Castro, Rizzo and Samardzija. DeJesus and the right-field platoon will perform adequately but not likely more than that. The rotation is slightly above average but not likely more than that. Marmol, Garza and either Baker or Feldman (but not both) get traded in July.
Late in the season, the noncontending Cubs may give us a brief glimpse of Baez and Soler -- if they perform well in Double-A -- in addition to third baseman Christian Villanueva. Also, Brett Jackson gets another look in center.
As for the 2013 W-L results? They definitely improve on last season. I'm thinking low-to-mid 70s in wins and a fifth place finish. Maybe fourth, but not better than that. This is all ancillary to the direction of the franchise, though. They appear to be targeting 2015 or so for contention.
For more baseball news, rumors and analysis, follow @EyeOnBaseball on Twitter, subscribe to the RSS feed and "like" us on Facebook. Also, individually interact with us on Twitter: @MattSnyder27, @daynperry and @mikeaxisa.

The Marlins still have more attractive pieces

The A's need outfield help, and the Cardinals have a glut

Minnesota has designs on the best starting pitcher available on the free agent market
The Cardinals have long coveted the Miami outfielder

The superstar slugger is eligible for free agency after next season

The veteran second baseman remains a useful regular