3 to Watch: The 'One-hit wonders' edition
It's unusual enough for a pitcher to throw back-to-back one-hitters. No one had done it in 24 years before R.A. Dickey did it last week. Now Dickey goes for three in a row against the first-place Yankees. Meanwhile, Jason Hammel and Ervin Santana try for two in a row, in this edition of 3 to Watch.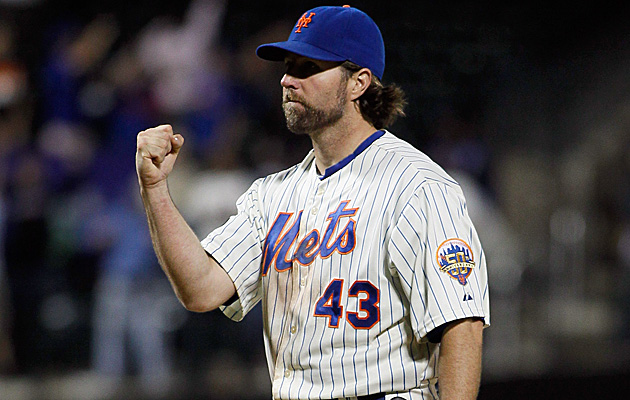 R.A. Dickey is looking for his third straight one-hitter when he faces the Yankees Sunday night. (Getty Images)
Everyone wants to watch R.A. Dickey now.

"Hopefully we get home [from Boston] in time," Chipper Jones said this week, when he heard that the Mets' amazing knuckleballer will make his next start Sunday night against the Yankees.

"Hottest pitcher in baseball, hottest team in baseball," Jones added.

Jones' Braves then went on to beat the Yankees Tuesday and Wednesday, taking away a little (but not much) anticipation for the game Sunday.

Imagine if the Yankees still had their winning streak going, a streak that reached 10 games before the Braves ended it. Imagine a Yankee team with 14 straight wins meeting a Mets pitcher who hasn't allowed an earned run in his last 42 2/3 innings.

"That would be so cool," Yankees infielder Eric Chavez said, before the streak ended.

This is still pretty cool. It's still the first-place Yankees, who haven't been one-hit since Roy Halladay did it three years ago in Toronto, against Dickey, the first pitcher in 24 years (and the first National Leaguer in 68 years) to throw back-to-back one-hitters.

No one has ever thrown three straight one-hitters.

The Yankees have seen knuckleballers before. They beat Tim Wakefield as recently as last September.

Wakefield's career numbers against them weren't good. In 58 appearances (36 of them starts), he went 12-18 with a 5.01 ERA.

But we're quickly learning that Dickey's knuckleball is different from Wakefield's, different from any knuckleballer who came before him.


For one thing, he throws it harder, sometimes as hard as 81 mph (and sometimes as soft as 65). For another, Dickey commands his pitch much better, so well that he has just seven walks (and 71 strikeouts) in his last 60 2/3 innings.

Wakefield averaged 10 wild pitches a season in his last five years with the Red Sox. Dickey has yet to be charged with a wild pitch in 99 innings this season.

Along the way, Dickey is winning admirers, all around baseball.

"He's beating the system," Braves pitcher Chad Durbin said. "The system says you have to spin the ball. He doesn't."

He's beating the system, and in his string of five starts without an earned run, he's also beat the Padres, Cardinals, Nationals, Rays and Orioles.

Now it's the Yankees.

On to 3 to Watch:

1. Baseball went 24 years between Dave Stieb throwing back-to-back one-hitters for the Blue Jays, and Dickey doing the same for the Mets. So there's no chance of it happening again this week, is there? Well, Baltimore's Jason Hammel threw a brilliant one-hitter last Saturday in Atlanta, and he gets a chance to match Dickey in Nationals at Orioles, Friday night (7:05 ET) at Camden Yards. Hammel gave up six hits (and four runs) the last time he faced the Nationals, at Nationals Park in May. But that was during the time when he was most affected by a sore right knee. As the Braves found out last Saturday, the knee isn't as much of an issue now.

2. The same night Hammel threw his one-hitter in Atlanta, Ervin Santana threw one for the Angels against the Diamondbacks. Santana gets his chance to match Dickey in Dodgers at Angels, Saturday night (7:15 ET) at Angel Stadium. Like the Yankees, the Dodgers are a first-place team. Unlike the Yankees, the Dodgers were just held to eight hits (total!) in a three-game series in Oakland. Also, the Dodgers are just 6-16 at Angel Stadium over the last seven years.

3. The Mets won both of Dickey's starts against the Yankees last year. In fact, since he took up the knuckleball, Dickey allowed just three earned runs in 23 innings against the Yankees. He'll face CC Sabathia in Yankees at Mets, Sunday night (8:05 ET) at Citi Field. Stieb's back-to-back one-hitters came in his final two starts of the 1988 season, so Dickey's attempt at a third straight is the first (in one season) since Sam McDowell in 1966. McDowell gave up two hits in the first inning in his attempt at three in a row; he pitched 12 innings that night and gave up one run on seven hits. Dickey has some history on his side: As David Waldstein points out in Friday's New York Times, the last pitcher to throw a complete-game no-hitter against the Yankees was knuckleballer Hoyt Wilhelm, in 1958.


Neither Josh Donaldson nor Brian Dozier have talked about a new contract extension

Francisco leads the Dominican Winter League with seven home runs

Thome deserves enshrinement and here's why the case against him does not hold up
The Twins have already fortified the bullpen with Addison Reed, and now they want to address...

The Orioles likely want pitching, and the Indians have plenty of it

Halladay died in a November plane crash off the coast of Florida