Boras: Drew, Kendrys 'damaged;' MLB disagrees but will investigate
Super agent Scott Boras has strong words for unnamed execs who publicly criticized the free-agent cases of Stephen Drew and Kendrys Morales.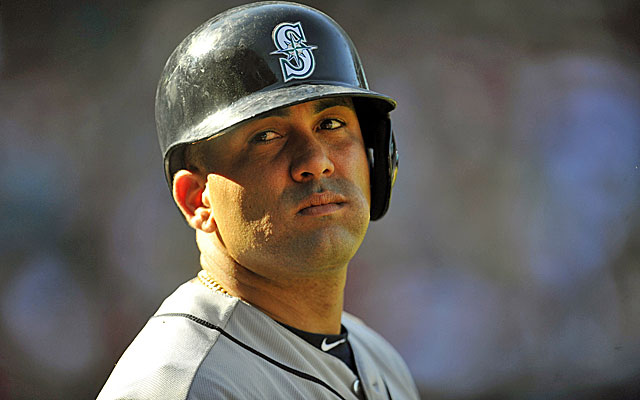 More MLB: Power Rankings | Expert Picks | Latest news & notes | Fantasy news
Scott Boras, the agent for top remaining free agents Kendrys Morales and Stephen Drew, came out swinging against the half dozen or so anonymous team executives and officials who negatively speculated in a recent article on the value of those two players. Boras says those unnamed executives and officials are breaking league rules in a recent article by suggesting low player values, issuing critical comments and ultimately hurting their markets.
Boras, backed by the players union (which Friday issued a strong statement of its own against the anonymous execs), said he intends to pursue a grievance, going so far as to urge the league to use subpoena power to unearth their identities.
"It's a clear violation of the CBA," Boras said in a phone interview. "As many as five executives continue to use ESPN as a conduit to violate the collective bargaining agreement."
"The bell is rung," Boras continued. "Kendrys Morales and Stephen Drew were damaged by these comments."
Boras further says there needs to be a "remedy" for the two free agents, which could mean monetary damages or possibly relief from a 2-year-old rule that cost them and a select few others free agents in the marketplace.
The remarks regarding Morales and Drew were reported to have come from five team executives and an additional two team "talent evaluators" (possibly scouts) and ran in a lengthy ESPN piece three days ago. The article suggested the two free agents were hurt by holding out instead of signing earlier, and speculated that the players stand to receive fairly meager contracts considering their resumes, mostly because of their decisions to delay signing. Many of the unnamed team executive estimates were in the $5 million to $6 million range, extremely low contract estimates for players of their stature.
The new rule attaching draft choices to top free agents who turned down qualifying offers is undeniably one factor that has hurt Morales and Drew. But now Boras has a new reason their markets may be impacted.
The CBA specifically disallows executives from publicly making comments that could deflate players' markets, both sides agree. And MLB did recently sent out a memo reminding execs to abide by the rule, so the league isn't suggesting the execs' comments were appropriate.
But MLB COO Rob Manfred, told of Boras' new remarks, disagrees that the story hurt the Morales and Drew markets. "It is ludicrous, absurd, that one [Internet] report somehow alters the market for players who have been out there for months," Manfred said Saturday night by phone.
In response to the players union statement earlier Friday calling for an investigation, MLB hinted in its statement that other reasons beyond the unnamed comments are likely behind the players' current predicaments. However, an MLB official said the league accepted the union's request to launch an investigation into the situation and will do so.
But even as it begins to look at the situation, MLB's statement issued Friday suggested doubt as to the impact of the quotes. So the league may not be all that fired up to pursue the matter, at least not as aggressively as Boras and the union may like.
The MLB statement, issued by Manfred, read: "Over the years, I have learned that it is a waste of time to pay attention to anonymous quotes which may or may not be genuine. Given that the regular season is well under way, it is hard to imagine that anonymous comments would have any effect whatsoever on the market for any individual player. There are many other factors that better explain the current situation faced by a very small number of free agents."
The league's willingness to investigate seems to suggest it understands that the statements were out of bounds. Though MLB's statement appears to subtly point out that the players' markets must not to have been to their liking before these quotes were issued, as evidenced by the fact they hadn't yet signed.
Boras took issue with the idea players can't be damaged by these negative comments, pointing out that that is why the rule was negotiated into the CBA in the first place. Boras also disagreed that anonymity necessarily makes the quotes any less harmful.
Boras says this issue is about the "conduct" of the executives, not the timing or anything more. Responding to the MLB statement regarding the questionable value and influence of anonymous quotes, Boras said, "Why collectively bargain rules when MLB refuses to enforce the CBA negotiated provisions by using the excuse the statements were made by anonymous executives? That's the reason we need a grievance procedure and all the parties to be placed under oath."
Boras further points out that not only does the CBA disallow negative comments from MLB team officials that could depress player markets, but the CBA provides for the possibility of monetary damages in such circumstances.
The players union backed Boras' complaints and issued its own statement earlier Friday.
Union leader Tony Clark said in his statement, "I am angered that numerous baseball executives have blatantly and intentionally violated our collective bargaining agreement by offering to ESPN comments about free agent values of Stephen Drew and Kendrys Morales. These statements undermine the free agent rights of the players and depress the market values. Today, I have called upon the Commissioner's office to investigate immediately and thoroughly the sources of these statements and to take appropriate action to enforce our agreement."
As its own statement suggested, MLB people may wonder about other factors in these two players' slow-moving markets and also how influenced other team executives will be by the unnamed opinions of their competitors.
Regardless of the story or the quotes, folks are shocked these two players are still looking for jobs (it was reported here there's been some talk with them recently, possibly with Morales and the Orioles, Brewers and others). Some in baseball have indeed wondered about the possibility of an earlier signing. The players would surely both prefer to be playing rather than still working out, but both may at least benefit by having waited into the season, as the signing team will be ineligible to make them another qualifying offer since the players won't spend a full year with their new team  if they sign a one-year deal. That makes their potential 2014-15 free agency unencumbered, and thus more valuable. 
Boras, who has a history of historic player contracts, suggested there was no serious hand to play after the players declined the $14.1 million qualifying offers, something all 22 free-agent players have done to date.
"The integrity of the game is challenged when players of this stature have yet to have a negotiation due to the system," Boras said.
It's fair to assume, based on reports, that teams have indeed shown interest in the two players, though with draft picks attached to them, Boras means the offers apparently aren't viewed as meaningful or commensurate with their resume, ability and age.
Boras points out players, including Morales and Drew and to their detriment, have had to abide by the rule attaching a valuable draft choice to the free agents, so that likewise, MLB team executives -- even anonymous team executives -- should be made to abide by the rules as well.
The Nats will host the All-Star Game in 2018

The Orioles are looking to trade Machado heading into his walk year

The Cardinals have been linked for a while to the Baltimore star
Gallardo spent the first eight years of his career in Milwaukee

MLB revenues are at a record high right now, but teams aren't spending it on players

Chicago added Tyler Chatwood earlier this offseason but might not be done adding to the ro...