Bryce Harper finds good cause for 'Clown Question Bro' brew
Nationals rookie Bryce Harper asked a Denver Brewery to donate parts of its proceeds of its 'Clown Question Bro' beer to the family of a fallen Denver police officer.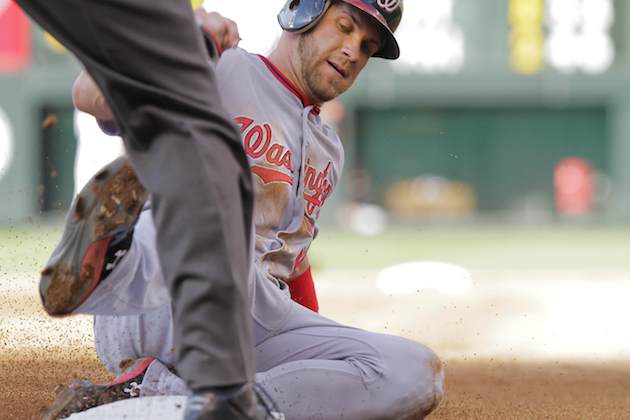 Raise your glass to Bryce Harper. The rookie who has done seemingly everything right on and off the field this season, added another class move to his resume recently.

We all know about the "clown question." Harper, or at least his representatives, applied to trademark the phrase and Under Armour will make a shirt with it. Among the others looking to cash in on the famous phrase was a Denver brewery, which created a small batch of Canadian lager and called it, "Clown Question Bro." The original "clown question" was what kind of beer Harper -- who is 19 and a Mormon -- would drink in celebration of a big game in Toronto.


'That's a clown question, bro'
With the Nationals in Denver for a four-game series, Harper was watching the news and heard about Celena Hollis, a police officer who was recently killed and was a single mother.

According to the Washington Post, Harper got in touch with the brewery and asked that some of the proceeds go to a fund for Hollis' daughter.

"It's exciting to hear from Bryce," Denver Beer Company co-owner Charlie Berger told the Washington Post. "We were making this beer just for fun. We never thought it would pick up to this extent. First of all, we're definitely flattered. More important, the fact that he was making a lot of good come from it, it's valiant. It says something about Bryce."

Berger said the company would honor Harper's wishes.

Details on how you can make a donation to the Celena Hollis Memorial Fund through the Rocky Mountain Law Enforcement Federal Credit Union can be found on this link.

For more baseball news, rumors and analysis, follow @EyeOnBaseball on Twitter, subscribe to the RSS feed and "like" us on Facebook.
Sheffield has the numbers to make it to Cooperstown, but he has received very little suppo...

Granderson heads north of the border for his age-37 season

What did the Pirates get in return for their franchise player?
Rivero could remain in Pittsburgh for some time to come

The White Sox, Angels, Athletics, Orioles and Marlins are the holdouts after Blue Jays fol...

The Pirates have several attractive trade chips if they decide to go into a full rebuild