Clippard says Storen has been 'handled very poorly' by Nationals
The Nationals optioned struggling righty Drew Storen to Triple-A on Friday, and afterwards Tyler Clippard had some strong words for the team.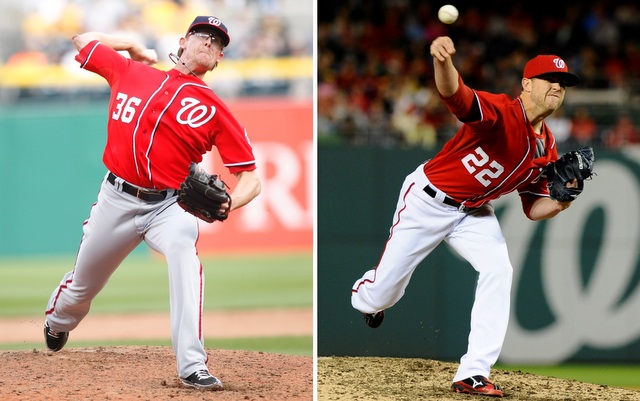 More MLB: Scoreboard | Standings | Probable Pitchers | Sortable Stats | Odds
After splitting Friday's doubleheader with the Mets, the Nationals optioned former closer Drew Storen to Triple-A Syracuse. He allowed three runs in two-thirds of an inning in the first game on Friday, giving him a 5.95 ERA in 42 1/3 innings.
Once news of the demotion spread, fellow righty reliever Tyler Clippard insinuated the team should not have signed closer Rafael Soriano this winter because it ruined Storen's confidence. Here's the quote, courtesy of Amanda Comak of the Washington Times:
"I think there's a lot of things that led to this that could've been prevented. You know, you basically send a guy a message this offseason for having one bad game that he's not the guy for the job. He's only human. I mean, it's going to get to anybody.

(snip)

"I just think it's been handled very poorly. And it could've gone either way. I know the same message was sent to me. And I've been through adversity over my career, you know? So I know how to handle it. You know, this is a tough day. He's going to be part of this organization for a long time, I hope because he's good. And we need him. But if he goes somewhere else, he's going to be great for them.

"It's one of those things that I think was handled very poorly by the organization but at the same time, that's the decision that was made and we have to move forward as a team. We have great guys in this locker room that are going to get it done. We're going to make a playoff push at the end of the season, I have no doubt about that. But this is a tough day."
That "one bad game" Clippard is referring to is Game 5 of last year's NLDS, when Storen allowed four runs in the ninth inning to blow a two-run lead and send the Cardinals to the NLCS. The Nationals signed Soriano to big contract over the winter, but insisted it had nothing to do with Storen's NLDS meltdown.
Clippard went on to say the demotion will help Storen because he thinks "he needs to go down and regroup, get out of this environment, take a deep breath and regather himself." The two bullpen-mates are close friends and Clippard also seemed to suggest the team had forgotten about the human element of the game.
Either way, saying your team handled something very poorly usually doesn't go over very well. The Nationals could discipline Clippard with a fine or a suspension under the standard loyalty clause in each contract, and you know what? He probably deserves it. The team can't let a player criticize them like that to the media. It's one of those things that shouldn't happen.
Did Washington handle Storen poorly? Yeah, maybe. He was outstanding for them in 2011 (2.75 ERA and 43 saves) and very good last year after returning from elbow surgery (2.37 ERA), but this year has been a disaster. I'm sure Storen's confidence is shot at this point -- it's only natural after getting knocked around for half-a-season -- and I can't imagine signing Soriano helped matters.
That said, this is the big leagues. If Storen had performed better, he wouldn't be going to the minors and Clippard wouldn't be tearing into the organization publicly. Both sides share the blame here.
The World Series champions aren't complacent

Stanton swiped at his old team on his way out

Your one-stop shop for all things MLB Winter Meetings-related
Matt Harvey could be on his way out of New York

The Nationals are looking to improve on the edges of their roster

Ellsbury is due at least $68 million over the next three seasons