It's time to reassess Braves ownership
Is it time to start seeing Liberty Media, the conglomerate that owns the Braves, with new eyes?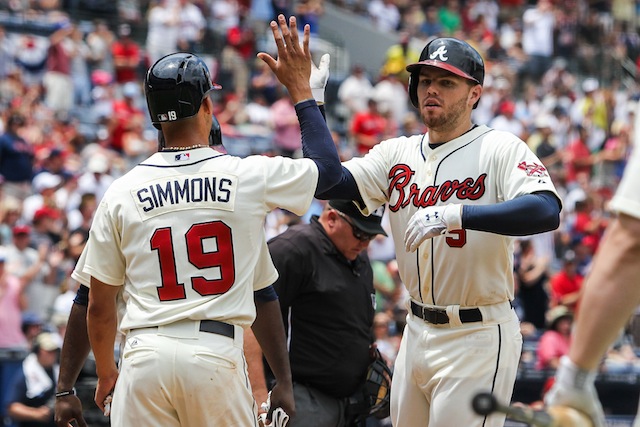 MORE: Braves sign Simmons to 7-year pact
When Liberty Media finalized its stock-for-franchise purchase of the Braves from Time-Warner in May of 2007, it seemed to mark a transition. The transition was from the "sporting gentleman" days of Ted Turner, who cared deeply about winning, to the more detached corporate stewardship that marks the "investment portfolio" approach to team ownership. But are the perceptions true?
Here's a graph charting the Braves' payroll as a percentage of the league average payroll from 2003 through 2014. This span includes all full seasons under Liberty Media ownership (2008 onward, with estimates for 2014) and the five seasons prior to the Liberty takeover (i.e., 2003-07) ... 
To be sure, there's been a steady drop in payroll as percentage of the league mean under Liberty, but that pattern of decline was already in place well in advance of the sale. When the Liberty bid was formally approved in 2007, team chairman Terry McGuirk promised "a continuation of past practices." When it comes to a declining rate of investment in player payroll, he wasn't lying. 
Given that the Braves this winter have allowed stalwart catcher Brian McCann to sign with the Yankees, veteran right-hander Tim Hudson to ink with the Giants and Paul Maholm to join the Dodgers (among other exoduses ... or "exodi") while not making any noteworthy free agent additions of their own would seem to indicate more of the same. Of course, I'm leaving out something very obvious: the extraordinary investment the Braves have made this offseason in arbitration-eligible and pre-arb talents already on the roster. 
Consider that after locking up Freddie Freeman for eight years, Andrelton Simmons for seven years, Julio Teheran for six years, Craig Kimbrel for four years and Jason Heyward for two years, the team has committed to more than $280 million in muti-year contracts. (That figure, of course, doesn't count the extensions granted to GM Frank Wren and manager Freddie Gonzalez.) 
Let's frame it another way. The Braves now have more than $38.5 million in payroll obligations ... for the year 2020. Just 16 teams have any money at all committed for the 2020 season, and only the Yankees and Rangers have more set aside than the Braves do. The average MLB team has just $12 million earmarked for the 2020 season. In that sense, Liberty Media has invested in its product to an extent not seen in many other MLB markets. Sure, that's made possible by the enviable levels of in-house talent (you need investments worth making, obviously), but it's also a sign that Liberty isn't completely ignoring the team. 
It's probably no coincidence that this outlay comes in the afterglow of getting their new suburban ballpark approved. After all, the Braves don't think much of their current local-television contract, which is the cash cow for most high-payroll teams these days, but they do think much of building a new stadium within their ticket-sales nexus of Cobb County and with the help of hundreds of millions of tax dollars. Consider all these new contracts an outgrowth of those anticipated future revenues. 
Whether the Braves in the months and years to come lock up, say, Heyward for a longer span and address other young members of the rotation remains to be seen. But the willingness on the part of ownership is there, as is the willingness to add talent on the free agent market (as evinced by last winter's signing of B.J. Upton, however ill-considered that deal looks now). 
The prevailing reality is that the Braves, coming off 96 wins and a division title, are well-poised for the future, and that's in part because the maligned Liberty Media is willing to underwrite all these high-ceiling young players and keep them in Atlanta. Given longstanding perceptions, that reality may take some getting used to. 
The Nats will host the All-Star Game in 2018

The Orioles are looking to trade Machado heading into his walk year

The Cardinals have been linked for a while to the Baltimore star
Gallardo spent the first eight years of his career in Milwaukee

MLB revenues are at a record high right now, but teams aren't spending it on players

Chicago added Tyler Chatwood earlier this offseason but might not be done adding to the ro...