Jacoby Ellsbury 'very confident' in return
Jacoby Ellsbury is progressing and says he's 'very confident' that he'll be on the field for the playoffs, maybe even before then.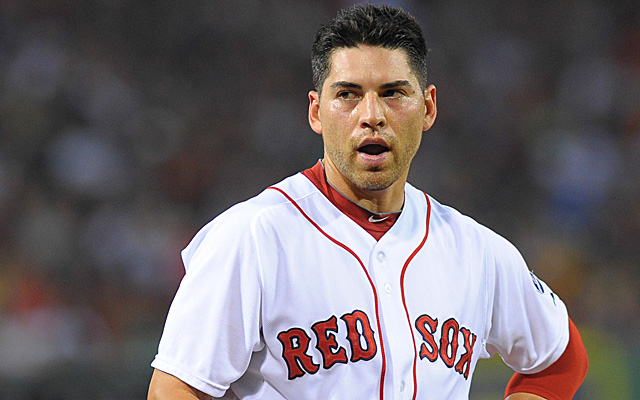 More MLB: Scoreboard | Standings | Probable Pitchers | Sortable Stats | Odds
Red Sox center fielder -- and noted aircraft carrier -- Jacoby Ellsbury spoke with Boston media Wednesday and sounds rather bullish on his ability to be back with the Red Sox before the end of the regular season.
Here are a few excerpts, via boston.com:
How confident are you that you will be back for the playoffs? "Very confident. Everybody's excited. The docs are just happy with my progress."

Do you expect to return during the regular season? "You know, we're hopeful that I'll be back playing. I feel very confident I'm making quick progress."

Can you come back for the regular season? "Just following the doc's orders on what he has in store for me. Each day I come in and try to push the envelope even with them trying to get back on the field."
Worthy of mention here is that Red Sox reporters noted Ellsbury was walking around without a boot. Also, manager John Farrell said the following:
"I think we're all envisioning him being back on the field before the regular season has concluded. I think it would go a long way in Jake getting some timing, some recent at-bats and all that. That won't be the driving force in him getting back on the field. His readiness will be." (via boston.com)
Ellsbury, 30, is hitting .299/.355/.424 with 31 doubles, eight triples, eight homers, 52 RBI, 89 runs and an MLB-best 52 stolen bases this season. He's been out since Sept. 5 with a fractured bone in his foot. He actually played several games -- and played well -- on the fracture before doctors shut him down.
Ellsbury is a very important piece of the Red Sox puzzle in looking ahead to September. Not only is he one of the better leadoff men in baseball, but he's an excellent defender in center. In fact, had he been in center Tuesday night instead of Shane Victorino, he probably hauls in the Danny Valencia triple that eventually led to an Orioles win in Fenway Park.