Leaderboarding: Artists of the looking strikeout
For this installment of Leaderboarding, let's check out who the best pitchers in the majors are at getting opposing hitters to strikeout looking.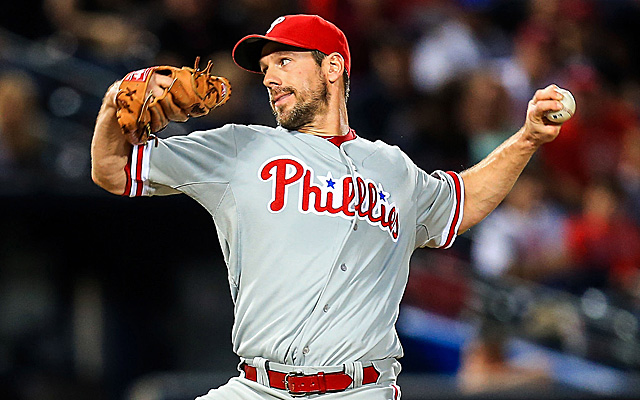 Leaderboarding: Most 100-mph pitches | Best RP at stranding runners | Best, worst quality starts | Best, worst hitters in 0-2 counts | Best, worst RBI percentages | Taking the extra base
For our latest installment in Leaderboarding, let's take a look at pitchers who are the best at inducing the looking strikeout.
Pitchers can be good at getting hitters looking for a variety of reasons, with two particular features sticking out to me as the most important. First off, we'll probably find guys with great command here -- that is, hitting a spot low and outside that barely registers as a strike. We'll also likely see pitchers with great stuff, meaning they fool the hitter into taking an obvious strike.
How about a guy with both sitting atop the first list?
Here are the top 10 in looking strikeouts in 2013:
1. Cliff Lee , Philadelphia Phillies : 93
2. Chris Sale , Chicago White Sox : 73
3. Clayton Kershaw , Los Angeles Dodgers : 67
3. David Price , Tampa Bay Rays : 67
5. Felix Hernandez , Seattle Mariners : 62
6. Adam Wainwright , St. Louis Cardinals : 60
7. Ubaldo Jimenez , Cleveland Indians : 57
8. Yu Darvish , Texas Rangers : 56
9. Jon Lester , Boston Red Sox : 55
10. Max Scherzer , Detroit Tigers : 53
10. Justin Verlander , Tigers: 53
Full list on baseball-reference.com
OK, so that's basically mostly the best pitchers in baseball. Obviously we see plenty of guys with great stuff and command -- particularly Lee and Wainwright, two of the best control artists in baseball.
Seeing Darvish sitting eighth caught my eye, though, as he led the majors with 277 strikeouts. So only 20 percent of his strikeouts were of the looking variety.
Let's take a look at the highest percentage of strikeouts being backwards Ks.
1. Lucas Harrell , Houston Astros : 47%
2. Price: 44%
3. Lee: 42%
4. Kyle Kendrick , Phillies: 41%
5. Jeff Locke , Pittsburgh Pirates : 40%
6. Brandon McCarthy , Arizona Diamondbacks : 39%
7. Bartolo Colon , Oakland Athletics : 36%
8. Bronson Arroyo , Cincinnati Reds : 35%
9. Paul Maholm , Atlanta Braves : 34%
10. Joe Kelly , Cardinals: 33%
10. Juan Nicasio , Colorado Rockies : 33%
10. Jonathan Niese, New York Mets : 33%
10. Hyun-jin Ryu, Dodgers: 33%
Full list on baseball-reference.com
Some of those guys just don't strike many out, so we'd need to use the lists in conjunction with one another to determine the best pitchers at getting opposing batters on strikes without a swing. Lee and Price are easy entries there. Sale ranked 15th in percentage and Lester was 20th.
So if we're talking about who the best pitchers in baseball are at getting opposing batters to strike out looking, it's Lee, Price, Sale and Lester. Not surprisingly, strikeout pitchers who boast quality command, control, an out pitch and deceptive stuff.