MLB Mock Draft: Astros skip Rodon at No. 1 in deeper-than-expected draft
NC State lefty Carlos Rodon has No. 1 overall talent, but the Astros may feel they can't sign him. That starts a draft which is deeper than scouts let on.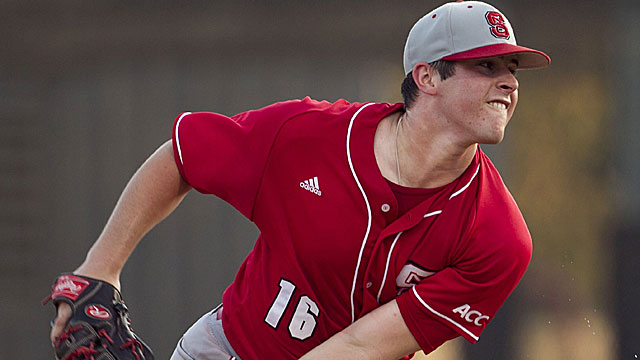 The message was clear: Don't let the naysayers tell you this isn't a good MLB Draft. Because it is.
Scouts and scouting directors sometimes still downplay the overall talent, maybe because they can get tired or jaded, or maybe just because they hope it helps their deal.
But there's little doubt: in the 2014 MLB Amateur Draft, Thursday through Saturday, there's plenty of talent for the taking.
"Maybe the draft lacks star appeal but it's pretty deep. There's not a sexy, big impact guy, but there are quite a few guys who will be big leaguers," one scout said.
There are arms aplenty, with a decent chance the top three picks will be pitchers, and many more to come to fill out the first round. "Lots of velocity," one scouting director said.
One thing that will not go fast, with all these good and difficult choices, is the first round. Here's how we see it (a dozen executives were talked to, and thanks to the writings of Jonathan Mayo and Jim Callis of MLB.com and John Manuel of Baseball America for additional details):

1. Houston Astros : They may not be all that good at winning ball games yet, but they are very good at keeping secrets right up until draft day, as they did the past two years, when they used the No. 1 overall pick on Puerto Rico high school shortstop Carlos Correa, and then on Stanford right-hander Mark Appel. But the consensus seems to be the Astros will pass on almost major-league ready N.C. State left-hander Carlos Rodon and local 100 mph-throwing phenom Tyler Kolek to take excellent San Diego left-hander Brady Aiken, a polished high school pitcher. He's said to be advanced, and with Rodon likely having a higher price tag, they just may take the mini gamble. High School pitchers going among the top three picks generally have disappointed over the more than four-decade history of the draft (the only two to go No. 1 overall were David Clyde and Brien Taylor, who never became stars). But there's a sense Houston is undeterred. The pick: Brady Aiken, LHP, San Diego Cathedral Catholic HS

2. Miami Marlins : They are said to love San Diego high school hitting star Alex Jackson, but the temptation to take Rodon, a Cuban star from Miami who can pair with Jose Fernandez and might even help in the second half would seem to be too great. Possesses a tough cutter (one scout likened him to Al Leiter) and "disappearing" slider. Word is, Rodon isn't thinking about a discount, so the negotiation between Scott Boras, who's advising Rodon, and the cost-conscious Marlins, would be interesting. The pick: Carlos Rodon, LHP, NC State

3. Chicago White Sox : The flame-throwing Kolek, who also has very good secondary pitches, winding up here is seen as one of the rare near-locks of the first round. He's a big kid (6-foot-5, 245) but he's gotten himself into better shape and is said to have a nice feel for his pitches. The Cubs sure would love to grab one of the top three pitchers next, but their South Side rival is unlikely to give them that chance. The pick: Tyler Kolek, RHP, Shepherd (Texas) HS

4. Chicago Cubs : With the top trio of pitchers likely gone, this is the real wild card of the draft. Chicago almost surely would have used this pick on a hard-throwing East Carolina righty Jeff Hoffman, who impressed Cubs honchos Theo Epstein and Jed Hoyer in his last performance before needing Tommy John surgery. They still could consider Hoffman, but it seems more likely they make a deal for another college star, and save some dollars. The need is pitching, but with the big three gone, they could go in any direction. There's been some buzz they may go for mature Oregon State left fielder Michael Conforto, a power hitter who's a safe bet, and also Indiana University catcher-outfielder Kyle Schwarber, who's rapidly moving up boards. Hartford University left-hander Sean Newcomb, who's been compared to Jon Lester , might intrigue Cubs scouting director Jason McLeod, who was part of the Red Sox contingent when Lester was picked there. Either way, it could be a deal that allows bolder picks later. The pick: Kyle Schwarber, C-OF, Indiana

5. Minnesota Twins : Nicholas Gordon, the all-around shortstop from Orlando (Fla.) Olympia High who had a big senior season, has been rumored for months to be ticketed to the Twins. The "second lock" of the draft is what one rival GM called it. He's got the bloodlines, which scouts love (his father is the ex-reliever Tom Gordon and his brother is Dodgers second baseman Dee Gordon ), and he had such a monster senior season he didn't need to play in the Florida high school All-Star Game. The pick: Nicholas Gordon, SS, Orlando Olympia HS

6. Seattle Mariners : If they can grab Jackson, whom they are said to love, there's a decent chance they will move him from catcher since they have Mike Zunino , the No. 3 overall pick a couple years back. Jackson is most importantly a middle-of-the-order bat, which is what they crave. He has a great arm, so he "could catch, play third or right field," one scouting director said. The pick: Alex Jackson, C-OF, San Diego Rancho Bernardo HS

7. Philadelphia Phillies : Most are betting Philly takes a college pitcher, so Aaron Nola, Tyler Freeland, Brandon Finnegan and Newcomb all could sense. Nola, with a "big-time slider," has had as much success as anyone. They worked out Gordon, who has family connections through his dad Tom, who pitched out of Philly's pen from 2006-08, but after taking J.P. Crawford last year, it seems remote they tab another shortstop -- or even that Gordon falls to them. The pick: Aaron Nola, RHP, LSU

8. Colorado Rockies : A college outfielder such as Conforto or Schwarber might intrigue them, but the guess here is Freeland, a funky lefty who's been compared to Chris Sale , is their guy. Tough to pass on him. The pick: Kyle Freeland, LHP, Evansville

9. Toronto Blue Jays : With two relatively high first-rounders, they can afford to wait a year for the ultra talented Hoffman. If he gets here, that could be a bargain. Keep in mind this is the Blue Jays' protected pick, and Hoffman may not have lowered his sights much in terms of a signing bonus since he's viewed as a top-four talent. The pick: Jeff Hoffman, RHP, East Carolina

10. New York Mets : A college bat may be the priority, so Conforto on Schwarber would work. They've also been linked to Newcomb, who's a big kid (6-5, 240) who has a propensity to strike folks out. But with their shortstop issue, perhaps they go for speedy and slick-fielding Trea Turner. The pick: Trea Turner, SS, NC State

11. Toronto Blue Jays: They've been linked to the beautifully named high school pitcher Touki Toussaint, a talented kid who was a soccer player and is a late-comer to baseball. Command will be the question for this youngster, who some believe could either become a big hit or a total miss. This is the unprotected pick, so they better make a deal with the pick and thus need to select someone who's eminently signable. The pick: Touki Toussaint, RHP, Coral Springs (Fla.) Christian Academy

12. Milwaukee Brewers : TCU left-hander Brandon Finnegan has started to move back up the boards since showing his shoulder is sound in recent outings, and he fits here. The pick: Brandon Finnegan, LHP, TCU

13. San Diego Padres : San Diego needs bats, and will look for one from the college ranks. Conforto, who has good power and is an excellent left fielder, could be gone to the Cubs, Mets or elsewhere but if here's there, the Padres would have to look at him. With Schwarber rising, it's unlikely they'd have a crack at him. Schwarber is a "very good hitter," who will likely move from catcher. Bradley Zimmer, from USF, is another possibility should the other two go off the board. The pick: Michael Conforto, OF, Oregon State

14. San Francisco Giants : If the Giants pick a pitcher, you can almost assume stardom. Pitching guru Dick Tidrow, who is heavily responsible for draftees Matt Cain , Madison Bumgarner , Tim Lincecum and Brian Wilson , is that good. They've been linked to hard-throwing South Carolina high school righty Grant Holmes. Some wonder if he's a reliever, but if Tidrow and the Giants take him, you'll know they've seen something worthwhile. The pick: Grant Holmes, RHP, Conway (S.C.) HS

15. Los Angeles Angels : They haven't had a first rounder since 2011 because of their big free-agent buys. Folks see them considering the catcher who's led surprising Kennesaw State in the college playoffs. The pick: Max Pentecost, C, Kennesaw State

16. Arizona Diamondbacks : Experts see them considering "toolsy" outfielder Bradley Zimmer, the brother of Royals pitching prospect Kyle Zimmer. That would thwart KC, which picks next. Like his brother, Bradley Zimmer has big arm strength. He's also a fine line-drive hitter who's a nice fit in right field. The pick: Bradley Zimmer, OF, University of San Francisco

17. Kansas City Royals : By this point the guessing game gets more like throwing darts at a board. Newcomb is a big kid with a light touch. As a Northeastern pitcher, he has a shorter track record, but perhaps more upside. The pick: Sean Newcomb, LHP, University of Hartford

18. Washington Nationals : They've had good luck with Scott Boras players, and better luck with Tommy John patients, from Jordan Zimmermann to Stephen Strasburg to draftee Lucas Giolito. So hard-throwing UNLV right-hander Erick Fedde, who's being advised by Boras and who would have gone higher had he not gone under the knife, makes sense. The pick: Erick Fedde, RHP, UNLV

19. Cincinnati Reds : They've had good fortune with their pitching picks lately. Why not stay with it? They are said to like Jacksonville (Fla.) high school right-hander Sean Reid-Foley, who could be one of a trio of Florida high school pitchers to go in the first round (Manuel noted that only three went in the first 10 rounds last year). The pick: Sean Reid-Foley, RHP, Jacksonville (Fla.) Sandalwood HS

20. Tampa Bay Rays : Tyler Beede has a big arm, and after passing on a Blue Jays offer of $2.5 million three years ago, and switching agents multiple times, he may get a few pennies more if he goes here. He's a hard thrower but he had "questionable command," and "inconsistent secondary stuff." Atlanta area HS shortstop Michael Chavis also has been linked to them. The pick: Tyler Beede, RHP, Vanderbilt

21. Cleveland Indians : Word is they wouldn't mind a big college bat. Casey Gillaspie, brother of Conor, from Wichita State or A.J. Reed from Kentucky could work. Gillaspie, much bigger than his older brother at 6-4, 238 pounds, had a big Cape Cod League performance for Falmouth. The pick: Casey Gillaspie, 1B, Wichita State

22. Los Angeles Dodgers : It would be nice to see them draft their scout's son, Derek Hill, but Nick Howard from the University of Virginia is an enticing flame-thrower. The pick: Nick Howard. RHP, Virginia

23. Detroit Tigers : They like heat, and Louisville right-hander Nick Burdi brings it. He's hit 100 mph, and has a dynamic slider to go with it. The pick: Nick Burdi, RHP, Louisville

24. Pittsburgh Pirates: Power-hitting high school shortstop Jacob Gatewood might be a steal here. Toolsy player is "make or break," one scout says. The pick: Jacob Gatewood, SS, Clovis (Calif.) HS

25. Oakland Athletics : They like college hitters, and powerful A.J. Reed, who's drawn comparisons to C.J. Cron, could go here.
The pick: A.J. Reed, 1B, Kentucky

26. Boston Red Sox : Moving up has been defensive whiz third baseman Alex Blandino from Stanford.
The pick: Alex Blandino, 3B, Stanford

27. St. Louis Cardinals : High school left-hander Foster Griffin is a late bloomer.
The pick: Foster Griffin, LHP, The First Academy (Orlando, Fla)
Comp Round 'A'

28. Kansas City Royals: Derek Hill, the son of 1982 first-round pick and Dodgers scout Orsino Hill, is said to be a fantastic defensive center fielder. The pick: Derek Hill, OF, Elk Grove (Calif.) HS

29. Cincinnati Reds: Florida State right-hander Luke Weaver has maybe dropped a bit.
The pick: Luke Weaver, RHP, Florida State

30. Texas Rangers : Perhaps they'll be intrigued by superb athlete Monte Harrison, a University of Nebraska football recruit. Texas doesn't seem to mind two-sport stars, such as Russell Wilson. The pick: Monte Harrison, OF, Lee's Summit (Mo.) West HS

31. Cleveland Indians: They could use pitchers, and tall, lean Spencer Adams is an athletic sort who can throw hard and sink the ball. The pick: Spencer Adams, RHP, White County (Ga.) Cleveland HS

32. Atlanta Braves : They know their local stars from the hotbed of Georgia, so shortstop Michael Chavis, who could switch to third, is a decent bet. The pick: Michael Chavis, 3B, Marietta (Ga.) Sprayberry HS

33. Boston Red Sox: High school first basemen don't often go this high, but Braxton Davidson has big power. The pick: Braxton Davidson, Asheville (NC) Roberson HS

34. St. Louis Cardinals: Luis Ortiz from the Fresno area got into shape for his senior season and it paid off. Signability is a plus, too. The pick: Luis Ortiz, RHP, Sanger (Calif.) HS
Will Tanaka or Upton try their luck in free agency again in the offseason?

Pujols smacked his 610th career home run Tuesday night

Who will be the wild cards? Who will be most healthy? Who will be hot? This could be fun.
The story of a game that had 22 innings, one run, one mascot ejection and so much more

Plus Adrian Gonzalez and J.D. Martinez reach milestones and everything else from Tuesday b...

The Cubs had run out of bench players, so Anthony Rizzo moved across the diamond