Red Sox pitching revival extends to Double-A and Triple-A
The Red Sox are off to a good start with starting pitching, and not just at the big-league level. Six guys in Double-A can throw 96 mph.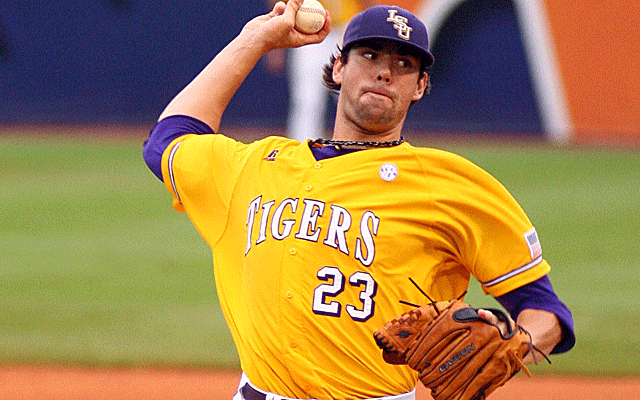 Two years ago, the Red Sox were absolutely starved for pitching at the top levels of their minor-league system. It was so bad that during the September collapse, they ran Kyle Weiland out to the mound for three starts, even though he never did make it out of the fifth inning (and they never did win any of the three games).
Things have changed dramatically, and not just because the Red Sox seem to have fixed their major-league rotation.
Scouts roaming the Triple-A International League and the Double-A Eastern League report that the Sox now have as many legitimate pitching prospects at the top levels of the minors as any team in baseball.
"They have four guys in the [Double-A] Portland rotation who all throw 96 [mph] or better," one scout said. "And two more guys out of the bullpen who throw 96."
Another scout confirmed the report, and said that 23-year-old Anthony Ranaudo is "close to ready" for the big leagues. Ranaudo, a first-round draft pick in 2010 who was hurt for most of last year, is 4-0 with a 1.00 ERA and 30 strikeouts in 27 innings.
The other hard-throwing Sea Dog starters are Matt Barnes (a 2011 first-rounder), Brandon Workman and Drake Britton.
"All four of those guys are going to be good pieces for the Red Sox," one of the scouts said.
Chris Martin and Miguel Celestino are the two hard-throwing relievers.
The Red Sox also have two big pitching prospects at Triple-A Pawtucket. They already called on 23-year-old Allen Webster for a spot start last month. Rubby De La Rosa isn't as advanced, in part because he was coming off Tommy John surgery and has been on a strict pitch count.
One guy who didn't throw 96 when our first scout saw him in Portland: Daniel Bard, who topped out at 94 and could barely throw a strike.
Just a reminder that guys who throw hard don't always make it.
Neither Josh Donaldson nor Brian Dozier have talked about a new contract extension

Francisco leads the Dominican Winter League with seven home runs

Thome deserves enshrinement and here's why the case against him does not hold up
The Twins have already fortified the bullpen with Addison Reed, and now they want to address...

The Orioles likely want pitching, and the Indians have plenty of it

Halladay died in a November plane crash off the coast of Florida