R.I.P., 2013 Chicago Cubs
The Cubs have been mathematically eliminated from the playoffs. Let us look back on the season that was and ahead to the future.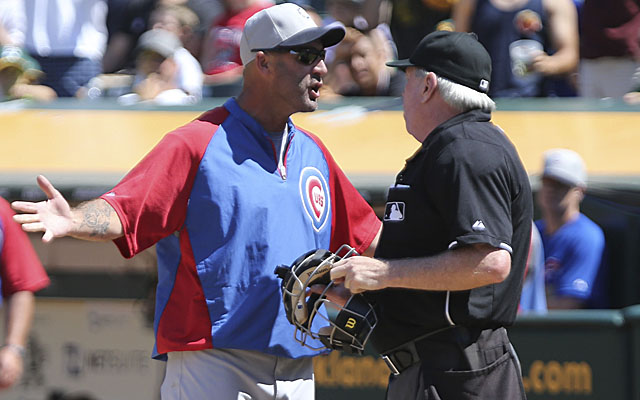 RIPs: Astros | Marlins | White Sox
Mercifully, the Chicago Cubs were officially, mathematically eliminated from playoff contention Sunday. An obvious argument can be made they were long ago eliminated, but the number didn't hit zero until the Brewers topped the Cubs Sunday. So it's time to look back and ahead in our Rest In  Peace series.
What went right
In terms of performance at the big-league level, very little. The emergence of Travis Wood as a viable rotation piece, Nate Schierholtz's good season, Dioner Navarro's excellent season and Junior Lake announcing his presence with authority are a few of the positive takeaways. Otherwise most of the good news with this franchise came either at the minor-league level or via trades.
What went wrong
Regardless of what they say publicly, the Cubs weren't expecting to contend this season, so the only negatives that matter come from those the club expects to be part of the future nucleus. And on that front, there was plenty of bad news. Starlin Castro hit .307/.341/.432 two seasons ago. Last year it was .283/.323/.430. And now it's .241/.279/.345. He's only 23, but he absolutely must stop this regression. He's a central piece to the rebuilding plans.
Similarly, but probably less worrisome, is Anthony Rizzo's .232 batting average. I say less worrisome, however, because he's taken enough walks to have a .326 on-base percentage (which isn't good, obviously, but it's not awful). He also has 35 doubles and 21 homers, so this isn't an entirely lost season for Rizzo. He can build on the OBP and power.
Also, Jeff Samardzija has been assumed part of the future nucleus, but inconsistency has plagued him and his 4.32 ERA and 1.34 WHIP aren't ace-caliber -- and that appears to be the kind of money he wants when free agency hits after next season.
Finally, the four-year deal for Edwin Jackson doesn't look good at this point. He's 7-15 with a 4.91 ERA and 1.43 WHIP.
MVP: It's gotta be Wood. The All-Star has a 3.17 ERA (125 ERA+), 1.12 WHIP and could eclipse 200 innings pitched.
LVP: Castro. I was reluctant to put him here because I'm not one of those Castro haters and I firmly believe he will turn things around. He's only 23. For this season, though, Castro had a few lackluster defensive moments and has thus far posted a 70 OPS+. In a vacuum, he's the easy choice.
Free agents to be: C Dioner Navarro, OF Ryan Sweeney, SP Scott Baker, RP Matt Guerrier, RP Kevin Gregg
Gameplan heading into the offseason
The slow rebuild process continues, though there is some money to be spent. As things stand now, the Cubs only have $48.26 million plus arbitration cases on the books for next season. The payroll hasn't been in eight figures since 2007, so there could be some spending here. Names ranging from Shin-Soo Choo to Jacoby Ellsbury and Robinson Cano have been floated in connection with the Cubs, but I don't think they'll extend themselves on a mega deal at this point. Thus, Choo seems most likely.
Otherwise, the major-league roster will continue to be as it was this season. There are long-term pieces (Rizzo, Castro, Lake, etc.) to be surrounded by short-term spot-fillers (Donnie Murphy, Luis Valbuena this season, to name two examples). Signing veterans to short-term deals with the chance of flipping them prior to the trade deadline (a la Scott Feldman and Scott Hairston this season) is probable again.
The Cubs have a stacked minor-league system with position players like Javier Baez, Kris Bryant, Albert Almora, Arismendy Alcantara and Jorge Soler leading the way. The club is eyeing increased spending and contention once those guys arrive and Wrigley Field renovations are complete. Until then, it's mostly a waiting game.
Ridiculously premature prediction for 2014
The Cubs again finish in last place while short-sighted fans scream for the Theo Epstein administration to use the band-aid-on-a-broken-leg approach that Jim Hendry used -- which is why the Cubs are here in the first place. Smarter fans realize the youth movement is close and get a glimpse of it when Baez (mid-summer) and Bryant (September) arrive in the majors. The table is set for a possible breakout year in 2015.
Sheffield has the numbers to make it to Cooperstown, but he has received very little suppo...

Granderson heads north of the border for his age-37 season

What did the Pirates get in return for their franchise player?
Rivero could remain in Pittsburgh for some time to come

The White Sox, Angels, Athletics, Orioles and Marlins are the holdouts after Blue Jays fol...

The Pirates have several attractive trade chips if they decide to go into a full rebuild