R.I.P., 2013 Colorado Rockies
Injuries and too much bad pitching derailed the Rockies this season. They've been officially eliminated from postseason contention.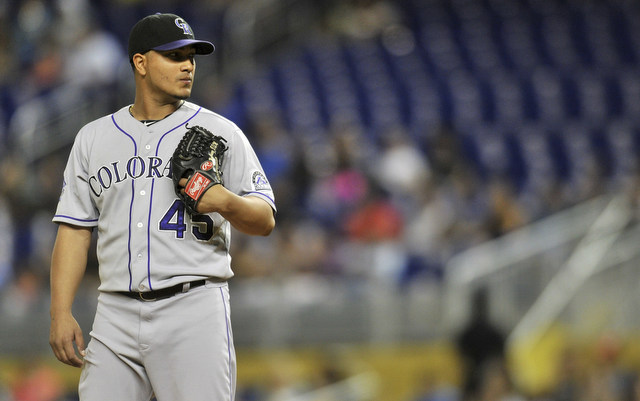 RIPs: Astros | Marlins | White Sox | Cubs | Brewers | Mets | Giants
It is time to pay our respects to the 2013 Colorado Rockies, who were officially eliminated from postseason contention the other day. After starting the season by winning 13 of their first 17 games, the club has gone 54-76 in the 130 games since. Ouch.
What went right
The Rockies have had a very hard time developing pitching over the years thanks (in part) to Coors Field, but right-hander Jhoulys Chacin put together one of the best seasons in franchise history in 2013. He's got a 3.09 ERA (142 ERA+) in 183.1 innings, and, most impressively, he's allowed just eight home runs (!) despite pitching his home games in Coors. That's insane. Chacin is tied for third among all pitchers with 6.3 WAR and is very clearly a bright spot for the club going forward.
Elsewhere, the Rockies have gotten an excellent season out of Michael Cuddyer (141 OPS+), who is currently on pace to win the NL batting title (.334). Wilin Rosario emerged as an offensive force from the catcher position by following up his strong rookie season with 21 homers and a 104 OPS+. Jorge De La Rosa had a strong season after Tommy John surgery (126 ERA+) while Rex Brothers (248 ERA+) dominated in relief.
What went wrong
In what has become a running theme, both Carlos Gonzalez (144 OPS+) and Troy Tulowitzki (137 OPS+) had fantastic seasons but missed a bunch of time due to injury. CarGo had a finger injury while a ribcage issue hampered Tulo. Gonzalez has not played more than 135 games since 2010 while Tulowitzki has done it just once since 2009. Those two guys are legitimate franchise cornerstones, but they can't stay on the field for a full season.
Youngsters like Jordan Pacheco (55 OPS+) and Josh Rutledge (63 OPS+) seemingly played their way out of the team's plans while top prospect Nolan Arenado (83 OPS+) had an underwhelming rookie season. The veteran relief corps of Rafael Betancourt (109 ERA+), Wilton Lopez (107 ERA+) and Matt Belisle (95 ERA+) all either got hurt or underperformed. Betancourt had Tommy John surgery and may be done as a big leaguer at age 38. Tyler Chatwood's promising year (139 ERA+) was cut short by an arm injury. Injuries, injuries, and more injuries.
MVP: I'm going with Chacin even though the popular vote will give it to Cuddyer. Gonzalez was actually the team's most valuable position player despite the injury.
LVP: There are a few too many candidates here, but I'll go with a three-headed monster of Jon Garland, Roy Oswalt and Jeff Francis. The veteran trio combined for a 6.32 ERA and -1.8 WAR in 155 1/2 innings out of the fifth starter's spot. That's terrible even by Coors Field standards.
Free agents to be: LHP Jeff Francis, 1B Todd Helton, RHP Roy Oswalt and C Yorbit Torrealba. LHP Jorge De La Rosa ($11 million), RHP Rafael Betancourt ($4.25 million) and RHP Matt Belisle ($4.25 million) all have contract options for next season. Betancourt's will definitely be declined following the elbow reconstruction.
Gameplan heading into the offseason
There is a chance the Rockies will replace long-time GM Dan O'Dowd -- he was hired in September 1999 and is the fourth longest tenured GM in the game -- which would have a pretty big impact on their offseason. If he stays, they'll probably look to add veterans and make a mock run at contention in 2014, just as they've been doing for several years now. That won't help them much in the grand scheme of things.
In a broader sense, the plan has to call for finding more pitching help, as usual. Starters, relievers, everything. That isn't easy to do obviously, but the team has to continue adding depth if they want to contend. Upgrades at second base and right field (assuming Cuddyer moves to first to replace Helton) are in order as well.
Ridiculously premature prediction for 2014
Continued success for Chacin, a step back in production from Cuddyer, and more greatness/injury proneness from Gonzalez and Tulowitzki. It will take a lot for the Rockies to contend for a postseason spot next year and I don't see it happening. Another fourth place finish is in the cards.
Boston wants to add two big bats to their lineup, not just one

Even more relievers signed on the final day of the Winter Meetings

Keep tabs on the top 50 free agents right here
The league is not happy Ohtani's medical information leaked

Kansas City and Baltimore were quite busy at the Rule 5 Draft

Piscotty's mother was diagnosed with ALS earlier this year