R.I.P., 2013 Toronto Blue Jays
After a winter of big moves and big expectations, the last place Blue Jays were officially eliminated from playoff contention on Tuesday.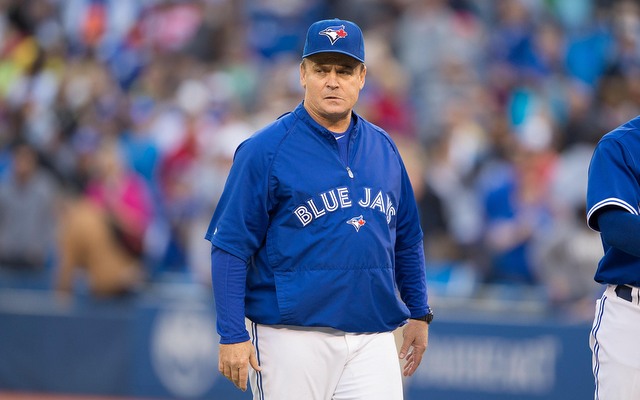 RIPs: Astros | Marlins | White Sox | Cubs | Brewers | Mets | Giants | Rockies | Twins | Phillies | Padres | Mariners
To say things did not go according to plan for the Toronto Blue Jays this season would be a massive understatement. GM Alex Anthopoulos saw a window of opportunity in the AL East and went for it, gutting his farm system and taking on several huge contracts during a series of blockbuster trades over the winter. The result? A last place finish. Ouch. Let's review Toronto's season now that they've officially been eliminated from playoff contention.
What went right
Not a whole lot, really. Edwin Encarnacion (145 OPS+) showed his breakout 2012 season was no fluke while Colby Rasmus (125 OPS+) shook off two awful years and started to live up to his potential. Adam Lind (129 OPS+) had his best season since 2009. A number of relievers -- Steve Delabar , Brett Cecil , Aaron Loup and Neil Wagner , in particular -- stepped forward and became legitimate late-inning options.
What went wrong
I guess we'll start with the pitching. Reigning NL Cy Young Award winner R.A. Dickey came over to the American League and was decidely mediocre (97 ERA+), as was veteran workhorse Mark Buehrle (99 ERA+). Both Josh Johnson (66 ERA+) and Brandon Morrow (73 ERA+) missed most of the year due to injury and were ineffective when they were on the mound. Dickey, Buehrle and Johnson -- the team's three big pitching acquisitions -- have combined for a 4.53 ERA in 485 innings with less than two weeks left to go.
Jose Reyes was brilliant (114 OPS+) when not injured, which isn't all that often these days. Jose Bautista (113 OPS+) had his season cut short by injury for the second straight year, this time with a hip problem. Brett Lawrie (95 OPS+) and Melky Cabrera (88 OPS+) were also hurt and unproductive. Just about everyone got in on the "injured and ineffective" act except J.P. Arencibia (64 OPS+), who has the 14th lowest single-season on-base percentage in history (.236) among players who batted at least 400 times. Way, way too many players fell short of expectations.
MVP: Encarnacion, rather easily. Dude's a monster.
LVP: Arencibia, also rather easily. Hard to believe you can hit 20 homers as a catcher and still be replacement level (0.2 WAR).
Free agents to be: UTIL Mark DeRosa , OF Rajai Davis , RHP Casey Janssen , RHP Josh Johnson, DH Adam Lind, LHP Darren Oliver and RHP Ramon Ortiz . DeRosa ($750,000), Janssen ($4 million) and Lind ($7 million) all have club options in their contract for 2014.
Gameplan heading into the offseason
Get some starting pitching and figure out how to keep everyone healthy. When Todd Redmond has the lowest ERA on your staff (4.10) among guys who have made at least 10 starts, you know you need rotation help. I'm not sure a risky free agent like Tim Lincecum or a second tour of duty for Johnson are the solution either. They need more certainty. The offense and bullpen are more than good enough to contend as long as everyone actually stays on the field.
Ridiculously premature prediction for 2014
Even if the Yankees continue to decline and become one of baseball's worst teams, the Blue Jays still have three other very good clubs they need to jump over in the AL East. I see them spending big on pitching (Matt Garza?) and putting together a competitive year in 2014, but not competitive enough to get back to the postseason for the first time since 1993.
The Yankees have lacked production out of the DH spot so far in the postseason

Frazier has come up with big hits, but his greatest impact may have come in the clubhouse

The Dodgers are trying to claim a commanding 3-0 lead on the road
The Astros are trying to rebound from a Game 3 drubbing in their first game in the Bronx

Sure, the Cubs have faced great pitchers, but their offense has simply been bad in the pla...

The projections still favor an Astros-Dodgers World Series for now, but there was movement