Spring positional battles: The return of Ricky Romero?
In this week's installment of Spring Positional Battles, we'll check up on four races at the back-ends of some respective rotations -- which includes a Ricky Romero sighting.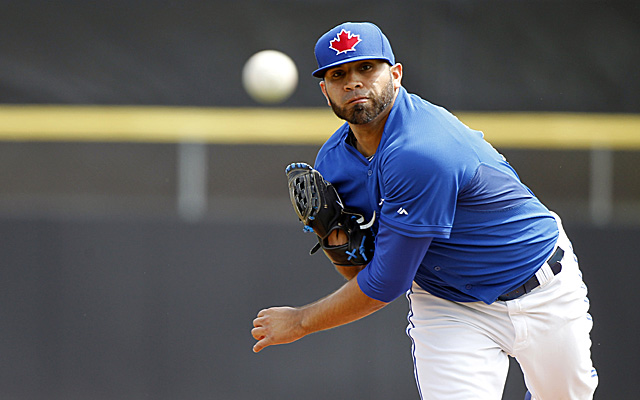 MORE: Spring Training | Scoreboard | FA tracker: hitters | FA tracker: pitchers
Can you believe it? Another weekend won't pass without us having witnessed regular-season MLB action in 2014. And just two weeks from right now marks the official "opening day" Monday. That means the positional battles are heating up in Florida and Arizona. Let's focus on some of the rotations in this installment of Spring Positional Battles (also, we'll catch up on last week's battles at the end).
Blue Jays rotation
The Blue Jays have three starters set in stone right now in R.A. Dickey, Brandon Morrow and Mark Buehrle. That leaves two spots for the likes of Drew Hutchison, J.A. Happ, Kyle Drabek and a host of others. Oh, and once-seemingly-exiled Ricky Romero -- a former opening-day starter for Toronto -- is in the mix.
In fact, it sounds like Romero may have a leg up at this point.
"The big talk of camp right now is Ricky Romero," manager John Gibbons said last Thursday (nationalpost.com). "It looks like he's on the way back and that's what excites us all."
The story that contains the above quote noted that Gibbons was asked about the battle for the last two rotation spots and that mostly he just responded by singing Romero's praises. That's gotta be a good sign, no?
In seven innings this spring, Romero has a 1.29 ERA, 1.14 WHIP and six strikeouts, though he has walked five.
Rangers rotation
With Derek Holland and Matt Harrison down, the Rangers have two spots to fill in their rotation behind Yu Darvish, Martin Perez and Alexi Ogando. For now, it appears Tommy Hanson and newly-signed Joe Saunders have at least a slight leg up on Colby Lewis and Nick Tepesch -- who have both struggled.
No decisions have been made, but Rangers beat writer Evan Grant offered the following late last week:
"I'm growing more convinced that before Lewis can be added to the big league roster, he'll have to show the Rangers he can throw six innings and bounce back five days later and do the same. He can only do that if he goes to the minors (perhaps via the DL) for a couple of starts."
Lewis and Harrison could be ready to then join the rotation at a similar point in the season.
Diamondbacks' fifth starter
With ace Patrick Corbin going down, a spot in the Diamondbacks' rotation is now opened up. Both Randall Delgado and Josh Collmenter were slated to begin the season in the bullpen while phenom Archie Bradley was supposed to head to the minors. One of the three is moving into the rotation now and the D-Backs haven't really done much on this front yet, which isn't surprising considering the Corbin news just broke Sunday.
Bradley, 21, has a 4.32 ERA, 1.68 WHIP and 10 strikeouts in 8 1/3 innings this spring. Delgado, 24, has a 5.56 ERA, 1.32 WHIP and seven strikeouts in 11 1/3 innings.
The 28-year-old Collmenter, on the other hand, has thrown 9 1/3 shutout innings with a 0.54 WHIP. He's been working in short stints, though, and may be targeted more for a short-inning role in the back-end of the bullpen.
Yankees' fifth starter
Technically, Vidal Nuno, Adam Warren, David Phelps and Michael Pineda are still the ones in the running, but nj.com notices a possible tell-tale sign that the competition has been whittled down to Phelps and Pineda.
Pineda easily has the highest upside of the bunch, but the former All-Star has missed the past two seasons due to a shoulder injury. In 4 2/3 shutout innings this spring, he's struck out nine while only having allowed four hits and a walk. But is he ready for a full workload?
Phelps has thrown 13 2/3 innings and posted a 2.63 ERA, 1.24 WHIP and 11 strikeouts.
---
Brewers at second: Rickie Weeks is hitting .364/.500/.545 in 28 plate appearances. Scooter Gennett is hitting .229/.270/.429 in 37 PA. There hasn't been any change in the club's stance publicly, either, as the competition continues.
Dodgers at second: Every indication at this point is that Dee Gordon has won the competition to start here over Cuban import Alexander Guerrero. Gordon entered Monday hitting .286/.326/.476 with four triples and nine stolen bases on the spring.
Red Sox in center: The competition between Jackie Bradley Jr. and Grazy Sizemore is ongoing, through a Saturday evening Boston article said that Bradley is "leading." Sizemore has been playing well -- his spring numbers are better than Bradley's, actually -- and might make the team even if he doesn't win the starting job, per reports.
Royals' fifth starter: Not much has been said publicly, but it appears Yordano Ventura has a leg up. He's had a much better spring, too, having thrown 9 1/3 innings with a 2.89 ERA, 0.75 WHIP and nine strikeouts. Duffy has an ERA of 11.00 and WHIP of 2.11 in nine innings.
Indians at third: The Carlos Santana experiment continues and nothing has been firmed up. He'll surely continue to work at the hot corner until the end of spring before the final decision is made. And he may even not start at third until sometime mid-season. This one might be a while, as it's not like the Indians have to commit him to third base by opening day in order to use him there at some point later on.
If the slow-play for Martinez, Hosmer, and Arrieta sounds familiar, it should

The Nats will host the All-Star Game in 2018

The Orioles are looking to trade Machado heading into his walk year
The Cardinals have been linked for a while to the Baltimore star

Gallardo spent the first eight years of his career in Milwaukee

MLB revenues are at a record high right now, but teams aren't spending it on players