Spring primer: Chicago White Sox
Ozzie Guillen, Mark Buehrle and Carlos Quentin are gone and Kosuke Fukudome is in. General manager Kenny Williams had one of the oddest offseasons in the game, starting to rebuild, but refusing to go all the way in those efforts.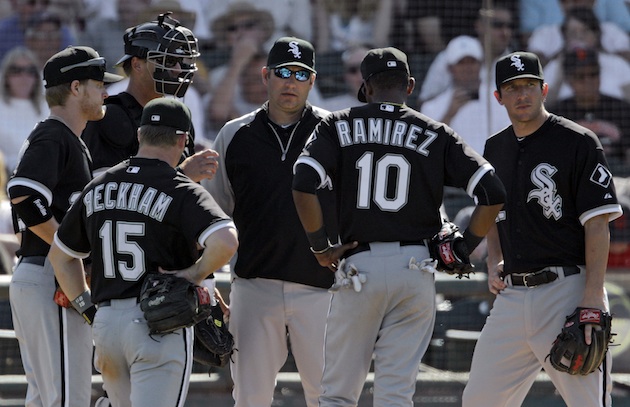 No team will sound different than they did a year ago more than the White Sox, who go from the leadership of the boisterous and outspoken Ozzie Guillen to rookie manager Robin Ventura. The team also lost its best pitcher, Mark Buehrle. However, just as it seemed the White Sox would embrace a youth movement this offseason, general manager
Kenny Williams
re-signed left-hander
John Danks
to a five-year deal and kept
Gavin Floyd
, the subject of many trade rumors. Now there's the question -- are the White Sox rebuilding or just trying to hang on to mediocrity?
Major additions:
OF
Kosuke Fukudome
Major departures:
LHP Mark Buehrle, RHP Sergio Santos, RHP Jason Frasor, OF Juan Pierre, OF Carlos Quentin
Probable lineup
1. Alejandro De Aza LF
2. Alexi Ramirez SS
3.
Paul Konerko
1B
4.
Adam Dunn
DH
5.
Brent Morel
3B
6.
A.J. Pierzynski
C
7.
Dayan Viciedo
RF
8.
Alex Rios
CF
9.
Gordon Beckham
2B
Probable rotation
1. Gavin Floyd
2. John Danks
3.
Jake Peavy
4. Philip Humber
5.
Chris Sale
Back-end bullpen
Closer:
Matt Thornton
Set-up: 
Addison Reed
,
Jesse Crain
,
Will Ohman
Important bench players
OF Kosuke Fukudome, 1B/OF Brent Lillibridge
Prospect to watch
When you're talking White Sox prospects only one name comes up --
Addison Reed
. Reed would be a star in most systems, but he's the only one in the White Sox system which is universally viewed as the game's worst -- and one that may be historically bad. Reed will have a shot at the closer's job if Thornton stumbles. Reed, Stephen Strasburg's closer at San Diego State, appeared in six games for the White Sox last season, putting up a 3.68 ERA with 12 strikeouts in seven innings. He has a fastball that can touch 98 and an even better slider.
Fantasy sleeper:
Alejandro De Aza
"As a slap hitter, the 27-year-old won't take advantage U.S. Cellular Field's homer-friendly dimensions, but he has a history of using his speed to leg out base hits. De Aza should produce enough steals and a high enough batting average to help owners in Rotisserie leagues, and he is good enough at avoiding strikeouts and hitting doubles to be of use in Head-to-Head formats. His lack of home run power prevents him from being even a middle-round option in standard mixed leagues, but he does enough things well to be worthy of a late-round pick." -- Al Melchior [
Full White Sox fantasy preview
]
Fantasy bust:
Matt Thornton
"Despite the respectable ERA there is no shortage of warning signs for another implosion. For the second season in a row, Thornton's control eroded as he threw fewer strikes and issued more walks per nine innings. When opposing hitters have gotten ahold of one of his offerings they have increasingly been able to hit him ... hard. Thornton's line drive rate ballooned to 24 percent, which contributed to a 64-point increase in opponents' batting average against him." -- Al Melchior [
Full White Sox fantasy preview
]
Optimistic outlook
There's very little optimism on the South Side, but if Peavy and Dunn return to form, while the likes of Morel and Beckham finally put together a full season. Viciedo shows why the team demanded so little in return for Quentin and puts up 25 homers. Floyd, Danks and Peavy combine for a solid rotation and Sale shows why the team moved him to the rotation. With everything clicking, the team still finishes second.
Pessimistic outlook
It's 2011, just a year older for an aging core of Konerko, Pierzynski and Dunn. Without Ozzie around, there's absolutely no reason to pay attention to the White Sox and last year's 79-83 record seems like the "good old days." The team could be in line for a top draft pick, but based on recent history, Williams screws even that up.
RELATED:
Projected lineups, rotations and closers for all 30 teams