The Bobblehead Project: Jackie Robinson steals home
In honor of Jackie Robinson Day, let's take a look at one of the baseball pioneer's most iconic moments.
More MLB: Scoreboard | Standings | Probable Pitchers | Sortable Stats | Odds
In this episode, we're using the Bobblehead Project to honor one of the sky-scraping heroes of the game. Jackie Robinson Day is, of course, within sliding distance (see what I did there?). And in celebration of the occasion, we're paying homage to one of Mr. Robinson's most iconic moments. 
Boom (thanks as always to artist Jarod Valentin for the artistry):
What you see above -- one of the most famous plays in the sprawl of our game -- is Robinson's theft of home in the eighth inning of Game 1 of the 1955 World Series at Yankee Stadium. The Yankees went on to win the opener by a score of 6-5, but Brooklyn famously took the series in a taut seven games. Here's the action-news footage ...
As you can probably guess from watching, Yankees catcher Yogi Berra insists to this day that Robinson was out. History, though, is written by the victors -- or, in this case, those who are called safe at home. The following excerpt from the New York Herald Tribune's write-up of the game shows that Robinson was none too pleased about Berra's reaction to the play ...
Here's to the towering, impossibly great Jackie Robinson. Never has a more courageous head bobbled.
Bobblehead Gallery (click on thumbnail) ...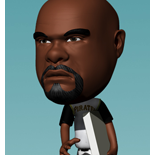 They still would much rather grab the AL East, however

Sale becomes the first AL pitcher to reach 300 strikeouts since 1999

Steve Balboni's long-standing record of 36 has finally fallen
Several players called for the netting to be extended down the base lines following Wednesday's...

Maria made landfall as a Category 4 on Wednesday

The players are trying to do their job and don't want to see anyone hurt