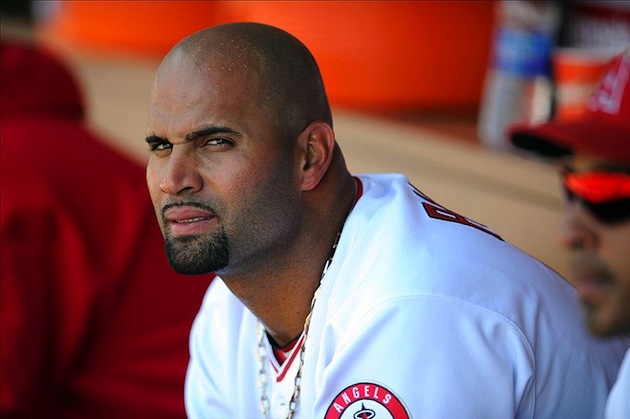 With a win on Thursday, the Twins have a real, live winning streak (of two). Meanwhile,
Arizona
rebounded from its first loss to beat the
Padres
and the Dodgers improved to 6-1 with a victory over the Pirates. Friday marks the home-opener for eight teams -- the Red Sox,
Yankees
,
White Sox
,
Mariners
,
Royals
,
Braves
,
Giants
and Cardinals.
3 UPMatt Garza, Cubs.
Garza's last throw of Thursday's start against the
Brewers
was unlike any of his 119 pitches -- it ended up nowhere near where he wanted it to land, in fact, it ended up in the stands. It wasn't a ball, but an error. Garza was that one throw on a comebacker from
Norichika Aoki
from his first shutout since his no-hitter on July 26, 2010.
Shawn Camp
came in and retired the final batter, but the day belonged to Garza, who struck out nine and allowed just three hits in 8 2/3 innings. Off his 119 pitches, 83 were strikes.
Twins offense.
Through
Minnesota
's first five games, the Twins had scored just 12 runs and managed 29 hits (good for a .190 average). A different team showed up on Thursday, as the team pounded out 10 runs on 20 hits, coming back from a six-run deficit to beat the Angels.
As Danny Knobler pointed out
, for the first time in Target Field history,
Justin Morneau
and
Joe Mauer
homered in the same game at the team's new stadium. It was Morneau's first homer at Target Field since July 3, 2010 and Mauer's first there since Aug. 18, 2010. The two combined have hit seven homers at the stadium -- the same number Jose Bautistia has hit there in a total of seven games.
Brennan Boesch, Tigers.
Boesch celebrated his 27th birthday by knocking in four runs in
Detroit
's 7-2 victory over the
Rays
. Boesch came into the game hitting just .174, but knocked in two with a bloop single to left in the fifth, giving Detroit the lead. He drove in another two with a single in the seventh to give Detroit some breathing room.
3 DOWNAlbert Pujols, Angels.
Pujols has yet to homer as an Angel and after a 1-for-5 performance in Thursday's loss to the Twins, he's hitting just .217/.308/.304 through his first six games. That's better than his start a year ago, when he was hitting .182/.240/.318 through six games.
Mike Napoli, Rangers.
Pujols isn't the only star struggling to start the season -- the Rangers' Napoli went 0-for-3 on Thursday and is now hitting just .077 without an extra-base hit. Last season Napoli hit .232/.344/.529 in the first half of the season and .383/.466/.706 in the second half of the season. Baseball's a long, long season, so no matter who is struggling or surging right now, it can be a distant memory come September.
Alfredo Simon, Reds.
The Reds are finding out why the
Orioles
released the right-hander at the end of spring training. In short, he's been awful in his three appearances for the Reds. Despite striking out six batters in 3 1/3 innings, he's allowed four hits, three runs and a walk. Coming into Thursday's game in the 10th inning, Simon hit the first batter he faced,
Ryan Zimmerman
, before giving up a hit to
Jayson Werth
. With one out and runners on second and third, Simon bounced his second pitch to
Roger Bernadina
, allowing Zimmerman to score the winning run.
Boston opener:
The Red Sox home-opener doesn't start until 2:05 p.m., but perhaps the most interesting thing will come before the game when starter
Josh Beckett
is introduced. Beckett was at the center of the "beer and fried chicken" debacle from the end of last season and hasn't exactly been repentant. Oh, and then there's the fact he gave up five homers in 4 2/3 inning in Detroit in his 2012 debut.
2:05 p.m. ETHail to the champs:
There's little chance the Cardinal fateful will let the team forget they won the 2011 World Series, but just in case, the Cardinals will remind everyone by wearing special gold-trimmed uniforms signifying their title. As if the celebration of a championship weren't enough,
Adam Wainwright
will pitch his first game at Busch Stadium since Sept. 19, 2010.
3:15 p.m. ETFish watch:
No Marlin launched a homer in the team's one-game home series with the Cardinals, so we've yet to see the Red Grooms-designed sculpture in action -- so until then, we're waiting with bated breath to see the stadium's one-of-a-kind celebration. Bench coach Joey Cora said
Logan Morrison
will get the day off Friday, while he'll ask
Giancarlo Stanton
if he can go before the game. Without Stanton, the chances of seeing the statue in action drop significantly.
Astros
right-hander
Lucas Harrell
has never faced the
Marlins
.
7:10 p.m. ET
• Mo's not done:
At 42,
Mariano Rivera
has appeared in four games and has a 5.40 ERA. Could this be the end of the run for baseball's best closer? History says hold on for a little before you start digging a grave.
Deadspin.com dug up several premature obituaries from the last decade
.
• Trade of the decade:
Ken Rosenthal at FoxSports.com looks at the trade
10 years ago that sent
Bartolo Colon
to Montreal for "Lee Stevens and three minor leaguers." Those minor leaguers?
Cliff Lee
,
Brandon Phillips
and Grady Sizemore.
• Click at your own risk:
Seriously.
The Score has a GIF
Minnesota's
Denard Span
spiking Angles reliever
Scott Downs
.
• Again, only click if you're not squeamish:
From Japan, here's video of Orix Buffaloes catcher Hikaru Ito getting hit in the head on Josh Whitesell's follow-through.
According to the post by Gen of YakyuBaka.com
, Ito was taken to a local hospital and diagnosed with a contusion on the right side of his head. Hopefully he's OK.
The video shows highlights of the entire game
, the accident is at the 3:12 mark.
• Welcome back:
Finally, some good news. Vin Scully may return to the broadcast booth on Saturday. [
Los Angeles Times
]
• Strikeouts for a good cause:
The Giants'
Jeremy Affeldt
and the Diamondbacks' Josh Collemnter are two of at least 17 big-leaguers pledhing money to the Free 2 Play campaign to help fight child trafficking.
There's also a Facebook app
to to use baseball to help raise money for the non-profit. [
CNN.com
]
• A Cub gets a ring:
Cubs coach Dave McKay will participate in Saturday's World Series ring celebration in
St. Louis
. McKay was the first base coach for the Cardinals last season. [
MLB.com
]
• A notable anniversary:
Curt Roberts became the first African-American
Pittsburgh
PIrate on April 13, 1954. [
MLB.com
]
• Check your local listings:
Chances are you missed it on Tuesday, but MLB Network debut its Strike Zone channel on Time Warner Cable, DirecTV, Dish Network and Bright House Networks on Tuesday. The MLB Network's answer to Red Zone quietly debuted on Tuesday. It's commercial free and really a nice way to keep track of all the games. I had it on my second TV while watching another game on my big TV. Most people don't have that setup, but if you do, it's awesome.