The Lineup: David Wright is doing all right
We all know what Josh Hamilton is doing, but he's not the only one hitting better than .400, as David Wright had four hits on Saturday to push his average to .402. While Jose Bautista started slow, he's heating up, thanks to his return to Minnesota.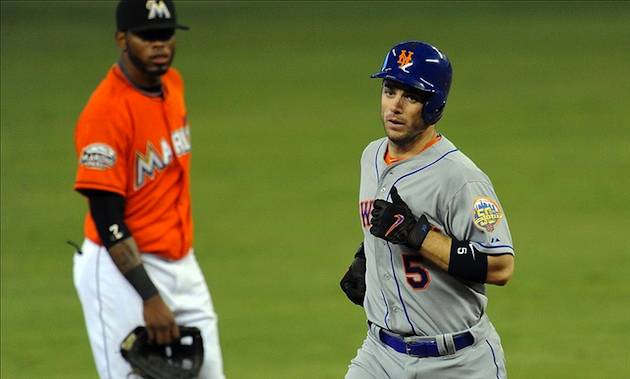 With his homer off of
C.J. Wilson
on Saturday,
Josh Hamilton
now has nine in the last week and 18 on the season. He's only the second player in big-league history to have 18 home runs in his first 34 games. The first was Cy Williams of the 1923
Philadelphia Phillies
. But there was more going on in baseball than the
Los Angeles Angels
and
Texas Rangers
sporting their beautiful throwback uniforms...
Full Saturday scoreboard, with recaps and box scores for every game
3 UP

David Wright

,

New York Mets

.
If it weren't for Hamilton, Wright would be the hottest player in the game. He went 4 for 6 in Saturday's victory over the
Miami Marlins
, hitting his fourth homer of the season, to raise his average on the season to .402. Wright's .402 is the second-best Mets batting average through May 12 (with a minimum of 50 at-bats) to Cleon Jones' .411 in 1969. Joe Torre had a .393 average on the date in 1976 and Mike Piazza had a .389 average in 2000.
Edwin Maysonet

,

Milwaukee Brewers

.
The
Chicago Cubs
elected to walk
Travis Ishikawa
to load the bases for Maysonet, who was playing only because
Rickie Weeks
was hit in the hand by a pitch Friday night. It was an understandable strategy, as Maysonet had just one plate appearance on the season. And even though he had a 1.000 average in the big leagues, he'd hit just .214 at Triple-A Nashville before being called up. Although he didn't have a homer in 99 plate appearances in the minors, Maysonet hit his second career homer off of
Chris Volstad
in the sixth inning of the Brewers victory.
Jose Bautista

,

Toronto Blue Jays

.
Bautista hit another homer on Saturday, his third in the first two games of the series in Minnesota. This one helped lead the Jays to a 2-1 victory over the
Minnesota Twins
. Bautista has five home runs in his last 53 at-bats. It was Bautista's eight homer of the season and he now has 10 in 10 career games at Target Field -- one more than Justin Morneau,
Joe Mauer
,
Ryan Doumit
and
Denard Span
have at the park in their careers combined.
3 DOWN

Tampa Bay Rays

defense.
Tampa Bay has the best defense in the majors, just not on Saturday. The Rays made five errors leading to three unearned runs in a 5-3 loss to the
Baltimore Orioles
. Three of the errors came in the second inning when third baseman
Sean Rodriguez
had a throwing error, starter
Matt Moore
had an errant pickoff attempt and left fielder
Brandon Guyer
misplaced a ball in the corner. The other two errors came in the fifth, leading to two more Baltimore runs.
Chris Gimenez
was called for catcher's interference and center fielder
Melvin Upton
fumbled a ball.
Phillies offense.
Roy Halladay
struck out a season-high 10 batters and gave up just two runs in seven innings, but that was too much for the Philies, who managed just one run against the
San Diego Padres
. The Phillies have lost each of the last five games Halladay has started, leading to his longest winless streak since joining the Phillies. The Padres were 1 for 10 with runners in scoring position and left 12 men on base. Philadelphia left runners on third base in both the seventh and ninth innings.
Adam Wainwright

,

St. Louis Cardinals

.
The former Brave had never lost a start to his former team -- until Saturday. The right-hander lasted just 4 1/3 innings, giving up five runs on nine hits, while walking another five. He needed 31 pitches to get his first out of the game, striking out
Chipper Jones
, the sixth batter of the first inning. He'd walked in two runs before getting Jones. Wainwright is now 2-4 with a 6.16 ERA.
Pettitte's return.
Andy Pettitte will pitch in a big league game for the first time in 573 days when he faces the
Seattle Mariners
at Yankee Stadium. Of course, it may be a stretch to call the Mariners a big-league lineup. The Mariners have the second-lowest batting average in the American League and the worst on-base percentage in the league. Only the
Pittsburgh Pirates
have a worse OBP. Pettitte went 11-3 with a 3.28 ERA in 2010 and was 0-2 with a 3.71 ERA in four minor-league starts.
1:05 p.m. ET.Lucky No. 7?
You probably wouldn't even pick
Lance Lynn
as the most likely to be leading the Cardinals in victories, much less the big leagues. But his six wins pace the majors and he's looking for his seventh win on Sunday. The right-hander is 6-0 with a 1.40 ERA, although he is coming off his shortest outing of the season, going just five innings against the
Arizona Diamondbacks
on Monday. However, it was his first scoreless start.
2:15 p.m. ET.Western battle.
The Angels look to take their series from the first-place Rangers by sending their ace,
Jered Weaver
, to the mound. Weaver is 5-0 with a 1.60 ERA this season, with a no-hitter, of course. He's allowed just one run in his last three starts and if you take away his five-run outing against the Twins on April 11, he has a 0.81 ERA this season. Last season he was 2-2 with a 3.34 ERA against the Rangers last season. Former Rangers closer
Neftali Feliz
has been good in his first season as a starter, bringing a 2-1 record and 3.38 ERA into Sunday night's contest.
8:05 p.m. ET.
Full Sunday schedule, with probable pitchers listed for every game
• Happy Mother's Day.
We'll see a ton of Mother's Day stories today, and plenty sappy and I'm a sucker for all of them. Well, here's the first one I read and it'll be a tough one to beat.
Jeff Passan of Yahoo writes
about the bond between the
Kansas City Royals
'
Irving Falu
and an Omaha boy.
• Heroes to be honored at Yankee Stadium.
This is only really tangentially related to baseball, but is no less worth a read. The
New York Yankees
will honor Iraq veteran Megan Leavey and her bomb-sniffing dog, Rex, before Sunday's game. [
New York Daily News
]
• Is

Johnny Damon

a Hall of Famer?
Johnny Damon thinks he is. [
New York Times
]
• Hamilton's company. 
We all know Josh Hamilton was the first big-league player in nine years to have a four-homer game, but
our friends at SABR posted this list of all the four-homer games in professional baseball
, including Michael Aubrey's four homer game for the Triple-A Syracuse Chiefs last May and Atsuya Furuta's four-homer game for Japan's Yakult Swallows in 2003. My favorite piece of trivia for that is two minor leaguers had four-homer games in 1997 and both were named Bubba -- Bubba Phillips and Bubba Trammell.
• Not so perfect?
While we say there are 21 perfect games in baseball history, the two games thrown in 1880 may not have been so perfect. Several rules aided pitchers in 1880 -- pitchers were just 50 feet from the batter, walks were eight balls, the batter could request high or low balls and there was no pitching rubber. In addition, foul balls caught on one bounce were an out -- three of the outs in Lee Richmond's perfect game for the Worchester Ruby Legs against the
Cleveland Indians
Blues were recorded that way. [
New York Times
]
For more baseball news, rumors and analysis, follow @EyeOnBaseball on Twitter, subscribe to the RSS feed and "like" us on Facebook.
Sabathia's stance seems to be an increasingly popular one among athletes

Plus the A's have hope and all the rest of the day's action

Matt Chapman and Matt Olson give the A's hope
Despite an awful month, the Dodgers are again NL West champions

The record of 38 previously belonged to Hall of Famer Frank Robinson

The report also says that Jeter had outgoing president David Samson do the firing